AMO's ambitious research-led exhibition Countryside, The Future opens at the Guggenheim, New York. Photograph: Laurien Ghinitoiu. Courtesy AMO.
Get a bitesize overview of this week's headlines and events with Icon's round-up
SCENE
TUSSLE WITH TESLA
Tesla's plans to build a 'Gigafactory' outside Berlin have been stalled by environmental activists. The electric vehicle company, co-founded, owned and run by Elon Musk, had begun to clear 92 hectares of forest before being forced to stop while the protestors' legal objections are met. Berliners have form in rejecting the advances of US tech giants: in 2018 Google was driven from Kreuzberg by anti-gentrification activists. Musk tweeted that the factory's 'net environmental impact will be extremely positive!'
FOOT OVER MOUTH
The designer and artist Max Siedentopf launched a project titled How-To Survive A Deadly Global Virus, which saw him photograph models wearing makeshift masks made from plastic water bottles, lettuce and a Nike trainer. He has since apologised for causing offence to those who are suffering from or anxious about coronavirus, while rejecting claims work carries a racist sentiment against Chinese people. The disease has caused at least 2,000 deaths, and fuelled a spate of attacks on Britain's Chinese community.
ON THE BORDERLINE
The U.S. Embassy has barred Eyal Weizman, founder of Forensic Architecture, from entering the country ahead of a major survey exhibition at Miami Dade College's Museum of Art and Design. According to his Weizman, 'my authorisation to travel had been revoked because the 'algorithm' had identified a security threat.' After flying over the previous day, his wife, the architect and theorist Prof. Ines Weizman, was separated from the couple's children and interrogated by immigration officers for two and a half hours.
MARRIAGE STORY
The American design world received news last week that Caroline Baumann had stepped down from her role as director of New York's Cooper Hewitt Smithsonian Design Museum. It has since been revealed that her resignation followed an investigation into her wedding in 2018. It was held in textile designer Jack Lenor Larsen's LongHouse Reserve free of charge, which conflicts with Smithsonian policy on gifts, even though Baumann and Larsen are long-term friends. Questions have also been raised over whether Baumann's wedding dress, by designer Samantha Sleeper, was sold at a discount. Sleeper has denied these allegations, while six members of the museum's board have resigned in protest against Baumann's departure.
FEE DODGERS
Plans for a temporary pavilion in north London's Harringay Warehouse District have been rewritten after an open letter by 23 architects criticised its 'exploitative and cynical' failure to provide a fee to the winning team. The pavilion, organised by architect Joe Wright, artist Carolina Khouri and James West, is to be built as part of the London Festival of Architecture (LFA). The organisers have agreed to award shortlisted teams a £300 prize and promised to only construct the pavilion if another funds are raised to pay the winning team's £15,000-30,000 structure.
Kehinde Wiley, Naomi and Her Daughters, 2013 © 2019 Kehinde Wiley. Courtesy of Stephen Friedman Gallery.
DIARY
Kehinde Wiley: The Yellow Wallpaper, William Morris Gallery, Walthamstow, London
Best known for his art historically resonant portraits of African Americans subjects, including Barack Obama, Kehinde Wiley's first museum show in Britain turns an eye to the women of contemporary Dalston. Named for The Yellow Wallpaper — Charlotte Perkins Gilman's classic feminist short story — Wiley 'seeks to use the language of decorative art to reconcile blackness, gender, and a beautiful and terrible past' Until 25 May.
Ishikawa Toraji (1875-1964), Bored, from the series Ten types of female nudes, 1934, Collectie Nihon no hanga, Amsterdam. Courtesy Japanmuseum SieboldHuis, Lieden.
Neko. The Cat in Japanese Art, Japan Museum SieboldHuis, Leiden.
Located in a traditional Dutch townhouse in Leiden, the SieboldHuis stands as a testament to the Netherlands' long and complicated relationship with Japan. This ongoing exhibition, however, takes in an arguably even longer and more complicated relationship: Japan's infatuation with cats. Presenting the 'Japanese cat in all its diversity,' It contains everything from Kuniyoshi ukiyo-e, netsuke and bronze statues to anime art and Hello Kitty. Until 5 July.
Countryside, The Future, Guggenheim, New York
'While much of our energies and intelligence have been focused on the urban areas of the world,' says Rem Koolhaas, founder of OMA, 'the countryside has been changed beyond recognition.' This ambitious exhibition, co-curated by Koolhaas and OMA's think tank AMO, gathers and extends investigative work into radical rural transformations across the world. If that sounds a tad dry, consider the exhibits: an iPad-controlled tractor, underwater drones and Amazon-style robots throwing around curatorial wall text. Until 14 August.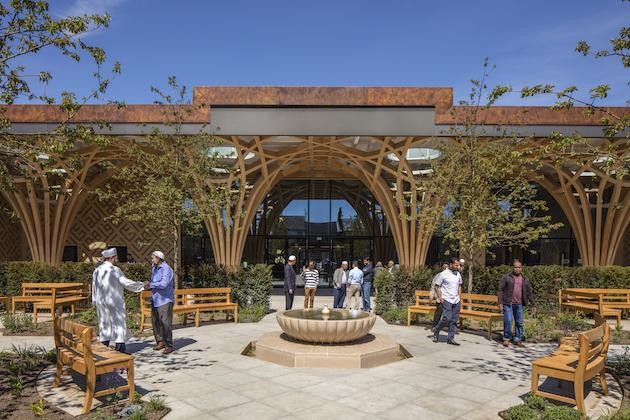 Cambridge Central Mosque, designed by Marks Barfield, opened in 2019. Photograph: Morley von Sternberg. Courtesy of Architecture Foundation.
Congregation, Grand Junction at St Mary Magdalene Paddington, London
Places of worship have long provided some of architecture's greatest marvels. Housed in the undercroft of a 19th century church, Congregation presents 23 examples of sacred architecture built in Britain over the past decade. Curated by the Architecture Foundation, it looks at how pre-existing buildings have been adapted by faith groups, how traditional iconography has weathered contemporary budgeting, and how Britain's multi-culturalism has impacted religious spaces. Until 7 Mar.
---