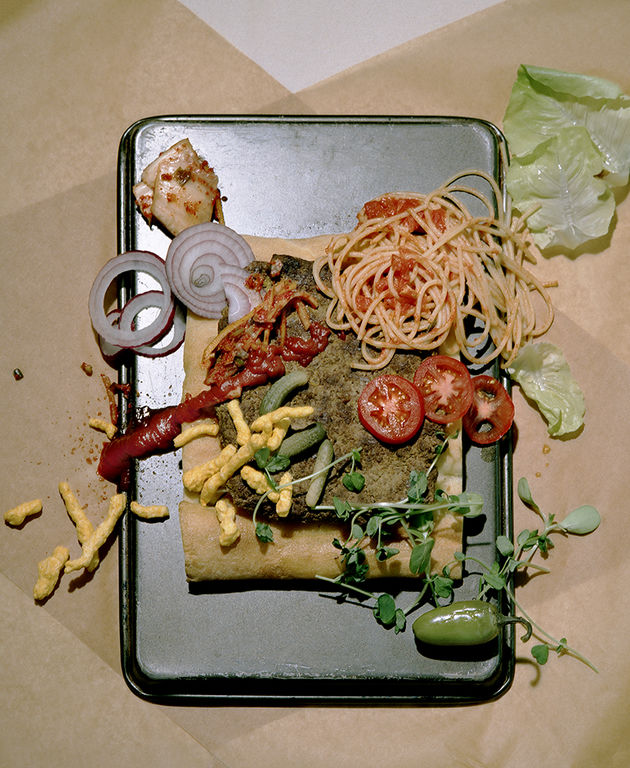 Robert Rauschenburger,. Photo by Esther Choi
Writing about food has never been so good, or serious, as now. Le Corbuffet, Esther Choi's book of recipes inspired by famous artists and architects, combines fun with thoughtful commentary, finds Peter Smisek.
Food is having a bit of a moment. Not eating it per se – if anything, Silicon Valley types would have us all fasting or drinking 'nutritionally complete food' that comes out of a sachet. But food writing has never been quite so engaging and engaged; skewering damaging #cleaneating trends on social media, exposing class and racial divides when it comes to accessing fresh produce, or tackling issues of appropriation, gender and migrant labour across nutritional supply chains, from farm to restaurant table.
Frida Kale-o Salad. Photo by Esther Choi
But it's not all serious stuff. New recipes are still written – sometimes even by the very same incisive reporters – and food can still occasionally be fun. Nowhere is this more evident than in Le Corbuffet, a cookbook of sorts, by artist and writer Esther Choi.
Choi's inspiration for the project began when she discovered an elaborate, László Moholy-Nagy-designed menu for Walter Gropius' last dinner party in the UK. But far from aiming to recreate the meal itself – which included a turtle soup among other pre-war delicacies – the artist has instead decided to create a series of dinners in which she would serve her guests dishes inspired by masters of art and architecture, with a wry bit of cultural commentary on the side. Choi named her project after Le Corbusier, the famous modernist master and male chauvinist, while the names of the recipes constitute food-related puns or rhymes, and, in the case of artists, a reference to a particular seminal work.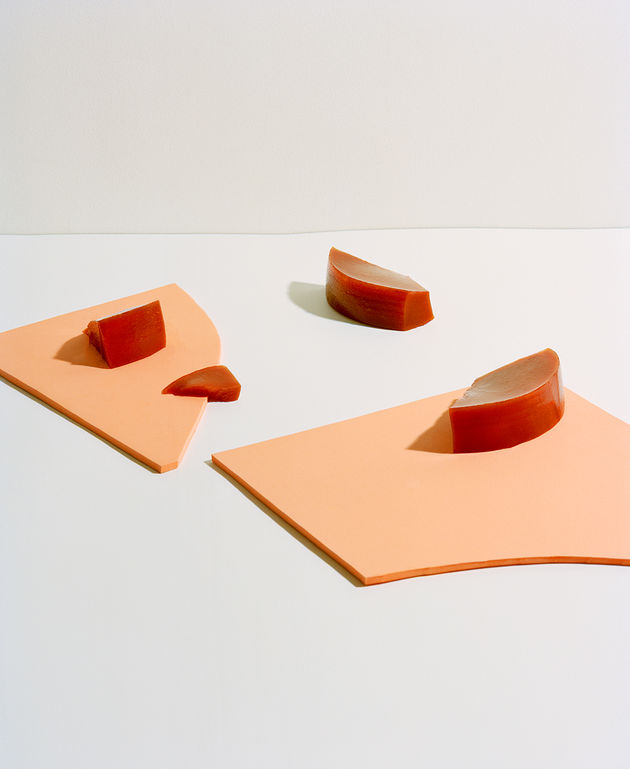 Ellsworth Kelly Tomato Jelly. Photo by Esther Choi
This mixture between serious and playful is a constant throughout the book, highlighted by the author's surreal photography of the dishes. Some of the recipes are one-liners, such as Lawrence Weiners, essentially a manual for cooking store-bought frankfurters, with Choi's instructions mimicking Weiner's Declaration of Intent (1968), which works incredibly well. The recipe for Denise Scott Brownies, in which the all-American chocolate brownie is reimagined as a cookie, with Choi revealing an anecdote about Scott Brown apparently bringing cookies and saving a seat for Robert Venturi during faculty staff meetings at the University of Pennsylvania, is a more nuanced, satisfying affair.
Most of the recipes are essentially relatively wholesome, if sometimes quite elaborate takes on home cooking – think Maxwell Fry-up, or Quiche Haring, (essentially a zwiebelkuchen) – though there are outliers, such as Ellsworth Kelly Tomato Jelly. The last section of the book serves up Corbooziers, such as Odile Decquri and Lina Bo Bacardi, and seems like an invitation to invent your own.
One of the Corbooziers, the Sterling Ruby Cocktail. Photo by Esther Choi
And while Choi's eclectic tastes and lively take on the subject make the book a stimulating read, it is the fact that most semi-skilled home cooks are able to execute the majority of the recipes – while also wondering whether they too could adapt their favourite dish to correspond to their favourite architect or artist – that makes Le Corbuffet more than just the latest coffee-table conceit.
---