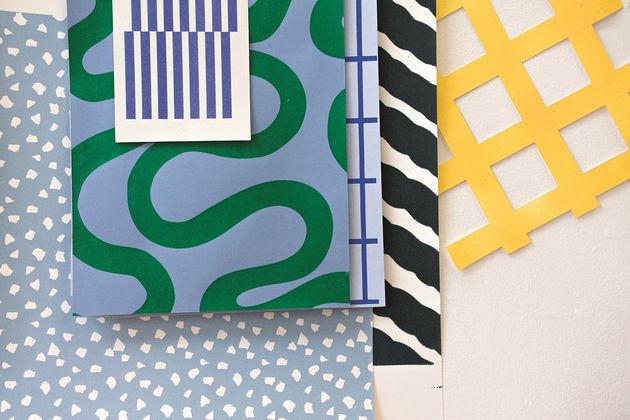 Arora has created dozens of designs for Ikea. An image of the FRAMKALLA work in progress
Textile designer Kangan Arora's work has sold in the thousands but London is still 'a blessing and a curse' for designers, she tells Priya Khanchandani
Images by Daniel Wester, Rikesh Sudra, Dennis Pedersen and Kangan Arora
'I'm in the print room, and I'm literally coming up with ideas,' says Kangan Arora, surrounded by fragments of screen-printed fabrics. 'Hundreds of ideas, which could potentially become something else.' We are at her studio, tucked away on a residential road off the high street in Tulse Hill, south London. 'Once you have done your sketch stage, you develop a few of those things to become a product,' she explains, leafing through the pieces of cloth, which present a Matisse-like playfulness with colour.
Her prototypes for a series of products she designed for Ikea began as these screen-printed swatches based on colour palettes set by the Swedish manufacturer. 'The process was really fun,' she explains, 'because they give you a brief, which is very open and they don't want to restrict you in any way; but there are some parameters because, if you can imagine, they have thousands of products that need to sit within the same launch.'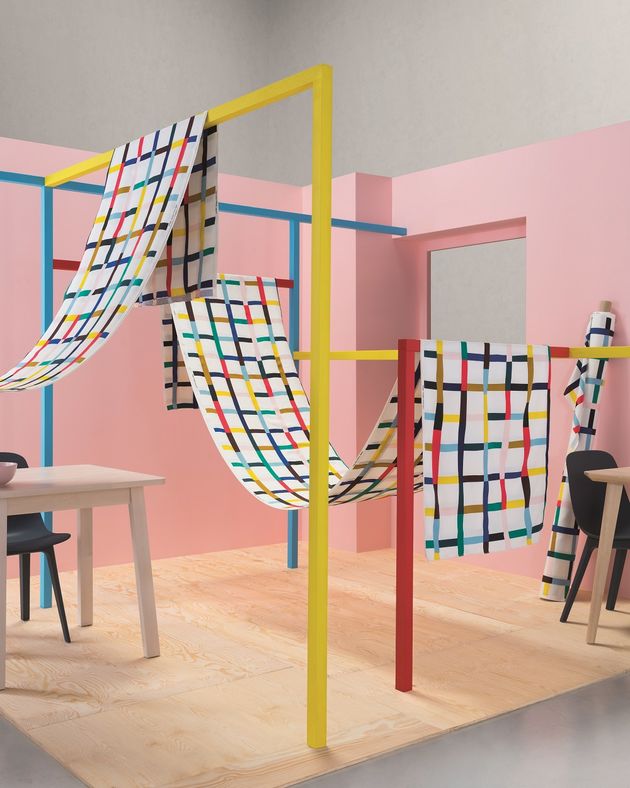 Kangan Arora X IKEA: The SIGRUNN fabric has been used for everything from cushion covers to a wedding dress alteration. Image by Inter IKEA Systems BV
It is evident that Arora has a knack for making arresting colour combinations. She pulls out a series of thin, long strips of fabric that formed the basis for a gridded pattern that drew on every single colour in Ikea's designated palette. 'I ended up with these long strips that were stitched together, in twos and threes, in different colour combinations,' she explains, 'and I started placing them into a grid.'
The fabric that this gridded pattern was finally used for, titled Sigrunn, has been sold at Ikea stores worldwide. Over 100,000m of it has been purchased so far. Its reach far exceeds what Arora could have imagined, as a designer-maker who had, up until then, largely manufactured her own work. Images on Instagram posted by those who have bought the fabric reveal it has been put to use in contexts she could never have anticipated. Apart from tablecloths and curtains, it has been used to make trousers, to upholster a sofa, and even to tailor a wedding dress.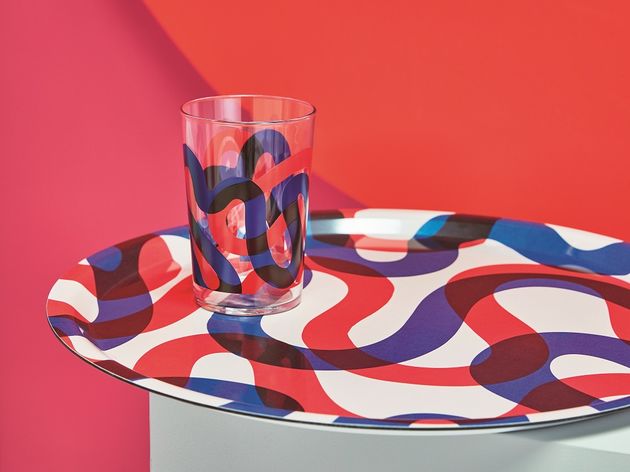 Kangan Arora X IKEA: FRAMKALLA pattern on a glass and tray. Image by Inter IKEA Systems BV
Arora's work first flashed under my nose via her elegantly shot Instagram account. I then came to own one of her works four-and-a-half years ago, when a close friend gave me a canvas pouch for my birthday carrying an Arora tag, which she had bought at the Tufnell Park design shop Future and Found. It is white, with blue stripes on one side and florescent orange stripes on the other, and its vivid colour distinguished it from the Scandinavian minimalism generally found in design shops.
I now know Arora's aesthetic is shaped by other influences. She grew up in a family with roots in the textiles business in India, and studied textiles in Gujarat, a region famous for its textile crafts and colourful dyes, before coming to London for further study at Central Saint Martins.
Today, although Kangan Arora may not be a name you know, her work has been manufactured in the hundreds of thousands and distributed all over the world. Most designers who work with Ikea end up having dozens of ideas whittled down to a few – decided by factors including quality of design, functionality, and marketability – but Arora's sketches ended up giving form to no fewer than 23. There are four types of cushions, rugs, bedding, napkins, glasses, placemats, posters, bowls, plates and patterned fabric.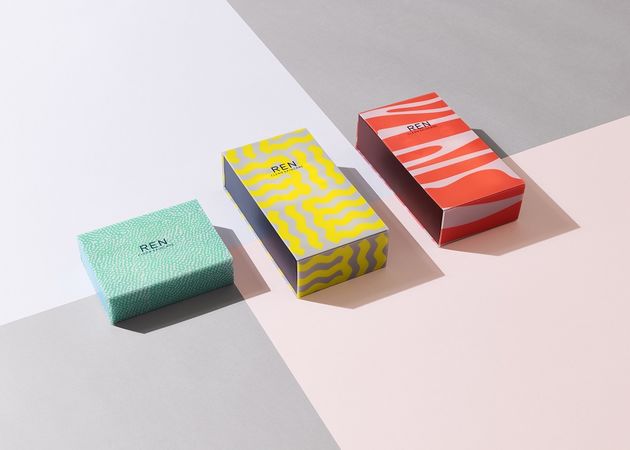 Designs Arora created for beauty brand Ren in Christmas 2016
Surprisingly for a designer whose work has retailed at such a volume, though, the scale of Arora's own practice is modest: a printing table and a couple of desks that she shares with a colleague in an open-plan studio populated by other makers.
'This is the illusion: everything thinks I've done Ikea and everything's amazing,' she says. 'It was an amazing opportunity for me, but it's important to keep looking at what's next and I think it's very hard to tell how that impacts what sort of projects I will get.' Arora possesses a sense of perspective that has clearly seen her through the challenges that emerging creatives face when establishing themselves in London. While she has had a great deal of success, she is realistic about the darker side to working in the creative industries here, referring to being based in the city as 'the biggest blessing and the biggest curse'.
Inside Arora's studio. Photo by Bound
'I think there are two types of creatives in London,' she explains. 'Some people are very lucky and don't have to worry about paying the bills and rent. And then there's the other set of creatives who are leaving London.' In an era when having a studio in London is itself an economic feat for artists and designers, she feels that having this space in south London, where rents are cheaper, is a privilege. From a business perspective it was also a compromise, and she is now planning to move north to Brixton.
Arora speaks of friends and colleagues who have moved away to the coast for financial reasons and her desire to hold on to London, where she draws inspiration from museums, galleries and events. 'I think people find a way to make it work,' she says. 'No-one does just one job any more. Everyone is juggling a lot of things to be able to do the things they want to do.' Arora herself balances being a textiles designer with work as a lecturer on the BA textile design course at Central Saint Martins, where she teaches first year students. Her workshops and tutorials concern visual language, colour and the practice of screen-printing, which she not only enjoys as a physical act but also relishes as a process that heavily informs her design decisions.
Arora at work in her studio. Photo by Bound
The fact that accomplished practitioners struggle to survive in London with the income from their businesses alone is testament to the dynamics of a property market that is driving the creative class out (see Icon 184). But there are other forces at play that contribute to this state of affairs. Arora points out that design brands don't always pay fairly for their work and that designers often take a pay cut because they want to work with a particular brand to raise their profile. 'I think that's the problem,' she says. 'We've been compromising for so long. People don't stand their ground as much as they should, I think, in terms of fairer pay.' Although designers could be firmer, design brands could also take greater responsibility for the fairness of the terms by which emerging designers are commissioned.
When she was starting out as a graduate in London in 2011, Arora worked at a cafe three days a week and sold her work at markets at the weekend. A year on, she was able to give up the cafe job to work at Central Saint Martins, in the print room's technical team. She then took up a role as a teaching assistant on the university's short courses. Arora found the support network available to her by working at the place where she studied to be a 'comfort blanket' while she grew a business, 'lugging suitcases every Saturday morning on the bus, going here and there, doing these markets'. She exhibited at a few trade shows. At one, Pulse, the design critic Katie Treggiden gave her a Confessions of a Design Geek sign for her stand, the first time her work was formerly acknowledged outside the academy.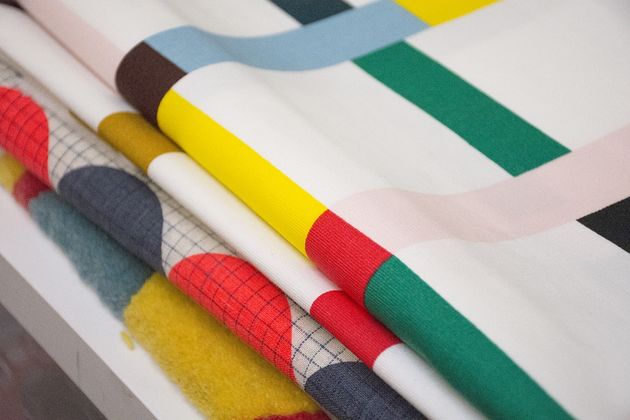 Swatches of fabric for Ikea in Arora's studio. Image via Inter IKEA Systems BV
Arora knows how to balance creativity with pragmatism and has clearly cut her teeth as a businesswoman. She takes her own photographs, manages her social media and is not afraid to do the maths of running a studio. She is now geared up for a trip to Japan where she will be running a print workshop at the Kyoto Design Lab Textiles summer school to do with new applications for the crepe silk kimono fabric ('chirimen') woven in Kyotango. On her return, she will be taking up a permanent part-time role at Central Saint Martins and studying towards a teaching qualification. During her remaining two-and-a-half days a week of studio time, she will be designing a range of stationery.
What ultimately drives her is a sustained curiosity for her discipline. One day, she would like to delve further into the act of storytelling through her designs, inspired by the rich narrative textiles from certain regions of India. At one time she dreamt of going back, travelling and visiting small cooperatives around the country. 'Everyone has a piece of textile that has been passed on over generations,' she says, 'and it always tells a story, whether that of the skills that were involved in it, or the actual visual that's on the textile. I find that fascinating.'
The original version of the article appeared in Icon 196, the October 2019 issue all about London, Londoners and design
---