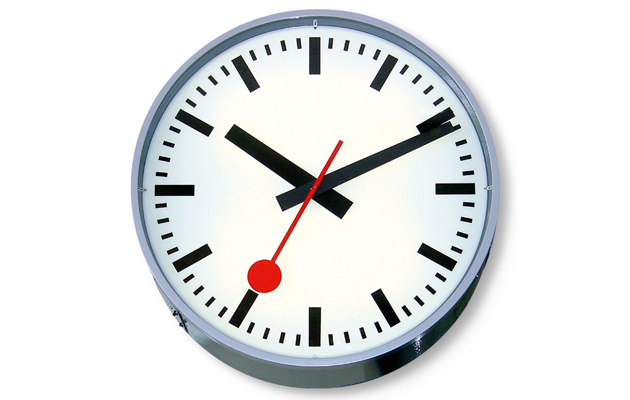 Official Swiss Railways Clock (1944) by Hans Hilfiker for Swiss Federal Railways (SBB) – this iconic design reflects the bold directness of the Swiss School's universal language of graphic design. Image: Mondaine.
The idea of universality has links to industrialisation – yet despite its mass produced roots, it has produced some of the most iconic designs in the world. This extract comes from
100 Ideas That Changed Design
by Charlotte and Peter Fiell
The concept of universality in design has been subject to different interpretations over the years, but is fundamentally about creating a solution that can be used by as many people as possible.
Since the Industrial Revolution in the eighteenth century, designers have been faced with two very different design pathways: either to create designs for the benefit of the many by harnessing industrialized systems of mass production, or to create designs for the enjoyment of the few using primarily handcraft methods of manufacture. The former approach is guided by the idea of the universal solution, while the latter relates more to the pursuit of individual creative expression, or the fulfilment of personal needs through either highly limited or bespoke designs.
During the early years of the Modern Movement, the pros and cons of universalism versus individualism were endlessly debated. Members of the Deutscher Werkbund, for instance, fell into two distinct camps. On the one side were those such as Hermann Muthesius, who argued the case for universalism, which involved the acceptance of greater standardization so that designed goods would be easier to produce industrially. And on the other side were those like Henry van de Velde, who continued to stress the benefits that individualism (personal creative expression) could have on design practice. The argument, in other words, was machine-made goods designed from a rational standpoint versus Arts and Crafts-inspired art manufactures made mainly by hand.
This long-running debate, however, was ultimately decided by the outbreak of World War I, which necessitated the adoption of an industrial approach to design and manufacturing. But after the conflict ended, a battle of styles – Expressionism versus rationalism / individuality versus universality – was effectively played out at the Staatliches Bauhaus in Weimar, which was founded in 1919. Initially, the school's director, Walter Gropius, was sympathetic to the Expressionist cause, yet he soon changed tack and eventually went on to become an influential champion of universalism in design. As the editor of Architectural Forum magazine Peter Blake once noted, under Gropius's leadership 'the Bauhaus was enamored with a new vocabulary of forms: the forms of machines, the forms of our century'.13 And those shapes, based on pure geometry – cylinders, cubes, spheres and cones – would go on to establish the formal 'universal' vocabulary of Modernism. The theory of the Modern Movement was that if a design or a building was stripped of all ornament and possessed a geometric purity, then its appeal would be universal. In many ways this was true, as was demonstrated by the emergence of the subsequent International Style in design and arch-itecture during the 1920s and 1930s, which was effectively a universal expression of Modernism that was able to transcend regional cultural constructs.
Färgrik mug (c.2015) by IKEA – this universally appealing stoneware design is the Swedish homeware giant's bestseller and was created for maximum stackability. Image: IKEA.
The idea of universality in design has also been closely linked to the notion of democratic design – in other words, creating well-designed things for the many rather than the few. It was also expressed in the development of product families during the postwar era with, for example, a range of chairs having a single 'universal' seat shell that could be used in conjunction with various types of interchangeable bases so that many different combinations and applications were possible – such as Charles and Ray Eames' Plastic Shell Group (1948–50), Arne Jacobsen's Series 7 (1955) and Robin Day's Polyprop range (1963–64, page 72). Another seating design that speculated on universality was Joe Colombo's appro-priately named Universale chair (1965– 67), which was based on the concept of modularity, whereby different heights of legs could be plugged into a universal seating module to create either a low lounge chair, a dining chair or a bar stool, depending on functional requirement. It was only the dining version, however, that made it into mass production.
By the 1970s the concept of univers-ality had moved on considerably and into the realm of inclusive design, whereby designs are created not for 'Joe or Jane Average' but for as wide a range of people as possible, regardless of age or physical ability. Today, the terms 'universal design' and 'inclusive design' are often used interchangeably, and ultimately they mean the same thing: finding all-embracing design solutions that have the broadest possible appeal.
'100 Ideas That Changed Design' (£14.99) by Charlotte and Peter Fiell is published by Laurence King on 21 January 2019.
---