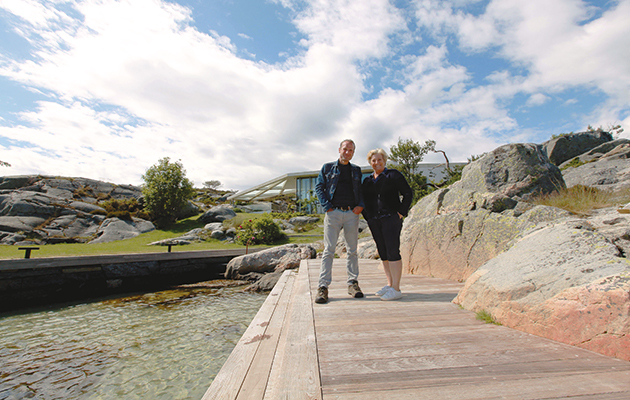 Now on Netflix, The World's Most Extraordinary Homes takes house-envy to its logical conclusion with dramatic drone shots of the world's most unique, architect-designed homes.
Lachlan Anderson-Frank

reviews.

Where did it all begin, our burning envy, nay, worship of others' dwellings? Was it MTV Cribs, Grand Designs, or perennial offender Dwell magazine? Actually, all three began around the year 2000. Today, aspirational images of idealised, architect-designed homes dominate online zines. Now we haev The World's Most Extraordinary Homes.

The BBC's recent series, now available on Netflix, presented by architect Piers Taylor and actress Caroline Quentin – a 'passionate property developer' – goes even further. The two jaunt around the world to dramatic locations such as mountains, coasts and forests, to spend a night in, and discuss with their owners, some of the world's most overtly expensive and conspicuously individualistic homes.

Many of the houses seem to defy nature-conservation rules, built in untouched national parks where not a single other home appears. The primped, plumped and perma-tanned owners boast about how parts of their homes had to be brought in by helicopters to avoid damaging the sensitive landscape, all the while ignoring the obvious fact that they've managed to plonk their palace right in the middle of what had previously been pristine.
By architects for architects
As the series progresses, it becomes increasingly clear that many of the homes have been designed by architects for their own use. A home for Richard Levene, the editor of architectural maazine El Croquis, set in a forest near Madrid, is filled with bright colours that few regular clients would accept.
A tower house in New York State's Catskill Mountains, built by Gluck+ Architects for a partner in the firm Thomas Gluck, cantilevers too daringly for most homeowners' tastes.
And the Catskill holiday home of architect Jay Bargmann, managing partner at Rafael Viñoly Architects, is such a cliché of industrial asceticism and painstaking detailing that it's a surprise he's not wearing black-rimmed glasses.
When did housing become such a vehicle of a desire for self-gratification and aggrandisement? A house made out of a jetliner's wings proclaims its owner's desire to fly; another one had to be dynamited into place just to grip the terrain.
'Views and sunlight'
Perhaps even more difficult to comprehend is how this highly romantic vision of architecture, often focused on 'views and sunlight', got so mainstream? Shouldn't housing be functional as much as beautiful? Isn't it supposed to be accessible and affordable, rather than unique and elite?
Clearly, TV execs nowadays think that mass housing simply doesn't make for very good television. It would be difficult, in spite of its revolutionary legacy, to dramatise the creation of Margarete Schütte-Lihotzky's 1926 Frankfurt Kitchen, much less the mayor of London's Housing Design Guidelines.
The interest in holiday-home architecture, and in the trials of individual homeowners realising their housing dreams, is the product of Britain's obsession with home ownership. The dreams of the few, realised at the expense of the many.
A previous generation of BBC programmes, such as Architecture at the Crossroads (1986) and Building Sights (1988–96), were much more ambitious. The former critically engaged with movements such as postmodernism and conservation, as well as contemporary housing and architecture in locations as diverse as Berlin, Texas and Japan.
Architecture for the Instagram generation
Building Sights returned to Britain, with architects such as Richard Rogers, Zaha Hadid and Norman Foster discussing their favourite contemporary buildings, including such gems as the Byker Wall estate in Newcastle by Ralph Erskine.
All of these programmes recognised that there were many ways of doing architecture, but that ultimately, recognition came from attempting to improve people's living and working conditions, rather than spending as much money as possible on a rammed-earth wall in the middle of the desert. I'll take the Roehampton estate – a Rogers favourite – any day over this vision of contemporary architecture carefully curated for the Instagram generation.
---