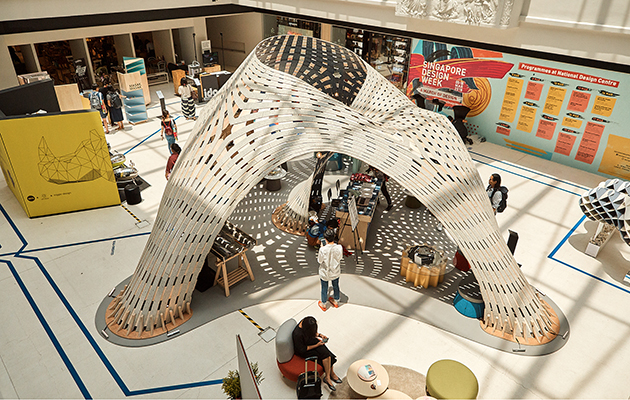 Installations by Formica and Kvadrat formed the centrepiece of SingaPlural
Singapore Design Week revealed a fledgling culture with a conflict at its heart: a huge amount of government funding, but a top-down approach that deters experimentation. Can this paradox resolve itself into a distinct design identity, asks
David Michon
We know Singapore as a business city – an all-you-can-eat of corporate HQs, jet-set consultancies, and, notably, an entrepreneurially minded government. The evidence for this are Singapore's greatest monuments: its sky-high infinity pools, its vast ticketed greenhouses, and its incredible scale models of the city that detail the immense ambition of new development projects. All are manifestations of its commercial drive, varyingly in service of the tourist industry, the business community and its citizens.
For the last 15 years, however, one ingredient has been crucial to the country's recipe for growth: design. The newer capitals of commerce often take a bite; Hong Kong and Dubai are primary examples. Yet Singapore has metabolised design with particular gusto, pushing it more quickly than others from obscurity to public value, and heaving it into not just shopfronts or public spaces but also boardrooms. In 2003, the country's government officially committed itself to fostering design as a discipline. It was particularly keen on 'design thinking' – a promised pathway to innovation – asking itself, effectively, how can design increase our GDP? That year, the government formed the DesignSingapore Council, a national agency. Yet, it took until 2014 for a design week to be launched. Now in its fifth year, it's here we lay our scene. Ambitions have never been higher.
We catch the DesignSingapore Council at a transition in leadership, marking in part its ambitions to take a global stage: it's now former director, Agnes Kwek, is set to be deployed to Paris as a design ambassador, and the new director who will take her place, Mark Wee, is a respected architect and design consultant who represented the country at the 2008 Architecture Biennale in Venice. Both are genuine believers in the country's potential, the good design can do, and the value of what has become the industry's most precious commodity: its thought process.
'Yarn Bombing' at the BBB Arts Sprawl
This shapes Singapore Design Week (SDW), where the tone is at its best an Ode to Problem Solving, and at its worst a Government-Sponsored Ode to Problem Solving. The anchor event of the SDW is the DesignSingapore Council's showcase SingaPlural, which sees designers collaborate with a number of manufacturers (this year including the likes of Kvadrat, Formica, JVCKenwood and Indian stainless steel behemoth Arttdinox). For Kwek, the great outcome of this collaboration is 'the IP creation'.
Similarly, Brainstorm Design, a new addition to this year's schedule of which Kwek is proud. Hosted by Fortune, Time and Wallpaper* magazines (strange tonal bedfellows, linked by ownership), it comprises three days of TED-style talks and snappy Q&A and panel discussions that bridge design and business. Some speakers, such as Liz Ogbu – an American designer who focuses on design with social impact – take the edge off, but the imagined audience is clear. This event looks up to Davos, not LDF.
Singapore, of course, is frequently ranked as one of the easiest places to do business. But what those rankings miss out on is often the lifeblood of design work: an ability to provoke and experiment. 'I've always felt the Singaporean approach to design is really pragmatic, well reasoned, well engineered – an almost hospital-like approach to problem solving,' explains Justin Long, a creative consultant, designer and co-founder of non-profit The Design Society Singapore. 'We're so used to living in a culture of fearing failure,' he continues, 'that everything we do leaves no room for error.' There seems to be an important paradox to the Singaporean design scene: all the top-level support one could ask for, but so much that it becomes heavy-handed. The result, a design sensibility that is 'too safe, too clean, too comfortable, too smooth, too predictable', says Long.
Studio DAM display a thoughtful, resolved aesthetic
Kwek and the DesignSingapore Council seem to have partially acknowledged this for this 2018 edition of SDW. Yes, there is Brainstorm, but there are also two official design districts, trying to round out top-down with more community-driven and bottom-up activations. Long helped to organise one of them, the Design District Dialogue (DDD) at Holland Village and Chip Bee Gardens.
Set in a small neighbourhood of simple, colonial-era two-storey terraced homes, DDD occupied 10 empty residences (with permission of the government, the area's landowner), creating in them a series of exhibitions and shops activated over two weekends as a community street festival. DDD capitalises on the fact that this neighbourhood is also home to many designers and artists – including Long – whose homes double as studio spaces and sometimes shops.
DDD focuses on design and lifestyle, at times driven by concept, at others by shopping or participation and activity. Each residence was named, based loosely on a theme: The Library explored print and prose, The Playground created experiential play, The Stage boasted a roster of musical performances. There were object-makers, rage room operators, ice cream purveyors, tattoo artists and magazine makers. The vast majority were very fresh faces; for many this was a first time taking their brand offline and into the real world.
Cassette tape weaving by upcyclers Rehyphen at the BBB Arts Sprawl
Long also sought an international perspective on Singapore design, asking Kristen de la Vallière of Say Hi To, an online magazine based in Paris, to curate one home on fine art and furniture. On display were projects by local designers such as Studio DAM, Olivia Lee, Jodi Tan, Studio Juju and Dawn Ng. Clean, modern products showed a side of Singaporean design that felt thoughtful, resolved, expensive, and a bit European.
Vallière chose work that took risks – a counterbalance, she says, to 'the government, [which] was featuring very efficient product design, very efficient materials design – and that sends a signal to the country about what is good, or what is normal.' It was Vallière's first time in Singapore, and her impression of speaking to designers was that it was not only the government that was slightly conservative, so too were the local clientele. 'What I heard was that clients hire interior designers or product designers and, instead of trusting them to translate the values of a restaurant or hotel into visuals,' she explains, 'they would just say "make me this" and "show a picture from Pinterest".'
The Rehyphen initiative aims to 'eliminate e-waste to giving the product a new life'
The paradox of the design scene in Singapore is reinforced by the fact this city is also one of the most expensive in the world. While there's great access to public funding for designers, it can be hard to set aside the time needed to craft applications. For Singaporean-Dutch design duo Studio Dam, 'time is also a currency'. A busy young practice, present at both SingaPlural and at DDD, it finds it better to invest in 'building relationships with clients, prospective clients or other creatives who can see our value immediately', rather than seeking out approval from government. A steady stream of clients is an absolutely must.
Olivia Lee, another of the designers at the Say Hi To house, feels much the same. 'Of course, support is amazing and I welcome it,' she says. 'However, I feel like the onus is also on me to work on the survival and success of my studio. Grants are a bonus, to be utilised strategically.' There is something to be said for this stage of a city's design scene development – a stage which Long describes as that of 'an awkward teenager still trying to assess our identity as a design-centric country'. Lee and Studio Dam equally find great support within the community. All have benefited from DesignSingapore's strong interest in new collaborations.
Hong Kong was at this stage about a decade ago, Dubai is there now as well: cities where collaborations between designers replaces government support as the bedrock of their design industries and certainly of any celebration of it. Long makes an interesting point about Singapore's USP: of SDW, he says, 'I think we could do it like everyone else with a creative design festival, or we could do it the Singaporean way, a pragmatic design festival'.
If London Design Festival was taken over by Westminster and its agencies, perhaps we'd lose interest in it, and perhaps what the world craves is a design week that talks business first, not aesthetics – there are hundreds that do it the other way around. Is SDW one to watch? The answer, perhaps quite thankfully, might be 'depends what you're after'.
---