Patternity's Life Labyrinth from above. Photo by studiostagg
In its tenth year, Patternity's founders discuss the power of pattern and tell Siobhan Morrin how their London Design Festival installation is a physical representation of their work with mindfulness in design
For this year's London Design Festival (LDF), design duo Patternity were commissioned to create an installation outside Westminster Cathedral, the Victorian-era church built in red and white brick and marble. Patternity's design, Life Labyrinth, at first glance appears to be a seating area made of long black and white blocks, the signature colour palette of the creative pair, Anna Murray and Grace Winteringham. The labyrinthine nature of the installation, however, becomes apparent up close, with the blocks arranged in a gently spiralling pattern, guiding visitors in to a central square boxed in with flowers.
'We've been inspired by labyrinths for a long time,' Murray tells Icon by phone. 'It's a potent symbol that links back to the idea of patterns being sacred. They relate very much to being able to relax – they help harmonize the brain and body and heart.' It feels appropriate outside the striped neo-Byzantine cathedral, with the monochrome blocks referencing the stripes of the red and white exterior. And, Murray explains, they found an unusual link during their research, discovering that there used to be a maze in the same space during the Victorian era.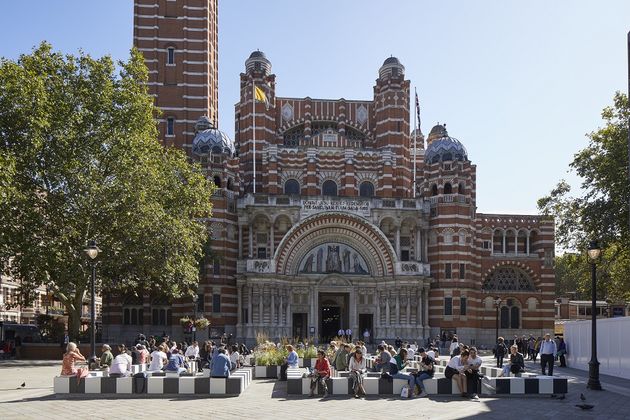 Life Labyrinth in use. Photo by studiostagg
However, there is a difference between a maze and labyrinth, and it also highlights a key tenet of Patternity's work and ethos more generally. 'Unlike a maze, where you get lost, all parts of a labyrinth take you to the centre. They're very meditative, and they've been found in many ancient civilisations and ancient sites. They're seen to have healing powers, because you're bringing your body into alignment, and when walking through it, you're able to process a problem in a different way,' explains Murray, based in London, while Winteringham joins our call from her studio in Glasgow.
Read more: The talks and exhibitions to see at London Design Festival 2019
While the Life Labyrinth was well used as a seating area on the first weekend of the design festival, there were also many different groups walking the path to the centre and using it as a spot from which to admire the cathedral. The LDF installation is an open invitation for people to take a short, mindful walk, the pair explain, ending at a garden designed to highlight a connection with nature.
The connection between pattern and wellbeing has been a regular feature of Patternity's work since its founding in 2009, as is the labyrinth, which they first used as an installation in 2D form in 2011. 'Our projects are about bringing people together and helping people to connect, to be playful and inspired,' says Murray. In 2017 the pair created a gratitude journal with Ebury Press, encouraging the owner to think about things each day they were grateful for, whether 'the person who made you a cup of tea, or the fact we have clean water,' says Murray. The emphasis is always on pattern, whether in design or in wider sense – 'pattern is everything you do, your thoughts, movements. We often talk about pattern is the universal language that connects different worlds together,' she adds.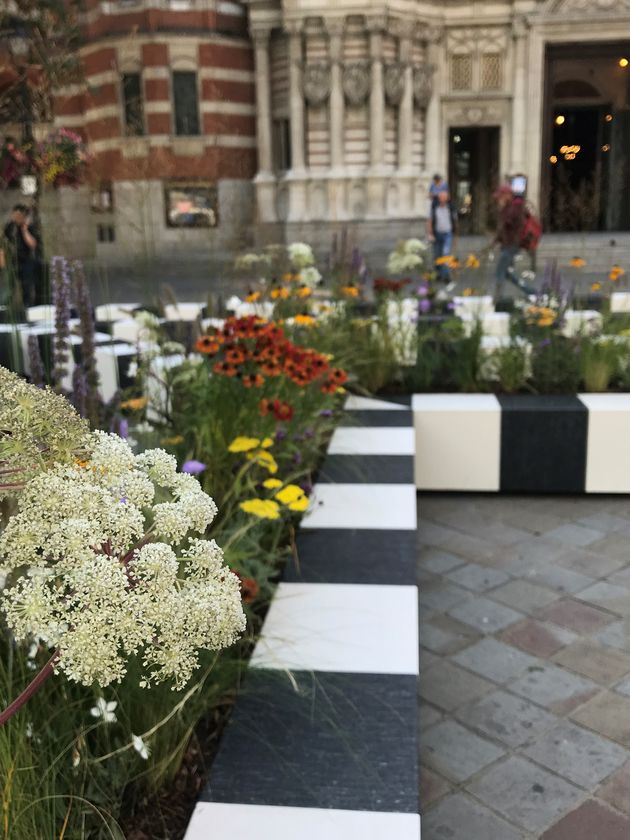 It's clear that spirituality in a loose sense is a consistent reference point, and it comes up in the regular events the pair run. 'We've noticed particularly running events on meditation that people maybe wouldn't have tried meditation before, whereas now people are really open and wanting to find different ways of being, realising the current way of living isn't very healthy,' Murray says. We also discuss the popularity of the The Pattern, an astrology app that has millions of followers and converts of even hardened astrology cynics. Patternity have seen it and even considered trying to get collaboration off the ground. 'I feel like the reason it's so successful not just because of what it's saying, but it's more a statement that there are things happening in the universe that are so much bigger than the individual, like OK, this is not just what's going on in my brain. I think that's why it's so intriguing, because it's helping give you that completely alternate perspective on life,' says Winteringham.
Addressing wellbeing and mindfulness through design on a larger scale and in a business environment is where Patternity is looking to develop their project and new products. 'Individuals can be quite receptive to change for themselves, but business can be harder. The labyrinth at the design festival is a good example of bringing something that physically addresses wellbeing and spirituality into a relatively corporate area, near Victoria,' Winteringham says.
Their own business is something that has adapted and changed in the past year, with the pair closing their London studio; Winteringham now works mostly from Glasgow and Murray is based in London. 'We have such different patterns to how we best work, and more recently we decided it felt more flowing and natural to have more autonomy,' Winteringham says.
This idea of working in a 'flow state' is something they plan to explore further in upcoming projects, looking at nature-based retreats, exploring ocean health and designing more of their own products. 'When the business was younger, we couldn't imagine a time when it wouldn't be eight hours at a desk… But we found it doesn't nourish creativity,' Winteringham explains. 'Taking a break, looking at it from afar showed our shared passion for pattern; it has driven a new way of working. And it works because we have a shared vision to use pattern to create a point of change for people.'
---