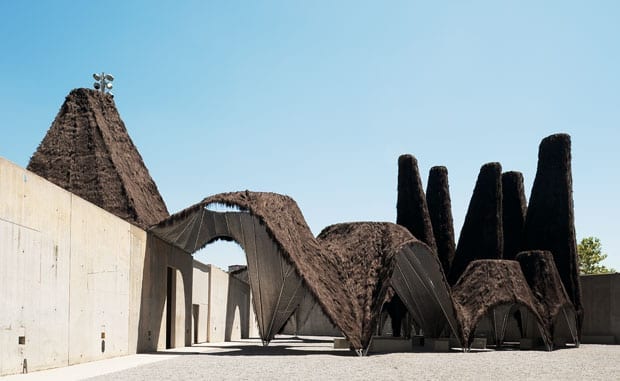 words Justin McGuirk
"Our dogs went crazy," says Hilary Sample of MOS Architects, recalling the first time the practice draped a large sample of thatch outside the window. The furry material now covers this year's pavilion at PS1 in New York, which opened in July.
The pavilion is an annual showcase for young American architects, in which the forecourt of MOMA's PS1 outpost becomes an experimental playground and party venue. MOS calls its pavilion Afterparty, a reference to the more chilled-out spaces they wanted to create but also hoping to suggest an end to high formalism in architecture.
"We're not saying everyone should be doing primitive architecture," says MOS co-founder Sample, "but it's about going back to basics – we're coming out of this exuberant state of architecture."
Following MOS's interest in vernacular forms, the pavilion rises up in a series of conical chimneys that relate to the industrial smokestacks of surrounding Queens. Since the tent-like structure is also meant to provide some respite from the summer heat, one of the benefits of the chimney form is the "stack effect". When the top of the chimney heats up it creates a draught, pulling air through the funnel.
The pavilion straddles the three sections of the courtyard, creating a cluster of more and less intimate spaces – the higher the cone (and the highest is 14m) the smaller the space. "Our whole project is just a giant mock-up," says Sample, and there is certainly an informal simplicity to the structure. The whole thing is held together with plastic zip ties.
The show-stopping aspect is the thatch, which is a woven palm fibre from Indonesia called Ijuk. It is dense enough that rainwater simply beads and rolls off, and heavy enough to add a tensile sturdiness to the aluminium pole structure.
Underneath the Ijuk is an aluminium-based material that brightens the interiors by reflecting light but also serves another, just as important, service. "It helps to avoid the Tiki bar feel," says Sample. "We were a bit worried about that."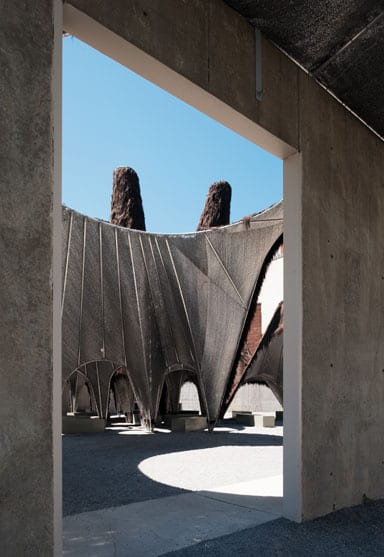 ---