words Johanna Agerman
Jonas Stokke and Øystein Austad work in their socks. "Our office is more like a home to us," says Stokke. "And Norwegians have a tradition of taking off their shoes when they enter a home. It is so much more comfortable to walk around in your socks."
StokkeAustad is tipped as Norway's next big design export. Since the three poster boys of the Norwegian design scene, Norway Says, parted ways earlier this year there is an opening at the top and StokkeAustad is a strong candidate. The pared-down yet playful debut by the duo at Salone Satellite in 2005 drew an international fanbase and when they graduated from Oslo School of Architecture and Design in 2007 they already had several products in the pipeline.
"Our focus has always been to look outside Norway," says Stokke. "Not that we have anything against Norwegian companies, but to establish a design firm in Norway it helps to aim internationally."
While many of their contemporaries have gone abroad to show their work only to be picked up by Norwegian manufacturers, StokkeAustad has acquired an international clientele. Casamania launched the Lobby chair in Milan in April, Habitat took its Pendant light to prototype stage, Spanish ABR has put the Dayboard calender into production and the studio is currently working on the design of a new road signage system in Abu Dhabi.
The studio, in western Oslo, is dominated by a wall-to-wall pinboard that contains everything from reminders of payments to small 3D models and lots of sketches. Sketching by hand is an intrinsic part of StokkeAustad's design process. "It's a very quick way of expressing ideas and concepts," says Stokke. "Keeping it quick and rough in the beginning leaves room for interpretation. All of a sudden a lamp can be a nice detail on a chair, or an interior can lend ideas to other products. The computer is very exact and doesn't leave the same freedom."
Still, there is very little of that freedom visible in the production. StokkeAustad's output is austere. The upholstered Lobby chair is like the strict garb of a nun, while the Dayboard calendar for Spanish ABR looks a bit like a colour chart from Pantone.
But the beauty of StokkeAustad's products lie in the use of them. The Lobby chair is conceived as a piece of furniture that creates a clearly defined space without infringing too much on its surroundings. The tub-like seat and extruded armrests make for ideal public seating and create a sculptural silhouette. The Dayboard is a way of adding value to the use of a simple wall calendar. It consists of 352 coloured magnetic squares; each month has a colour and each day a different shade and the squares can be organised as the user sees fit. "The way people use it reflects how people visualise the year," says Austad. The design is the perfect example of StokkeAustad's ambition to "add value" to their projects.
"We strive to create value in our projects whether its economical, environmental, functional or conceptual," says Austad of the approach. To that end, the designers were maximising their entrepreneurial potenial in 2008 when they hired Joachim Levin and Geir Fredriksen to look after business development. "Basically all of the things that we are bad at, like economy and contracts," says Austad.
StokkeAustad is designing the pavilion for 100% Norway, showing during 100% Design 
in London, 24-27 September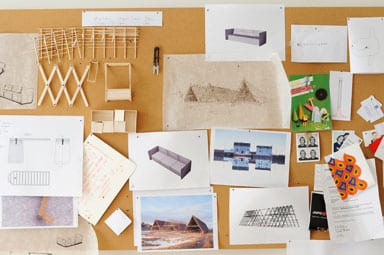 ---