The El Terreno project centres ecological and social sustainability in a city where access to green space is rare – and is now used as a kindergarten too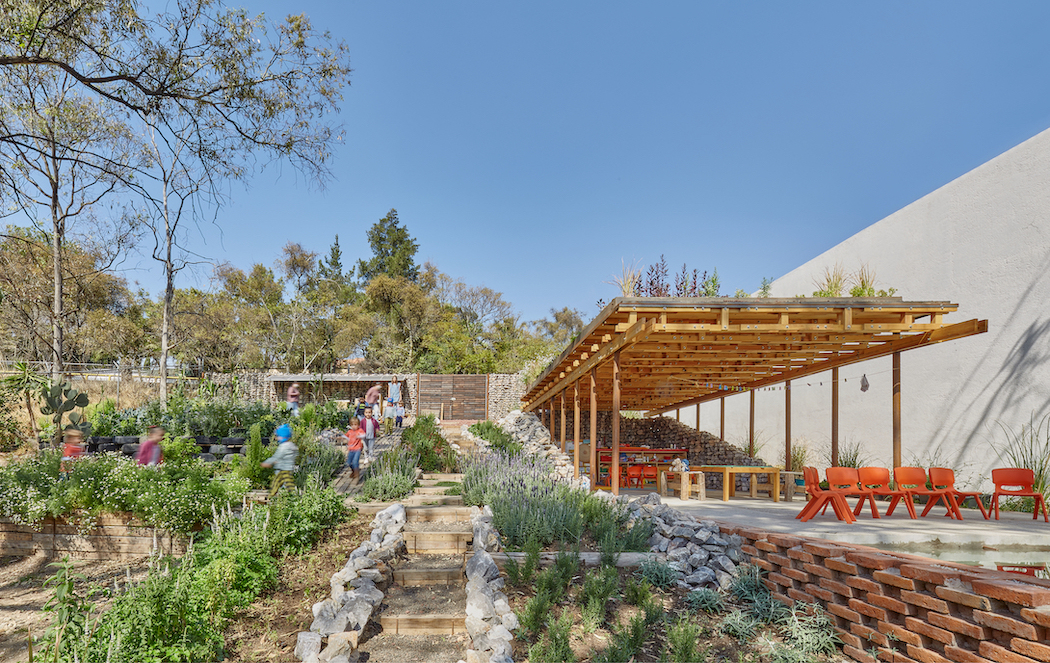 Words by Natalia Torija Nieto
Mexico City and its surrounding metropolitan area is home to over 21 million people, with 9 million living in the city proper where access to green space is limited to an average of (unequally distributed) 7.5 sq m per resident. Most of the capital's public parks lack necessary maintenance, and while there are improvement programmes in place – like the recently launched reforestation campaign for protected natural areas in the city – immediate access to urban green space is currently rare.
While wider accessibility remains a key issue, some architects and urban designers are working to embed more greenery in private and public projects – not only the reintroduction of native plants, but also the implementation of rainwater harvesting systems and solar energy wherever possible, as flash floods and power outages are constant. 
Such is the case with Vertebral, an award-winning practice founded in 2016 by architects Elias Kalach and Teddy Nanes. In Bosque de las Lomas, a residential neighbourhood located in the western border hills of Mexico City, the practice's most recent project is found. El Terreno is a community garden built on a sloped plot of land of about 850 sq m, which sat unoccupied and overgrown for many years. 
'For us, architecture is not the design of a singular moment but of daily life, making the day-to-day special and at the same time honest and sensible,' says Kalach. 'We think of sustainability and social good not as a tool but as a consequence, and luxury for us means having access to green areas and a well ventilated space, which eventually led us to the idea of returning nature to the city.' The goal of Vertebral has been to generate a change in the collective consciousness, and to make people aware that sustainable doesn't necessarily mean poorly designed – that there are ways to be resourceful and still produce good design.
El Terreno is the brainchild of Kalach's sister, Michelle, a sustainable development engineer trained in permaculture, hydroponics and medicinal herbs, who has long been involved with self-sufficient communities. 'Michelle's founding vision really pushed us as practising architects to rethink the architecture, the materials and the modules,' says Kalach. 'And to ask ourselves: how can we generate a new space, free of prejudice, to go hand in hand with Michelle's idea of hitting the restart button in people's minds?'
The siblings took El Terreno on as a prototype for future projects, where they were able to put new ideas and processes to the test, such as the introduction of a composting toilet for fertilisation, the use of solar panel, a mixed-use pavilion with a green roof for rainwater harvesting, and landscaping with tiered rubber tires to prevent landslides that double as herb and vegetable patches. 'Everything that gets subtracted from the land is reintroduced in a balanced way; we dug out half the terrain and we used the other half to fill it in,' says Kalach. 'We are not introducing anything else to the land other than what was already there – moving earth around in a very subtle gesture.'
One half of El Terreno is the garden, fully grown after its first rainy season, while the other half is a pergola that was built into the terrain with leftover wood from concrete formwork and is held up by structural pipes that drain rainwater into a pond and cistern for irrigation. The surrounding zig-zagged gabion walls are filled with ballast stone extracted from the site that slant down with the slope and contain the open kitchen and terrace surrounded by purple sage bushes. 
Far from any pretence, 'this is not architecture with which to show off,' Kalach says. 'It is rather discreet and hidden within the vegetation, something that has become a common denominator for the spaces we've been working on lately.' 
Most of the construction work at El Terreno was done with the help of volunteers, engaging the community through all stages of trial and error. Shortly after the garden officially opened, it was turned into a kindergarten – although it is still bookable for events and workshops, and open to all who want to stop by for a cup of freshly hand-picked tea by Michelle.
El Terreno is the recipient of the Azure prize for social good and has been lauded by restaurants, schools and – most recently – the Secretary of Environmental Protection, who has shown interest in bringing proposals like these to public schools around the city.
Photography by Ricardo de la Concha
---