With a light-filled dining space defined by a glulam lattice structure, the project aims to support pupils' social and emotional development at this London school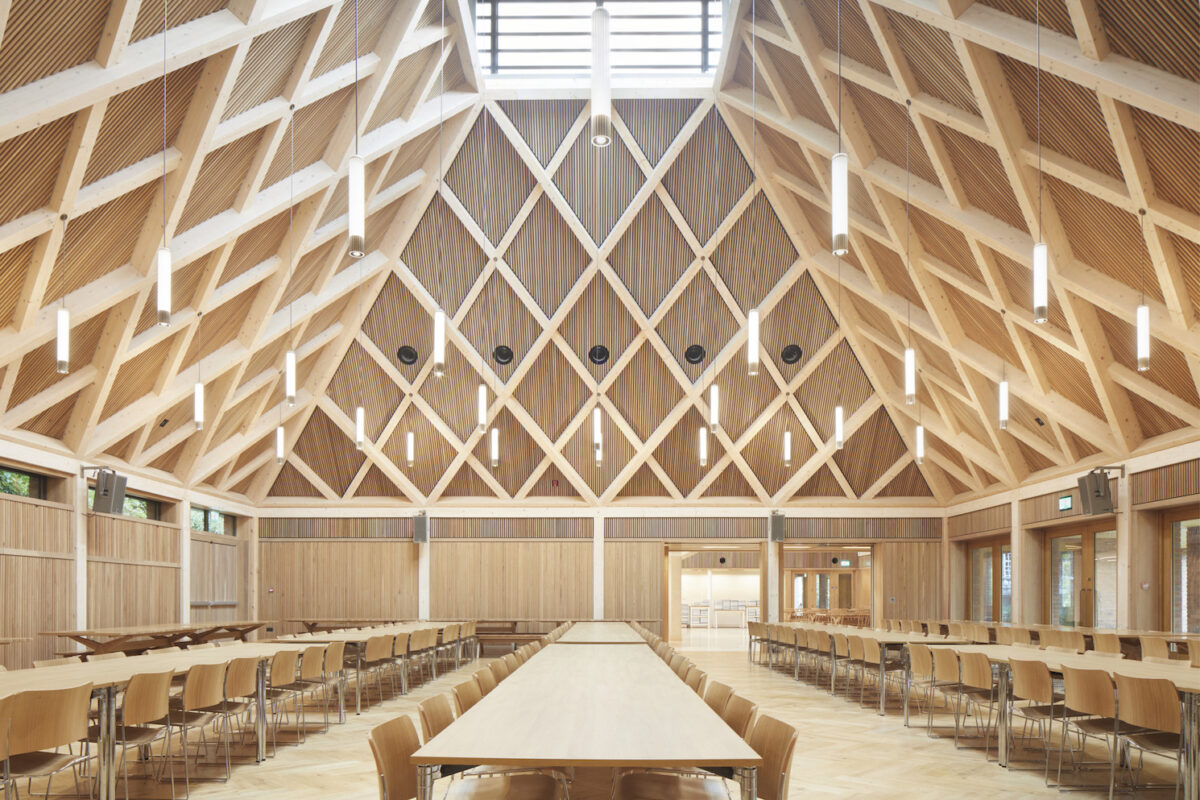 At Ibstock Place School in south-west London, architecture and urbanism practice Maccreanor Lavington has completed a new refectory building for pupils.
The 1,925 sq m building is dominated internally by a double-height timber dining space, the vaulted ceilings of which are defined by a visually striking glulam lattice structure. Inset panels of oak are designed to incorporate acoustic absorption to soften the background clatter of dining.
In addition to this airy space – which aims to be both calm and uplifting – the refectory building comprises a full commercial kitchen with specialist pastry room and hospitality annexe. Three roof lanterns across the building form chimneys to draw hot, stale air out of the building through crowning louvre windows, which allow natural light to flood the spaces below.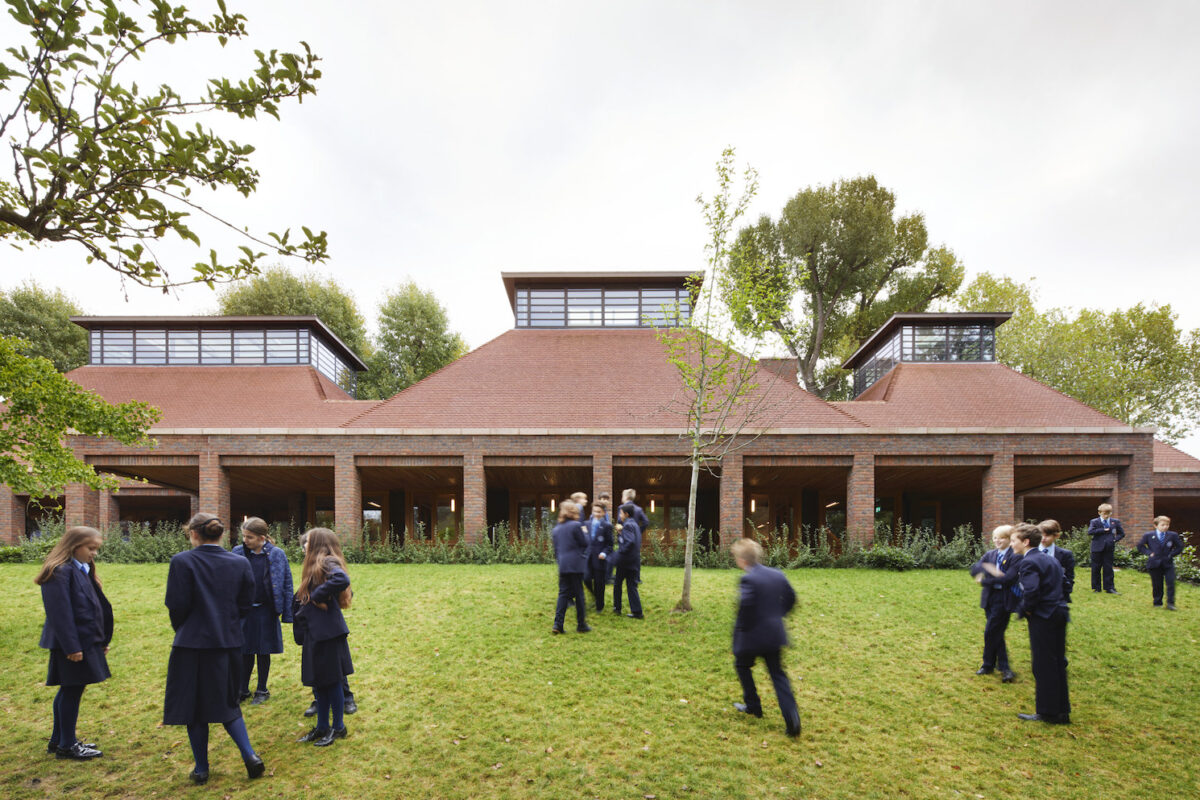 Externally, the building is wrapped in a brick cloister to provide sheltered passageways for school children to queue and walk. Soft stock bricks, along with plain clay roof tiles, were chosen to help the building sit harmoniously in the surrounding green landscape and the wider school campus – as well as maintain resilience for a longer-lasting structure.
The refectory design responds to a recognition of the importance of school lunchtimes in supporting the emotional and social development of pupils. As well as the use of natural materials and presence of abundant daylight, both of which are shown to enhance wellbeing, the design incorporates glazed doors enabling views and access to the surrounding garden in order to connect pupils to nature.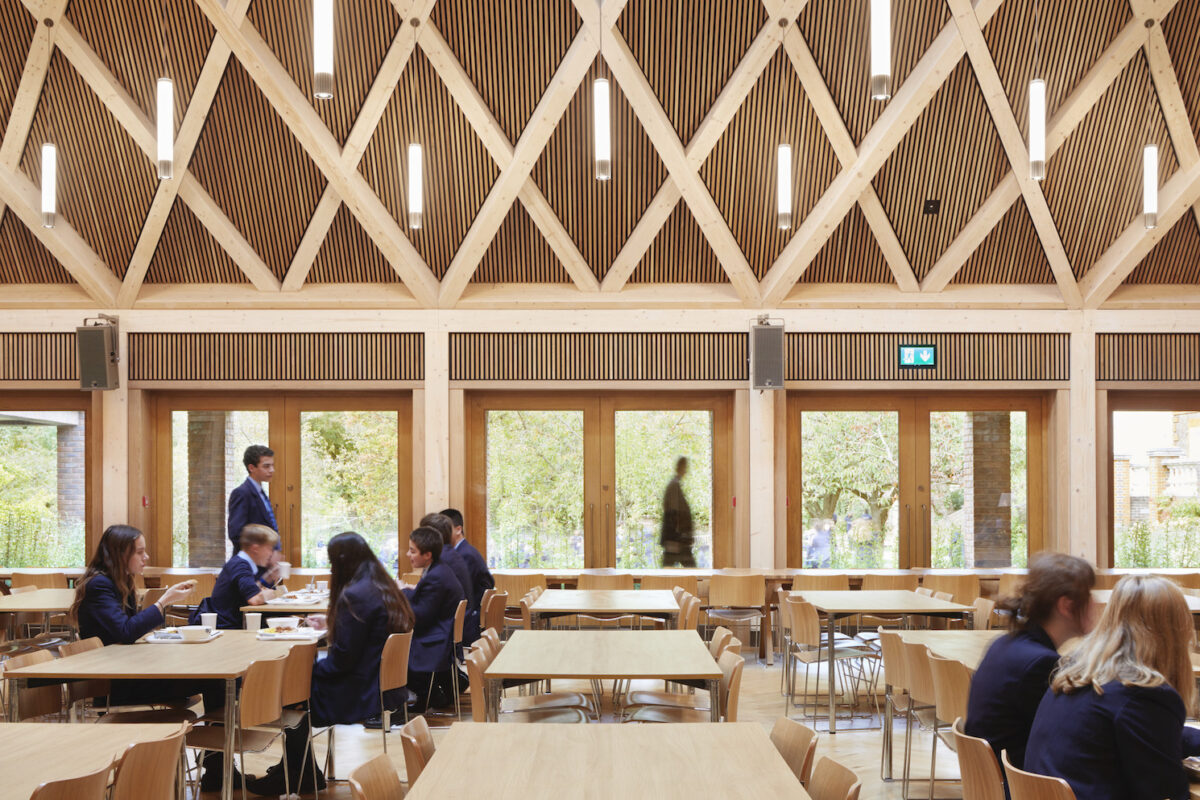 'This significant new building has been carefully crafted to embrace and enhance its beautiful landscape setting,' says Maccreanor Lavington's project associate Tom Waddicor. 'A cloister offers a calm, collegiate quality to the building's approach. Inside, an intricate lattice timber structure rises to three glazed lanterns lending a befitting grandeur to the refectory – the communal heart of the school.'
Photography by Jack Hobhouse
---