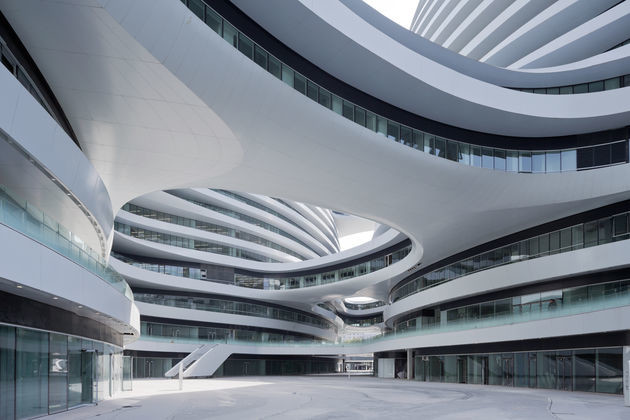 Galaxy Soho by Zaha Hadid. Photo by Iwan Baan
From the sharp diagonal lies of her first commission to the swooping curves of futuristic stadiums and museums, Iraqi-British architect Zaha Hadid is best known for her public and institutional buildings. This selection of her works aims to capture the essence of her radical style
The "Queen of the curve" was the most famous female architect of her era, arguably the most famous female architect of all time, and won many prestigious awards for her outlandish designs. In 2016, just a month before her death aged 65, she was awarded the RIBA Gold Medal, and was described as a "heroine" in the award ceremony. Known for her use of parametrics – computer-aided, algorithmic design – soft lines and severe materials like glass, concrete and steel, she redefined the language and look of modern architecture.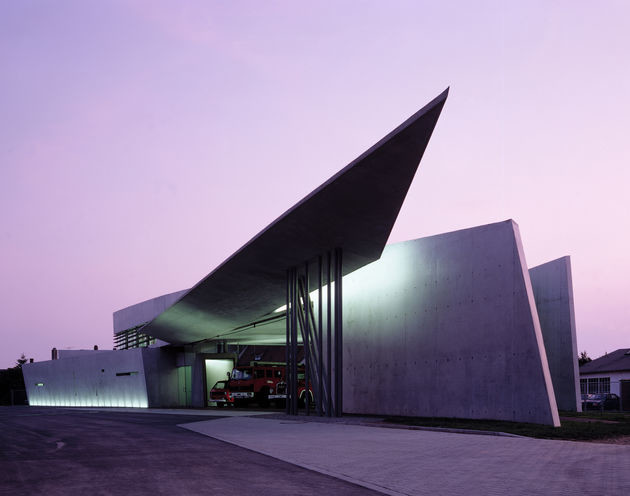 Vitra Fire Station. Photo by Christian Richters
Vitra Fire Station, 1994
Hadid's first commission – her first opportunity to turn her ideas into physical form – was for Swiss furniture company Vitra's onsite fire station in Weil am Rhein, a town in Germany, near the Swiss city of Basel. A major fire had destroyed part of the Vitra campus in 1981 and the company wanted to ensure this would never happen again. Completed in 1994, the building was a complex collection of sharp, diagonal lines. It was formed of concrete that was cast on site. The building only served as an active fire station for a few years; it then became an exhibition space and is still in use today.
Her earliest work was as abstract and sculptural as her later projects, but didn't yet reflect the fascination with flowing, curving lines that marked her later projects. It was, however, pivotal in her career, securing her a position among the radical deconstructionists at the time.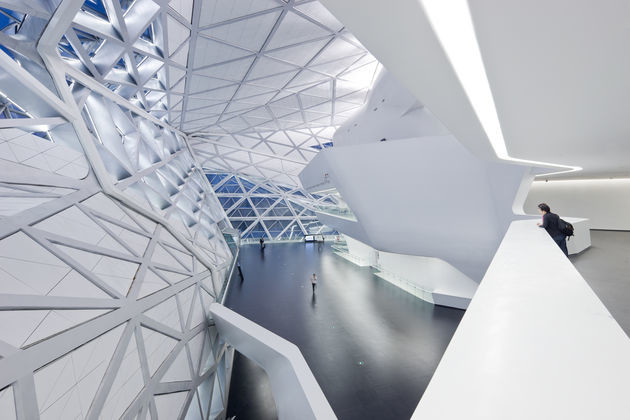 Guangzhou Opera House. Photo by Iwan Baan
Guangzhou Opera House, 2010
Hadid's first project in China was the winner of an international architecture competition. She described the building's shape as inspired by "pebbles in a stream smoothed by erosion" and it was designed to exist in harmony with its riverside setting. Inside, the main auditorium is lined with panels, also modelled on organic shapes, that are lit with thousands of lights. Now, the Guangzhou Opera House is one of her most famous projects and is recognised as one of the most spectacular opera houses ever built, with a sculpted, folded facade made of glass that lets natural light flow into the interiors. The structure took over five years to build.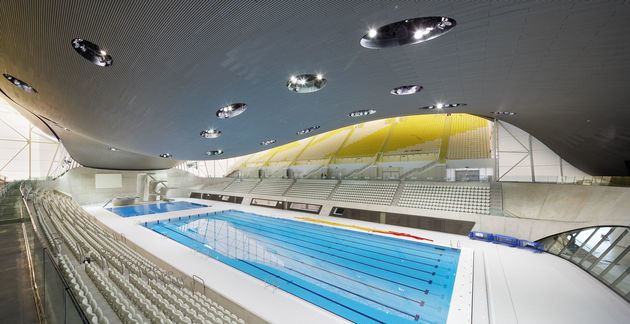 Zaha Hadid's London Aquatic Centre. Photo by Hufton + Crow
London Aquatics Centre, 2012
Designed and built for the London Olympics, Hadid's London Aquatic Centre in Stratford is a vast space that houses two Olympic-sized swimming pools and seats for 2500 spectators, though it was able to seat 17,500 for the games with the help of temporary extensions. Its undulating roof was designed to evoke the movement of water and the structure rests on only three concrete supports. Like Hadid's Chinese opera house, the centre features huge windows that allow for vast amounts of natural light to filter in and across the pools.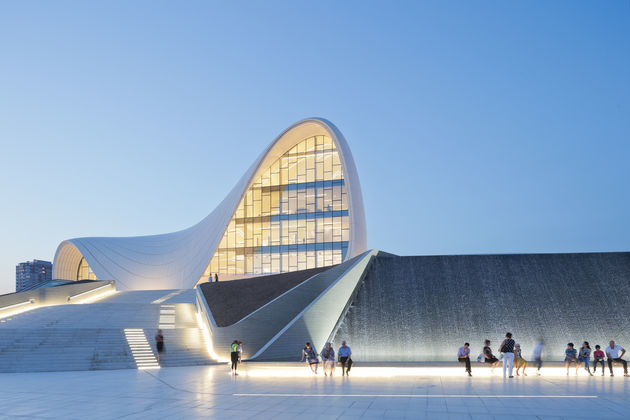 Heydar Aliyev Center. Photo by Iwan Baan
Heydar Aliyev Cultural Centre, 2012
This curvaceous complex in Baku, Azerbaijan, houses a museum, auditorium and mixed-use hall. It is clad in reinforced concrete and polyester and is known for its plunging facade – now one of the most iconic of Hadid's designs. A large conference centre sits at the heart of the centre, which also boasts a gallery and museum. The building's swooping form became a symbol of Azerbaijan and was even featured on postage stamps. The centre won the London Design Museum's Design of Year Award in 2014, making Hadid the first woman to receive the award and the project the first building to take the top prize.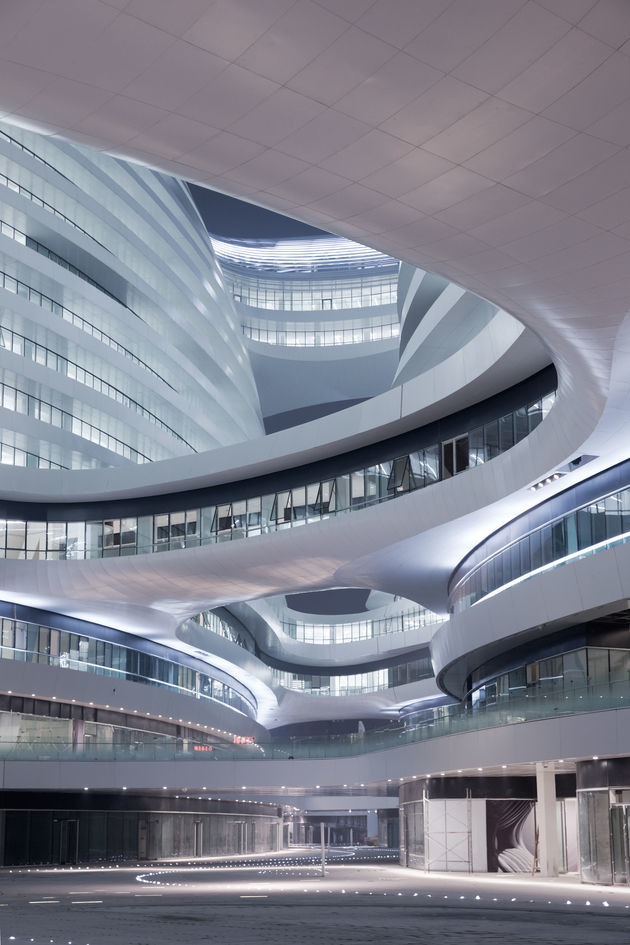 Galaxy SOHO. Photo by Iwan Baan
Galaxy SOHO, Beijing, 2012
Arguably the most futuristic of Hadid's work, the Galaxy Soho is made up of four domed structures clad in aluminium and stone that connect via a network of pedestrian sky bridges and platforms. It is an 18-floor retail, office and entertainment complex in China's capital that also features central courtyards as a gesture to traditional Chinese architecture, which frequently centres around a private, internal courtyard.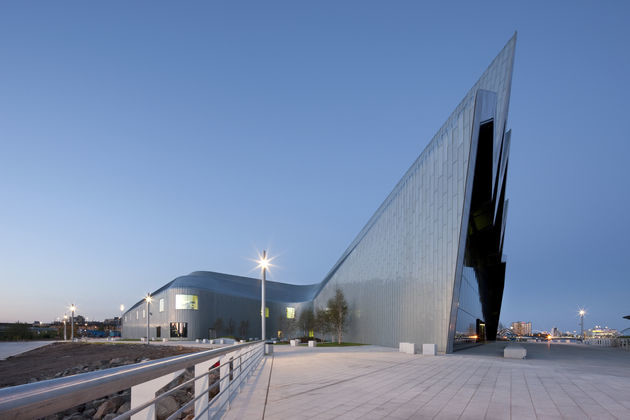 Riverside Museum. Photo by Alan McAteer
Riverside Museum, 2011
Glasgow's Riverside Museum of Transport was Hadid's first major project in Britain. It was nicknamed "Glasgow's Guggenheim" for its starchitecture status, like that of the Guggenheim that put Bilbao on the map, designed by Frank Gehry. The zigzagging roof of the Glasgow museum is clad with zinc, and a 36-metre-high glass facade faces the river Clyde. The building sits on the site of an old shipyard (a location that partly inspired the angles of the roof) and consists of a steel-framed, 7,000-square-metre exhibition space. Like many of Hadid's designs, the full effect of its shape is only perceptible from above.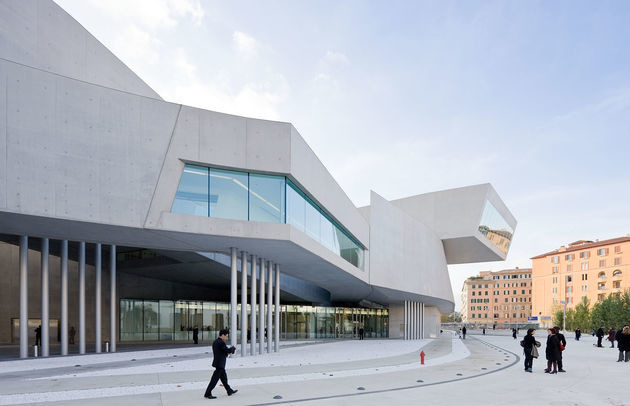 MAXXI. Photo by Iwan Baan
MAXXI National Museum of the 21st Century Arts, 2010
Built in Rome on the site of a former army barracks, MAXXI won Hadid the first of her two RIBA Stirling Prize for Architecture Awards in 2010. The centre was designed as a campus for art and as well as two museums, it houses an auditorium, a library and media library, a bookshop and cafeteria, spaces for temporary exhibitions, live events, outdoor space and ares for study.
MAXXI's tunnels, wide interior avenues and intersecting walkways were intended to give the visitors the sense that they were in a series of connected spaces. The concrete and steel structure features suspended black staircases, glass beams that allow natural light into the exhibition spaces and large windows that offer views of the surrounding northern part of the city.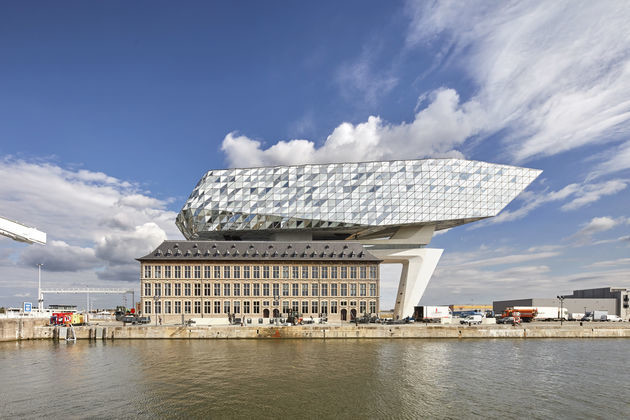 Port House in Antwerp. Photo by Hufton + Crow
Port House, 2016
The Port Authority building, known as the Port House, in Antwerp was Zaha Hadid's only government building. It unites the offices of 500 personnel who previously worked in different locations around the city and was aimed at revitalising the city's port. Even working within the framework of a historical building (the station was heritage listed), this was one of Hadid's most ambitious projects. She added a huge glass extension to the roof, and this extension is covered in triangle-shaped facets, which create a rippling texture similar to water. It was completed just months after her death.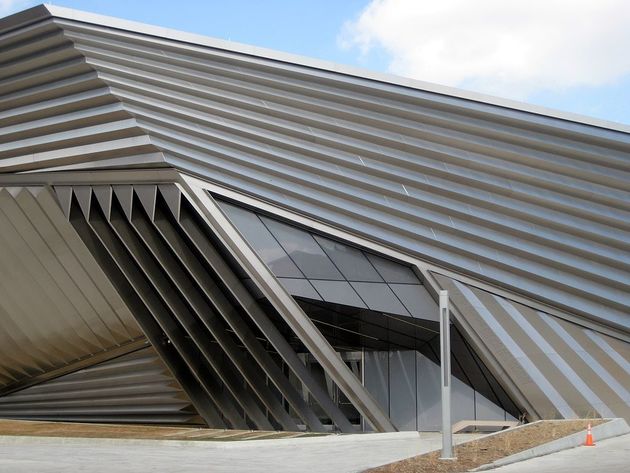 MSU Broad Art Museum. Photo by Wikimedia
Broad Art Museum, 2012
This contemporary art museum in Michigan was one of only a few projects that Hadid completed in the United States. (The bulk of her work was concentrated in the Middle East and Asia.) The structure is a combination of steel and glass with an angular form that contrasts with the red brick buildings of the university campus that surround it. Its facades are formed of a pleated metal skin into which windows have been incorporated, creating a more angular shape than much of her work and an impression that the building is tilting over.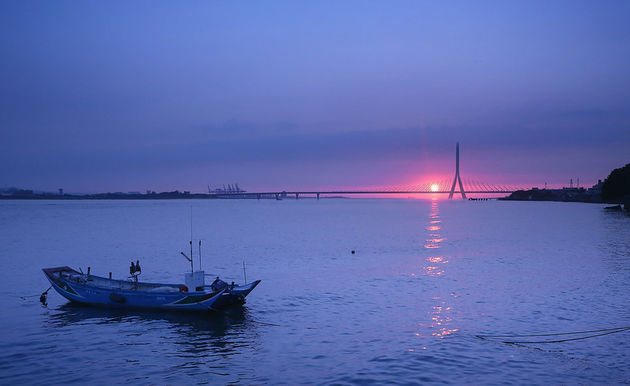 Danjiang Bridge render by Forgemind ArchiMedia via Flickr
Danjiang Bridge, 2024
Scheduled to finish in 2024, the Danjiang Bridge will be the world's longest single-mast, asymmetric cable-stayed bridge. It is an integral part of the infrastructure upgrading programme in northern Taiwan, and will increase connection between neighbourhoods and reduce traffic. The 200-metre-tall mast is designed to be as slender as possible and the bridge is designed to have minimal impact on the views from the popular points along the riverbank. The bridge is 920 metres long and spans the mouth of the Tamsui River.
---