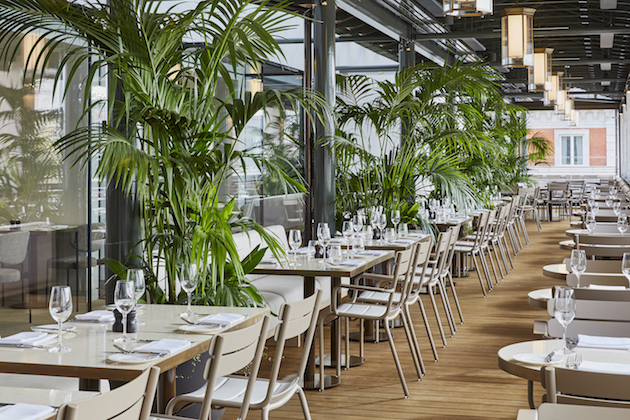 External terrace with Luxembourg dining chair by Frédéric Sofia for Fermob
The Royal Opera House selected Aram Contracts in early 2017 at an initial stage of the Open Up Project, as a consultant and supplier of loose furniture and lighting.
The aim of the project was to enliven the building throughout the day as a welcoming, multifaceted and inclusive cultural and social hub. Now open from 10am every day, the new cafe, restaurant, bar and terrace can be enjoyed by visitors who want to have a coffee with friends, have lunch or a drink in a beautiful, historical setting in central London.
The scheme is a wonderful modern vision for a high-profile institution, which is on the doorstep of the Aram building in Covent Garden. The close proximity was an advantage, with regular meetings between the project teams during the two-year refurbishment.
Amphitheatre-level restaurant with 430 dining chairs by Verner Panton and CH20 chairs by Hans J Wegner
About Aram Contracts
Aram Contracts' focus is on helping clients to deliver outstanding high-quality interiors projects.
Established in 1964, it has a wealth of experience, working with the best architects and designers across Europe on large-scale commercial and more intimate domestic projects. Aram Contracts believes the best results happen when clients draw on its experience by bringing the company in as a virtual part of the team.
Extensive supplier relationships built over many years allow Aram Contracts to source all requirements quickly and cost-effectively while supplying only the best modern design.
This is an advertorial feature
---