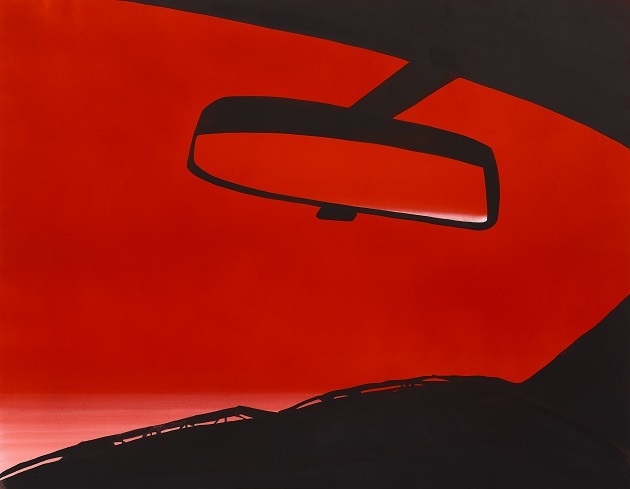 Los Angeles Painting by Calvin Marcus, watercolour and vinyl paint on linen, 2018. Photos by Ron Amstutz
The Whitney Biennial became the location for another debate about patronage of the arts – one that threatened to overshadow the exhibition's exciting curation
Among the works on display at the 2019 edition of the New York art show was a piece by Forensic Architecture investigating defence firm Safariland – the major controversy: the firm's CEO Warren B. Kanders was also the vice chair at the Whitney. On 25 July, Kanders resigned his position at the museum, saying in a letter to the board, "I joined this board to help the museum prosper. I do not wish to play a role, however inadvertent, in its demise." Eight artists in the exhibition who had asked for their works to be removed over the controversy confirmed their work would remain on display as a result.
Now the focus can return to the exhibition itself – one that confirms an overlooked phenomenon, says Glenn Adamson: that craft and design have become the lingua franca of fine art.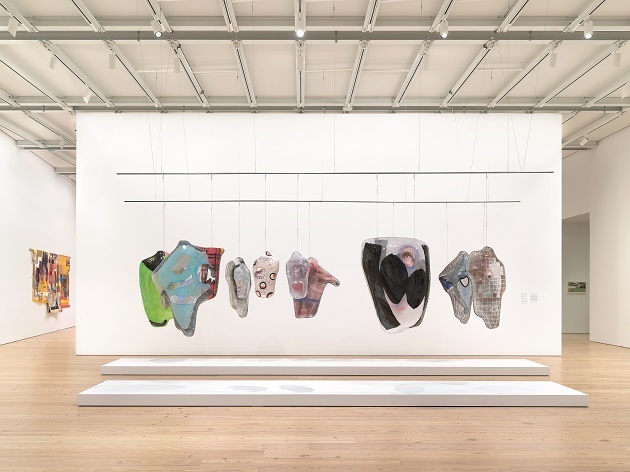 Installation view of works by Ragen Moss at the 2019 Whitney Biennial
Here's a thought experiment: what if the Whitney Biennial were an applied art exhibition? That is not, of course, its intention. Every two years the show comes along to take the temperature of American fine art, like a strategically inserted thermometer. It's a tough gig for curators, who must decide whether to forward their own personal viewpoint or take a more even-handed approach. The show is often judged to be either too willful, a subjective distortion field; or too boring; or else too beholden to the marketplace.
This time round, the consensus seems to be that curators Jane Panetta and Rujeko Hockley did a decent job. The show does feel like a spaciously installed, woker-than-usual art fair, but it boasts an unusually diverse roster of artists, many of whom impress. And when it comes to political content, the tone is dismayed yet determined, which feels right for our troubled times.
There have been plenty of other reviews though, so let's talk about something else. Let's take this most recent edition as a case study within a larger, surprising phenomenon: craft and design techniques and formats have become the lingua franca of fine art. The reverse trajectory – the adoption among applied artists of the trappings of fine art – is more widely acknowledged. But this is very much a two-way street.
So much is clear at the Whitney right off. The first work visitors encounter is a graphic design executed by hand: a polychrome banner by Jeffrey Gibson, hanging right behind the admissions desk. It features an embroidered quilt in its upper left corner – where the stars would be in a US flag – and instead of stripes, a patchwork of brilliant fabrics printed with fragments of text, like snatches of overheard conversation. It's a stitched-together picture of American diversity. You could go home happy seeing nothing else.
You shouldn't though, because just off the lobby is a pocket-retrospective of the 84-year-old artist Diane Simpson. Her sculptures, which draw on dressmaking and model building, can be taken as armour plating for feminists, or simply as abstractions, exercises in structure and form. Everyone loves them. As the young designer Misha Kahn remarked to me on Instagram, 'Seems cool that an octogenarian wins the Biennial.'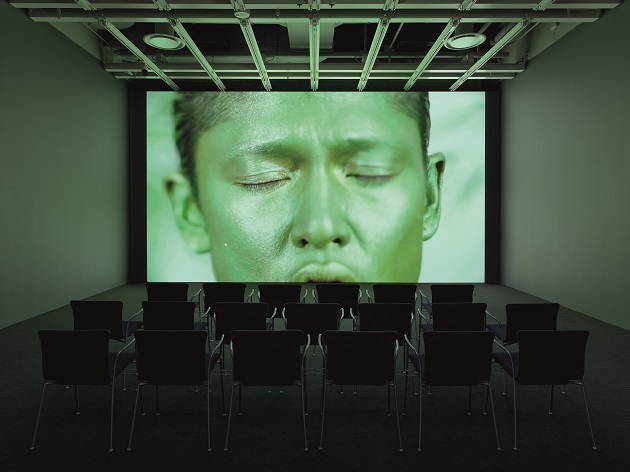 Installation view of Korakrit Arunanondchai, with history in a room filled with people with funny names, 2017
Upstairs is the main show, and further borrowings from all branches of craft and design: graphics, textiles, ceramics, industrial products, commercial film. To be sure, there is almost always a twist. Eric Mack's contribution, for example, is collaged from luxury fabrics by Missoni and Liberty, but has a deconstructivist energy you'll never find in a showroom. It also has the best title in the exhibition, Proposition: for wet Gee's Bend Quilts to replace the American flag – permanently (a reference to the famous black quilters of Gee's Bend, Alabama). Maia Ruth Lee's Steel Glyphs are also made of appropriated materials, scrap metal taken from New York City fences and window grills. Her installation looks like a wall teleported from the Barnes Foundation in Philadelphia, but without the Matisse and Renoir paintings – an apt metaphor for the migration of fine art towards genres previously considered to be 'minor'.
A still more direct engagement with design culture is seen in Ilana Harris-Babou's witty video, Reparation Hardware, which splices upmarket retailer Restoration Hardware's 'heirloom aesthetics' with legacies of African-American slavery. Carolyn Lazard's work Extended Stay is an appropriated monitor on an articulated arm, of a type one apparently finds in chemotherapy clinics. Tuned to cable and programmed to surf endlessly, it is a moving reminder of why we refer to someone undergoing medical treatment as a 'patient'. Nicholas Galanin's White Noise American Prayer Rug looks like a gigantic woven TV, tuned to a dead channel. A clever riff on the loom-based origins of pixelated imagery, it also summons the spectre of white supremacy, and its attempt to drown out difference through sound and fury.
It's a sign of the times that the Biennial's most talked-about work is by Forensic Architecture, the celebrated critical design practice. Its video concerns the weapons manufacturer Safariland, and its CEO Warren B Kanders. In recent months, staff and others have protested Kanders' presence on the Whitney's board of trustees, and Forensic has entered evidence for the prosecution by using image-recognition technology to track the company's 'triple-chaser' tear gas canisters, deployed to suppress political protest worldwide. Forensic positions itself as a citizen watchdog group, armed only with information: 'The next time Safariland munitions are used against civilians, we'll know'.
It is remarkable that the Whitney has permitted this work to be shown. Remarkable too that America's biggest art show would find its dark heart in the form of a well-produced infomercial. Industrial design has been the stuff of art since the introduction of the readymade; craft has been essential to the making of sculpture since, well, forever. They came in through the service entrance, but as the Whitney Biennial shows, they are now front and centre. Fine and applied art have always been twinned intelligences. Recently, it's been getting harder and harder to tell them apart.
The Whitney Biennial runs at Whitney Museum of American Art, New York until 22 September 2019.
This article originally appeared in Icon 195. Buy your copy here or subscribe so you never miss an issue.
---