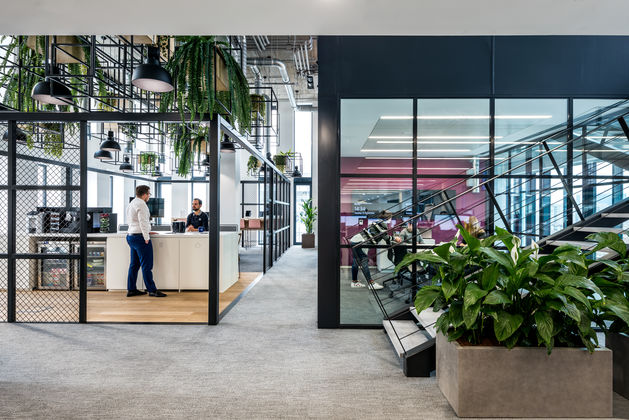 Planting is a simple addition that can improve a work environment
We spend so long at work, so it should be a place that supports us, says design director Linzi Cassels
Awareness of mental health issues has come on leaps and bounds in recent years. Mental Health Awareness week (14-19 May 2019), which sees public figures talking candidly about their own personal experiences, is helping break down stigmas and increasing awareness.
Stress in the workplace is all too prevalent and this growing visibility of emotional health issues caused by work means that some employers are taking steps to create nurturing environments that actively promote wellbeing.
Within the arena of workplace design, I have seen this shift firsthand. Companies are competing to recruit and retain from a global talent pool that is increasingly mobile and concerned about work-life balance, wellbeing and corporate alignment with their own personal values. In order to cater for this highly demanding workforce, businesses are adjusting their offices to help employees feel comfortable, in control and happy at work.
And rightly so – the UK has the longest average working week in the whole of Europe so it's crucial our workspaces support us physically and mentally. The conversation around wellness at work is becoming commonplace but there is more to be done.
Sophisticated businesses now look at human experience as a central part of their offer to staff. Curating this experience is key, which means every aspect of an employee's wellbeing and emotional health must be considered – from the sustenance that is provided in the café, to providing spaces for relaxation and play and a focus on the social aspects.
In other words, creating a work community to which people feel they can bring their whole selves. For workplace design, that means considering lots of different types of space to appeal to a diverse work community. Large open-plan areas do not suit everybody and I am personally seeing a shift towards more private spaces, where staff can switch off from technology, as well as the introduction of both indoor and outdoor gardens.
A digital detox space as an isometric drawing. Courtesy of Perkins+Will
Planting and trees in work areas are enjoying a resurgence. At our London studio, in response to staff's requests, we tested installing plants at the desks that staff had to water and care for. The overwhelmingly positive response encouraged us to roll out the initiative to the whole studio. Our findings reinforced the current science that caring for and nurturing plants can help reduce stress, increase happiness and improve our sense of self worth. Such a simple and affordable addition can have a massive improvement on a work environment.
Beyond greenery, client's demands around materiality and layout of workplaces are being driven by greater awareness of our personal needs. A growing trend that we are catering for with our clients is the provision of dedicated wellbeing, or wellness, suites. These rooms offer staff an opportunity to unplug, reflect and enjoy a few moments of quiet. While these spaces are within an office, they are not a place for work and should provide reprieve. The design of these spaces is paramount to their effectiveness, and should look to incorporate more natural elements, such as wood and soft textures, which help us feel more grounded in the present – a moment, a key tenet in the practice of mindfulness.
At the other end of the design spectrum, companies are keen to create opportunities for socialising within the workplace. It's vital that we feel connected to those we work alongside. In many ways, socialising is a precursor to the creation of support networks and the design of the spaces that frame these interactions are inherently important. An informal approach to design can help make these spaces more relaxed, with a feeling of home incorporated through the use of cushions, rugs, soft lighting, books, magazines and art.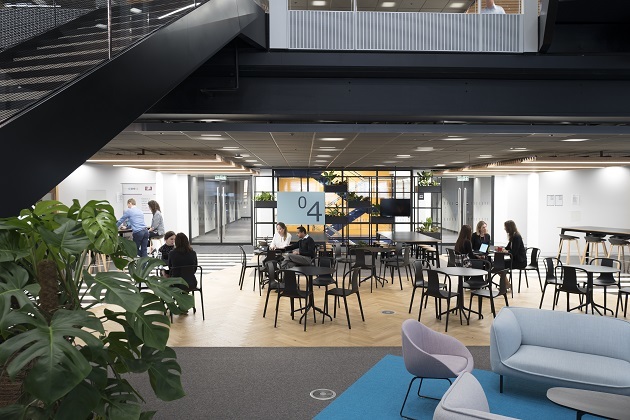 The office of the Financial Conduct Authority in London by Perkins+Will
But while our understanding of how aesthetics, nature and materiality affects our mental health and informs workplace design, there is still some way to go in other areas such as acoustics. I predict we will start to see more soft panelling and screens between desks, as well as acoustic 'hoods' in open areas, providing employees with more comfort, calm and privacy.
As society becomes more attuned to mental health issues at work, designers can use this concern and awareness to shape the workplaces we create. This is undoubtedly a step in the right direction, and we must seize the opportunity to create spaces in which people can thrive. The workplace plays an enormous role in our lives; it ought to support us emotionally too.
Linzi Cassels is design director at the London office of global architects Perkins+Will
---