Store Studio in London provides classes in design and making for pupils at local schools, and teams up with architecture and design studios for special events. Photo by Kevin Smeeing
Multiple reports have warned of the loss of creative subjects in school curriculums and the potential impact on the UK's economy. Riya Patel meets some of the people taking action to keep design education alive
The design sector is undergoing a serious skills drain in the UK, brought about by diminishing design education at school age. A 2018 report by the All-Party Design and Innovation Group showed a huge decline in the number of students taking design and technology at GCSE level. The figure has almost halved between 2000 and 2018, with a fall of 27,000 students taking art, design and technology subjects in 2016-2017 alone.
Daniel Charny, professor of design at Kingston University and winner of the London Design Festival innovation medal, is an advocate for design education. He and co-founder Dee Halligan, along with a London-based team, established Fixperts in Schools, a programme for teaching human-centred design, in 2016. 'Early on we saw design and technology as the arena to work in,' says Charny. 'But the curriculum is patched-up, still skills-focused and has an uneven relationship with the discipline of design,' he says.
Children generate ideas at a FixCamp run in Brixton by Fixperts. Image by Daniel Charny
The Fixperts philosophy is about 'applied creativity' – a term that encompasses problem-solving, social awareness, sustainable action and teamwork. 'It's not about making more designers,' says Daniel Charny. 'It's not in order to feed the creative sector, but that is part of it.' The belief behind this approach is that it has value for every learner, not just those pursuing a career in design. It also reflects how the discipline has shifted away from manufacturing into areas such as service and user experience design.
Because of funding cuts and government policy that excludes art and design from the core curriculum, fewer students are taking up design subjects, fewer teachers train in them, and there are fewer workshop facilities in schools. 'If the UK is talking about being a creative sector world leader, and design is not being seen as the gateway to creativity, we are heading for a really rough situation,' says Charny.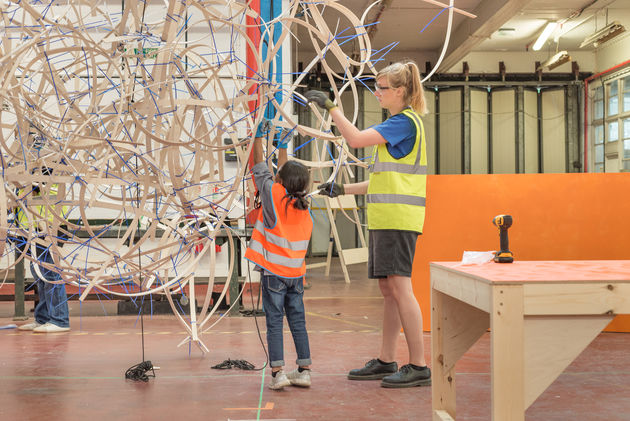 School children work on the Mega Maker Lab project in London. Photo by Peter Savage
With resources freely available, the Fixperts in Schools programme is taught by and developed in partnership with teachers. Many sessions are designed to be taught in a classroom, rather than a workshop, with low-cost materials such as cardboard and tape. To learn about customisation, for example, students are given a wooden broom and a persona to adapt it for, such as a teenager or retired person. They prototype and make incremental improvements to suit the user, such as adding a phone holder or wheels. Another session gives students a cardboard tube to wear over their elbow, or a glove with lolly sticks that stops them flexing their hand. They have to invent ways to work based on these physical restrictions. Both exercises teach them to see another person's perspective.
While many programmes like this aim to get on the school curriculum, few actually make it. The exam board AQA has a Fixperts qualification, which was submitted to the Department for Education for wider teaching but was later blocked by the government. The programme has had more success through the training of design and technology teachers supported by the organisation STEM Learning UK, with an initial 220 teachers taking Fixperts into UK schools.
The Mega Maker Lab at the Institute of Imagination
Recognising the lack of design teaching in state schools, Fiona MacDonald and Matthew Springett started Matt + Fiona, launching a series of BUILD projects in 2016, with the aim of giving young people a say in how urban spaces are shaped. Giving young people the responsibility to build something teaches hands-on skills, but also instils a sense of achievement and pride. As with Fixperts, the wider aim is to teach children that they have agency to enrich society and public space. The BUILD projects have been particularly effective in reaching those who are less naturally academic and feel excluded by the results-based education system. The programme lets them 'engage with the learning process, rather than thinking they've been labelled a failure', says MacDonald.
Through their BUILD projects, the pair have collaborated on spaces to be used by the children creating them: a makerspace with primary school children in Lambeth, an art classroom in Poplar, and an outdoor shelter for a school in Bow. Further afield, they've worked with young carers in the Lake District and with pupils who have been excluded from mainstream schools to build a hang-out in Hull.
The Made In Oakfield project in Hull with Matt + Fiona. Photo by Patrick Mateer
Another programme filling the gap in formal design education is the collective STORE, which emerged as a result of an outreach programme at University College London. In 2010, STORE began delivering UCL-funded summer schools to give students a flavour of university education. Since 2016 this has expanded to one-day workshops in struggling state schools. The programme now has 35 members from across art, architecture and design, teaching in London universities. It also calls on a wider network to deliver its programme, most recently a food-themed summer school with Heatherwick Studio aimed at 16-18 year olds.
'We'll teach whoever the schools want us to teach, but we're really set up for Year 12 students who are thinking about higher education,' says associate Kevin Green. 'At this age, they can really use the clubs to build a good portfolio – one that we would say is better than any private school student's.'
In early 2019, funded by developer Argent, STORE took a retail unit at Coal Drops Yard in King's Cross to run a twice-weekly after-school club aimed at local state schools in Camden. Students make a product over the course of a month and it is then sold at the shop, generating royalties for the junior designers.
One of the students taking part in a workshop at Store School. Photo by Stine Keinicke
The work of STORE, BUILD and Fixperts is hugely rewarding for their teams. They have each been driven to step in where the traditional education system has failed. They are also relatively new and hence learning and improving as they go. MacDonald says it is important not to be overly romanticised about working with social purpose. 'We don't think all young people have more amazing ideas than adults. They don't. Teenagers can be quite closed and conservative … we see hesitancy around their own abilities.' She is encouraged by how socially and politically engaged young people are, as well as being empathetic. Their design ideas often involve helping those in greater need.
Although such extra-curricular initiatives are encouraging, their impact so far is small and localised in the context of the national scale of the problem. Green sees strength in STORE's unique network of associates, and hopes to be active in more London boroughs in future. He is aware that the shop at Coal Drops Yard needs to be more than a pop-up in order to have real use. 'You need to work at it for three to five years to make sure it has an effect,' he says. 'Otherwise by the time teachers know where this is, it's gone. That doesn't help anyone.'
Textured tumblers created at the Store Store. Image by Paul Plews
MacDonald is looking to evaluate the social impact of the BUILD projects and develop an approach that could reach more children. 'Working with a small group over a long period seems to be more life-changing. We know that some who were predicted not to get any GCSEs have gone on to employment or technical college.' One aim is to develop a methodology for schools to achieve their own builds by sharing drawings and laser-cutting building components.
Fixperts is also planning to make its materials more accessible, but the next move involves taking a long-term view. In early 2020, a 'think-ahead tank' will bring together various design education organisations, large and small. 'It's definitely not possible to be alone here,' he says. 'We really have to do something about creativity in education, and it's clear we need a strong community.'
---