Memphis: Plastic Field brings the spirit of 1980s subversion to Milton Keynes
Words by Francesca Perry
A major survey of the influential Memphis design movement has now opened at MK Gallery in Milton Keynes. The exhibition, titled Memphis: Plastic Field, explores the subversive and inventive work of the Memphis Group from 1981 to 1988, presenting over 150 objects whose bold and playful aesthetic catalysed a new era in international design.
Founded by Italian designer and architect Ettore Sottsass, Memphis brought together a collective of young designers determined to shatter the aesthetic codes of twentieth-century modernism, challenging notions of functionality and 'good taste'.
Memphis furniture was colourful, kitsch, geometric and playful. Materials such as plastic laminate and terrazzo were, for the first time, incorporated into high-end furniture – and bold graphic patterns paired with vivid colours became a signature aesthetic.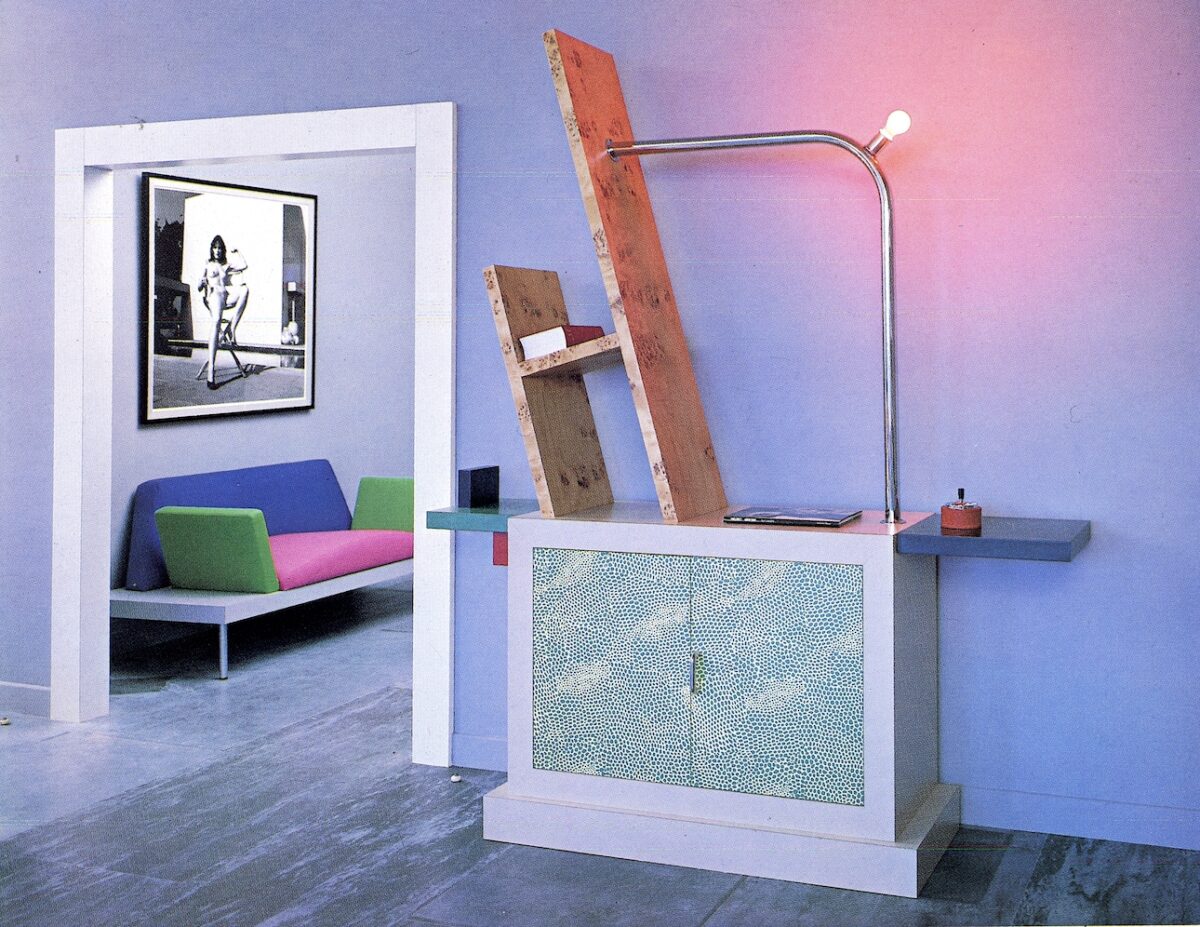 Memphis furniture in Karl Lagerfeld's apartment, 1980s. Photo: Jaques Schumacher. Copyright Mode & Wohnen
Although the Memphis movement was short lived, its influence has had a lasting aesthetic and cultural impact on fashion, art and design. Its style of of clashing bright colours and synthetic materials became synonymous with postmodernism and 1980s popular culture.
'It is funny looking back at the 1980s from now – what is striking, culturally at least, is the sense of freedom, the feeling that anything goes, no restrictions of taste, just a kind of fizzy energy,' MK Gallery director Anthony Spira tells ICON. 'Those of us who were coming of age in that period probably find some restorative nostalgia looking back at 1980s culture.'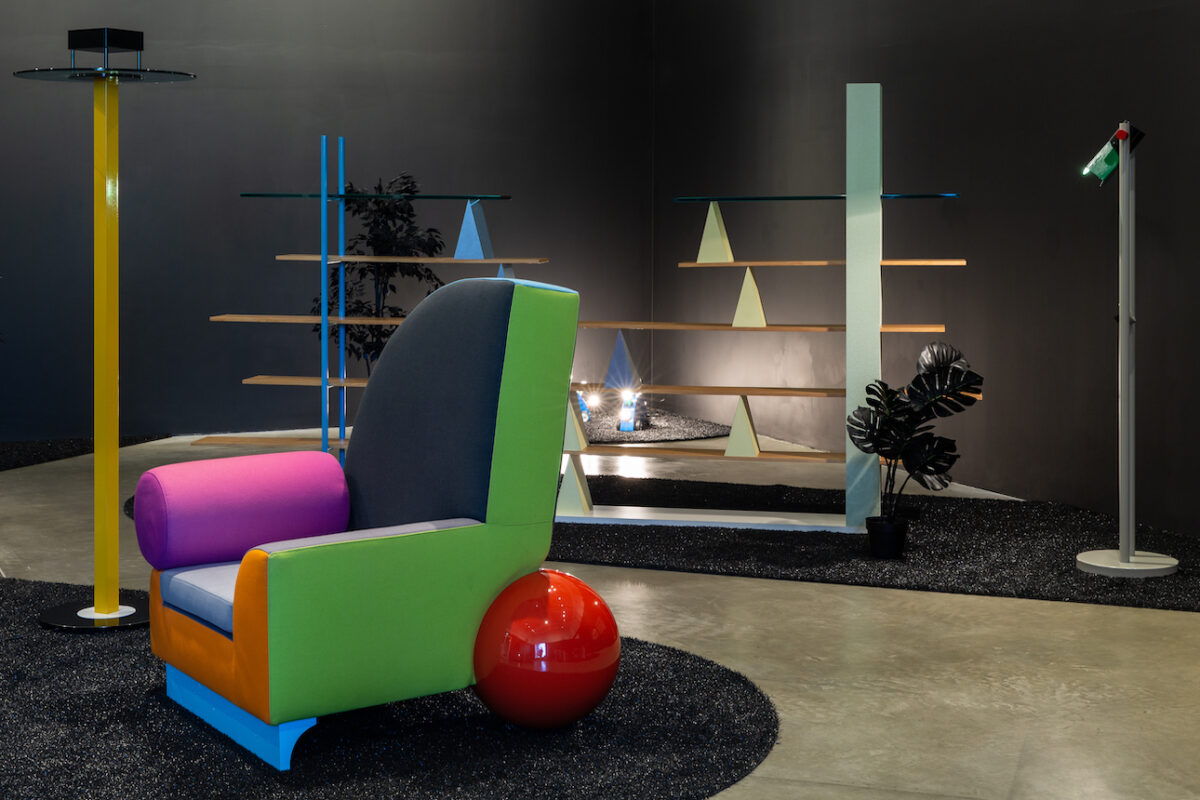 Memphis:Plastic Field at MK Gallery. Photograph: Rob Harris
Though fun, humorous and playful in style, the Memphis designers intended their work to be as seriously considered as any piece of sober modernism. 'At MK Gallery, we like the idea of "serious play" and that lies at the heart of what Memphis was doing,' says Spira. 'They took aim at Modernist dogmas like "form follows function"; you could say that Memphis liberated design by putting fun into functionalism.'
Milton Keynes, as Spira explains, is perhaps the perfect place to stage such a celebration of radical 1980s design. 'An important part of our mission at MK Gallery is to celebrate Milton Keynes and to remind people of its exceptional, radical origins. MK has always clearly reflected the aesthetic and ideology of the day, in its planning and design. The new Gallery building – designed by 6a architects with artists Gareth Jones and Nils Norman – focuses on the 1970s so that, for example, the bright yellows and reds in our cafe evoke the high-tech buildings in 1970s MK.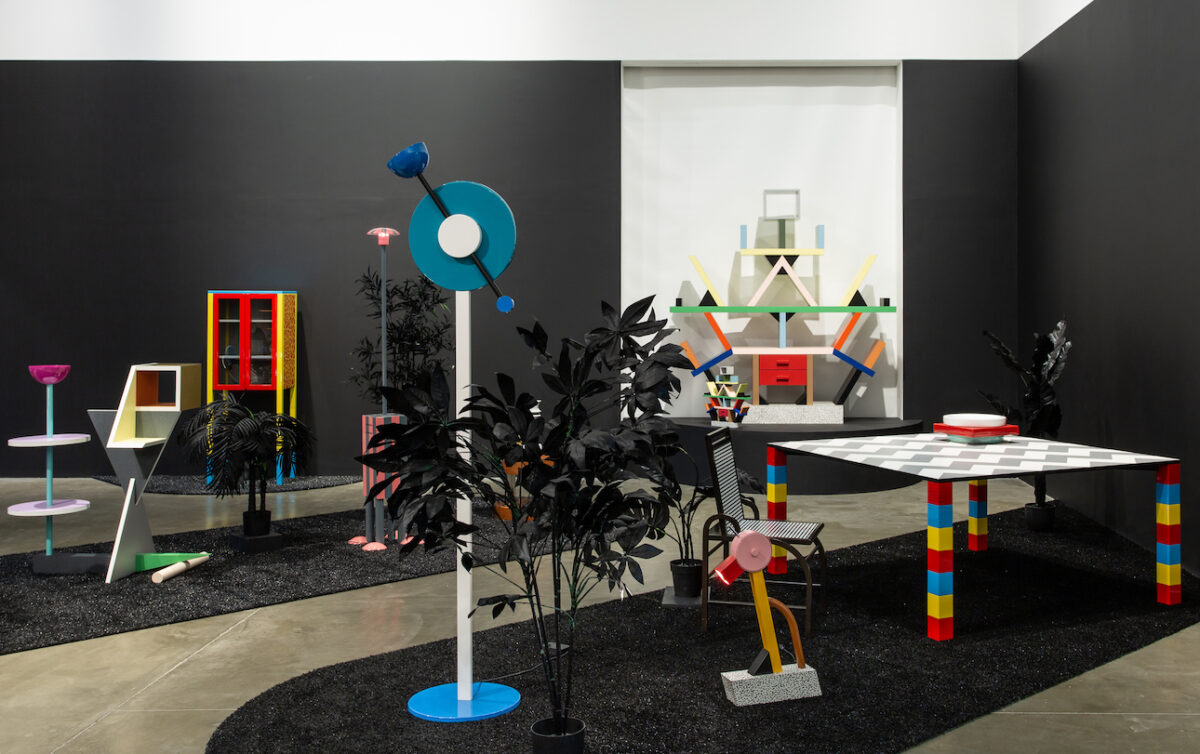 Memphis:Plastic Field at MK Gallery. Photograph: Rob Harris
'And we wanted to tell the next part of the story. This includes a postmodernist sensibility and the 1980s explosion of consumerism that is exemplified in Memphis. You can see this in one of MK's most iconic buildings, The Point, a huge ziggurat clad in mirror glass and bright red diagonal beams which opened in 1985 as the UK's first multiplex cinema… That the city was plugged into progressive international culture is hugely important in changing people's often tired preconceptions of it.'
In recent years, it seems the maximalist Memphis aesthetic has seen a resurgence in the design world. 'I think we became bored of tasteful shades of grey or pared-down, distressed looks,' muses Spira. 'So UK artists and designers like Matty Bovan, Yinka Ilori or Camille Walala, who mix cultural references in explosive aesthetic pleasure, like Memphis, are just the tonic we all need right now.'
Memphis: Plastic Field is on show at MK Gallery until 25 April 2021
Top image: Memphis designers with Masanori Umeda's Tawaraya Bed, 1981. Courtesy Memphis Post Design Gallery. Photo © Studio Azzurro.
---