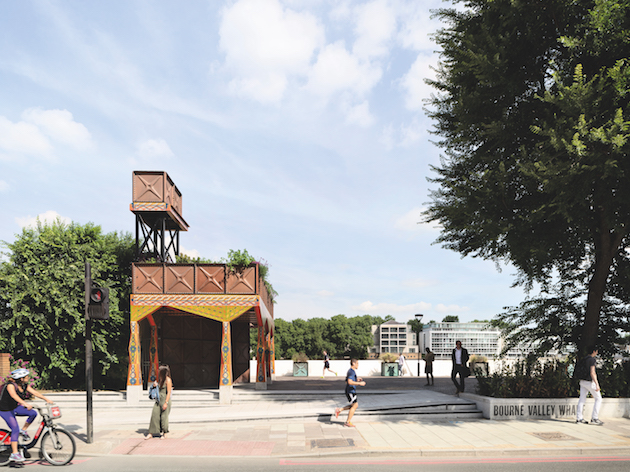 The Thames Walk Pavilion on the south bank of the river Thames. Courtesy Studio Weave
Sadiq Khan wants London to be recognised as the world's first Park City. It's part of a growing movement to turn the concrete metropolis into a rich and diverse nature reserve. By
Matthew Ponsford
When London decided to host its inaugural National Park City Week in late July, its historic parks responded by turning brownish, then dying.
Taking place during the UK's longest heatwave in more than a decade, the event celebrated the city's green spaces. But each day we saw greenery vanish. Hyde Park went yellow. Clapham Common dried up. The tidy lawn of Parliament Square turned to a dust bowl. After an abnormally bright start to the summer, this was bad news for mayor Sadiq Khan's big event: a programme of hundreds of walks and talks boosting his bid to have London recognised as the world's first 'Park City'.
But, in unexpected corners of the city, green oases – splashed with streaks of blue-grey, wild flashes of yellow and red – lived on. The rough concrete blocks of the Barbican, the City of London's 1970s housing estate and arts venue, are broken up by podiums, planters, and micro-mountains of wildflowers in terracotta shades, steel-blue grasses, and purple Globe Thistle.
Nigel Dunnett, professor at the University of Sheffield's landscape department, designed the gardens to replace the original thirsty lawns with a resilient meadow that stored water and required no irrigation. 'In the middle of a city, I always take my cue from brownfield or derelict sites where you have spontaneous nature come up,' says Dunnett, listing cracked car parks and abandoned building sites among his unlikely influences. Starting in 2013, Dunnett created a wild steppe containing what he describes as 'an amazing, cosmopolitan mix of native species and escapees from gardens and parks'.
'It's like a "future nature", a new nature for cities,' explains Dunnett. 'In botanical terms, they are novel ecosystems, new assemblages of species that can put up with the sort of conditions we have, whether it's cold, wet, heat whatever.'
London's concrete core was not built for the kinds of extreme weather that are becoming common as global climates warm. But new networks made up of urban planners, ecologists, architects, engineers, designers, and gardeners calculate that London can become a nature reserve, which builds on initiatives like Dunnett's to cool the city, while providing new habitats for wildlife.
London's Victoria Park this summer. Photograph by Luke Massey, courtesy National Park City Foundation
Two events in July, National Park City Week and the first Festival of Urban Landscapes (FUL), brought together members from these groups to envision the city's next step. Compared to most metropolises, London is already very green: 18 per cent of the capital is parkland, according to City Hall, more than the area covered by railways and roads combined. The benefits of such green space to health, wellbeing and community are now well-founded in scientific literature. And there's the bonus benefit of cleaning London's air, among the most dangerously polluted in Europe.
But climate change adds more urgency to the need for green space, with meteorologists saying blistering summers are London's future. In July, MPs began warning of the 'urban heat island' effect – the reasons why London remains degrees hotter than its hinterlands – and discussing how to prevent the 7,000 heat-related deaths per year predicted by the 2050s. Blanche Cameron, a lecturer at the Bartlett School of Architecture and organiser of FUL says London's problem is that it is 'hot, dry, polluted and impermeable.' 'The great thing about climate change is that it is a design challenge,' says Cameron. 'And greening cities – bringing plants, soil and water in – is the way we're going to adapt.'
At workshops in a riotous garden of wildflowers and wildlife habitats, just outside London's eastern edge, attendees at FUL celebrated sites that had resisted the city's drought. On the side of the Rubens Hotel, near Buckingham Palace, a 20m-high green curtain of 10,000 plants stretches across a Victoria shopping street, fed only by the hotel's drain water. In Stratford, on the site of the former Olympic Park, a scarcely tended flat roof, planted with wildflowers for the Olympics, continues to grow a wide variety of endangered species.
The massive Living Wall built onto the side of The Rubens at the Palace Hotel, London
Both of these – like the Barbican – are planted with tough wild grasses and flowers that need little irrigation but act as sustainable drainage systems (SuDS), soaking up water to prevent flooding when storms break. A mix of local plants support the insects that are essential to attract wildlife higher in the food chain – especially birds like house sparrows, which have all but disappeared from London.
Many ecologists now have high hopes for the city. This summer, Royal Holloway University showed that key pollinators like bumblebees survive better in London than the country – helping to flip the long-held idea that cities are poor ecological relations to the fields that surround them. Internationally, a newer generation of designers are increasingly seeing results from collaborating with experts in ecology, agronomy and horticulture, with cities like Singapore earning a global reputation for welcoming the jungle into the high-rise streets.
High-profile projects are getting backing from luxury developers, like Stefano Boeri's Vertical Forest – the multi-award-winning pair of tree-lined skyscrapers built in Milan in 2014 – and Thomas Heatherwick's massive 1000 Trees development, under construction in Shanghai. London's own Heatherwick mega-project, the Garden Bridge, was ditched amid dwindling public support and investment last summer. But this has not diminished efforts by the city's designers to build new green infrastructure.
During National Park City Week, Londoners had the chance to tour the proposed Camden High Line. The crowd-funded initiative is one of two London projects taking a cue from New York's lauded High Line Park, which turned one-and-a-half miles of disused railway track into an urban park and events venue in 2009. Like the Rubens Hotel wall, Camden High Line is backed by the local Business Investment District – a group representing the local private sector – who are seeing the consumer appeal of green projects.
'We hope to achieve similar sorts of things [to New York] in terms of revitalising the area: Camden's reputation – to put it politely – has been on a downward trend for maybe the last ten to 15 years,' says Adam Richards of the business group Camden Town Unlimited. 'It's got that kind of post-punk, scuzzy reputation and the High Line can contribute a different personality and character to the area.'
On the other side of the Thames, by the new US Embassy at Nine Elms, Studio Weave has recently completed planters and a garden-capped pavilion out of copper-coated water tank panels, to fulfill requirements to replace lost greenery. Je Ahn, the nature-focused studio's founding director, says the project provides biodiversity, climate resilience and a calming rest for pedestrians. But he adds: 'As architects, we try to use nature in a very celebratory way, rather than a sticking plaster for climate change.'
The big stumbling block for developers is the same as it has always been: 'If you look at developers' spreadsheets, maintaining plants is just lost money,' says Ahn.
One council estate in Hackney holds a possible answer. At Clapton Park Estate, FUL host John Little has helped residents turn every nook into working gardens, using a 'co-designed' process, whereby local people work as equal partners with designers. By giving the community ownership, maintenance fees previously paid to an external contractor to mow lawns could be saved.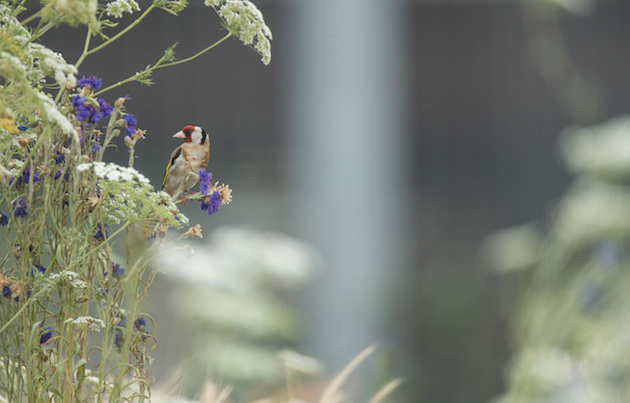 A Gold Finch in Stratford by Luke Massey, courtesy National Park City Foundation
Camden High Line is following suit, having learned from the Garden Bridge, which 'imposed a solution without really understanding the concepts', says Richards. 'We've tried very hard not to design it,' he adds, instead waiting for the project to hit its £1 million funding target before allowing locals to shape design.
For almost a decade London has built progressive legislation to link planning and green initiatives. But the city is set to take this to a next step, by importing ideas that have been used successfully in Berlin and Seattle. An Urban Greening Factor measure is included in the London mayor's draft New London Plan – set to guide the city's next two decades of growth – and would compel developers to meet a score for greenery set by local councils.
Speaking during National Park City Week, Shirley Rodrigues, deputy mayor for environment, said much would be left up to the creativity of designers.
'The Urban Greening Factor,' said Rodrigues, 'provides a framework to help developers and planners identify features such as green roofs, rain gardens and trees that are needed to help adapt our city to climate change, to create healthy streets and liveable neighbourhoods, and to provide habitat for wildlife.'
For now, London is yet to have a breakthrough natural architecture project, which ignites the city's imagination like Milan's Vertical Forest or New York's High Line. But as soon as designers are ready, so are the nature specialists.
---