Debuted with a special film as part of London Design Festival, Broom's new chair is influenced by classical music and mid-century design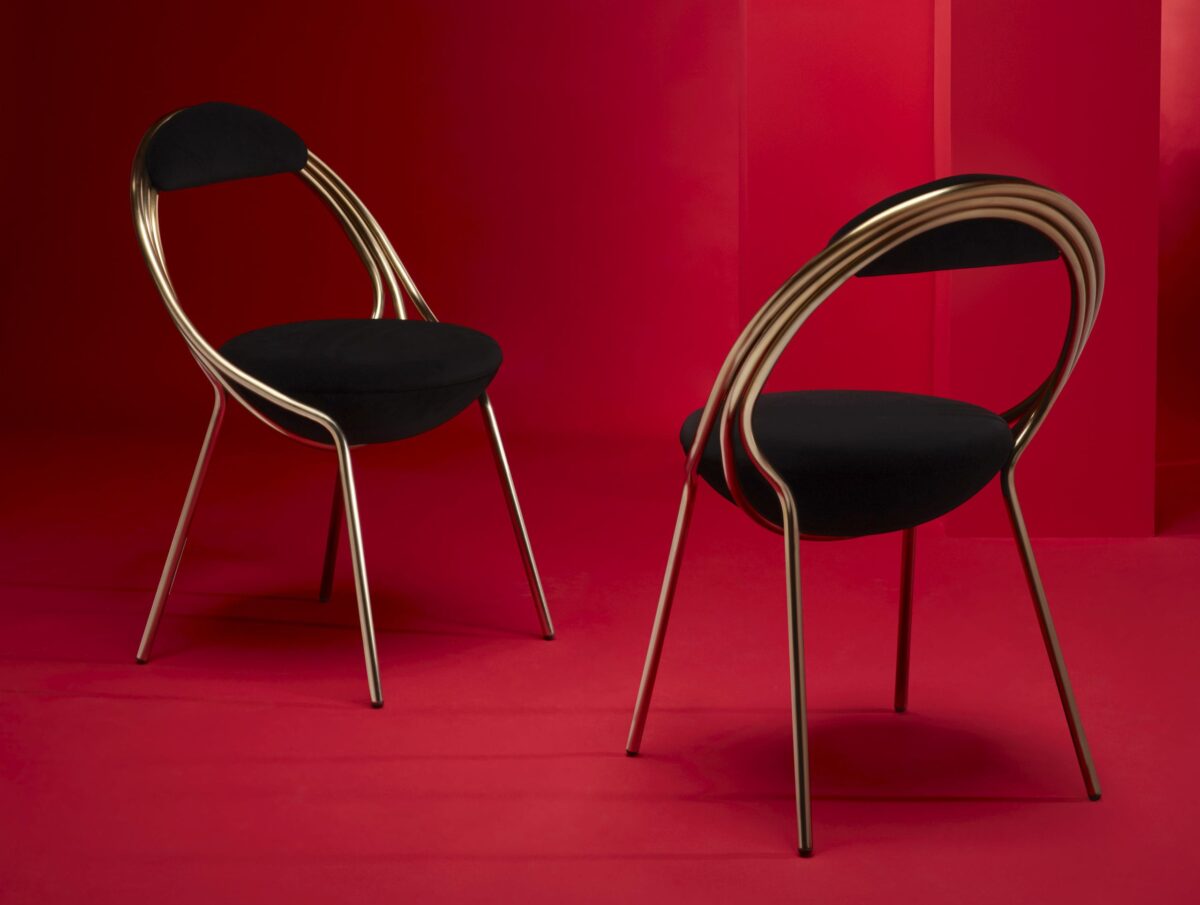 Lee Broom has unveiled his new chair, Maestro, to coincide with the London Design Festival. In a first for the British designer, the chair was debuted in a special 'virtual exhibition' film on 14 September.
The distinctive silhouette of Maestro was inspired by Broom's passion for mid-century design and classical music. The chair frame is formed of three continuous hand-bent, hand-polished and plated tubes. These are coiled and wrapped in a circular formation around an upholstered hemispherical seat and back.
The five-minute film – directed by Tupac Martir of Satore Studio – features 30 musicians from The Parallax Orchestra seated on individual Maestro chairs on plinths, all socially distanced from one another in ten rows of three.
Immersed in a stylised red and black set, the orchestra plays three different pieces from classical composers Edvard Grieg, Claude Debussy and Joseph Haydn. At one point the plinths turn into video screens, illuminating the chairs from below in time with the music.
'Music plays a big part in everything I do, from the design process to the final presentation of my work,' says Broom. 'It continually informs and directs where I take my work as a designer.
'Having previously been inspired by contemporary or cinematic music in the past, lately I began to develop a profound interest in more classical music, which has inspired me greatly. Not just the music, but the instruments too have informed the design of this chair: from the coils of a French horn to the curvature of a violin. Much like a chair, they have their beauty and they have their function.
He continues: 'What I find interesting about chairs is that they are mostly viewed from the back, therefore this perspective was a very important to me when creating the silhouette. Even though the chair is simple in its three connecting tubes, when you rotate the chair it looks completely different from every angle and each one has its own character and elegance.'
Maestro has been designed in three finishes – a satin brass, a mirrored chrome and a matte black – and can be upholstered in velvet or wool in a variety of colours. It will be assembled and upholstered at the Lee Broom factory in East London, where the designer has recently launched an in-house, specialist upholstery workshop.
---