Corks by Jasper Morrison at Kasmin gallery. Photos: Diego Flores/Kasmin
Jasper Morrison's cork stools are minimal, modern classics. His first exhibition in North America takes things further
Fifteen years after Jasper Morrison debuted his minimal cork stools, the British designer will launch his first exhibition in North America with a new collection of furniture made from repurposed wine bottle stoppers.
Morrison's original cork stools have become modern minimal classics, focusing attention on the natural material's warm, tactile qualities with simple profiles. For Corks, the show at Kasmin Gallery in Chelsea, he has created a more expansive range including shapely chairs, tables, and a chaise longue, plus a bookcase and a fireplace, which plays on cork's woody appearance and uncanny fire-resistant qualities.
Since releasing the original three stools for Vitra in 2004, Morrison has returned to the material – made from reconstituted wine bottle corks, some still visible in the finished furniture – including for a cork-clad hut for retailer Muji in 2015.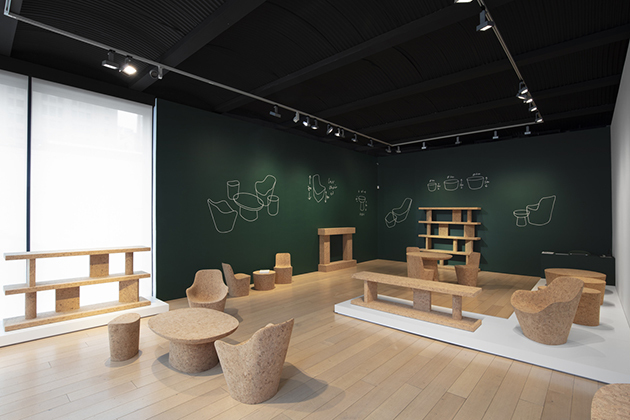 Corks by Jasper Morrison at Kasmin gallery. Photos: Diego Flores/Kasmin
Speaking to Icon, Morrison explains how the cork block machining process led to a more sculptural approach and what he has planned for Fiskars Village Art & Design Biennale, later this month.
ICON: Why did you choose now to work further with the material and how have your thoughts developed?
Jasper Morrison: A few years after the first cork pieces that I did for Vitra, I did a small edition piece for them – a low chair all out of the same block cork material. I've had one of them in my London apartment and noticed how well the material and the shape were for the atmosphere of the room to the point that I decided to do more along the same lines.
ICON: We see finer edges and more sweeping lines in these new cork pieces. Has there been any development in the recycled material in this time and what can be achieved with it?
JM: Some of the new pieces are more shapely and some of them, like the shelves or the cork shaped tables, are less so. The material is the same, so I think it must be more of a state of mind. But the process of machining the shapes from large blocks of cork is quite a sculptural one and is very different from the usual industrial processes, and that might also explain some of the more shapely pieces.
ICON: We've now seen cork in a full range of furniture and as a building material. What else can it do: are there even bigger ideas you'd like to explore in cork in future?
JM: It's such a pleasing material to look at and to touch. I doubt this will be the last time I use it. It also has so many useful properties – it is waterproof, fire proof (the cork oak tree developed this bark to protect itself from forest fires), rot proof, insect proof (too chewy for them), it has amazing insulating properties, and is highly resistant to damage, so there are many possibilities. The industry itself is a zero waste one and the removal of the cork from the trees is fully sustainable. Cork forests store huge amounts of carbon too.
ICON: Are we going to be seeing more Jasper Morrison products designed with the US market in mind?
JM: It does seem to be going that way. I've been doing a lot of design work for Emeco, a few projects for Maharam, and now this partnership with Kasmin. I grew up in New York as a kid, so I'm always happy to be here.
ICON: I'm looking forward to seeing your design curation at the Fiskars Village Art & Design Biennale and the work of the twenty designers you've invited. How did you settle on the bench as the brief for them for them?
JM: I've always liked the aspect of benches being the most democratic form of seating. They don't belong to anyone and if you see one, you know it's a free and friendly facility, but it also makes an interesting design project, as there are unlimited ways of providing a solution, both in terms of the materials used and the structure required. I expect there will be a lot of variety, not just between young and old, but between all the designs. We'll see soon enough.
Corks is on show at Kasmin Gallery until 28 June.
---