From skate parks to algae clothing, we round up the best installations, innovations and spatial transformations of the year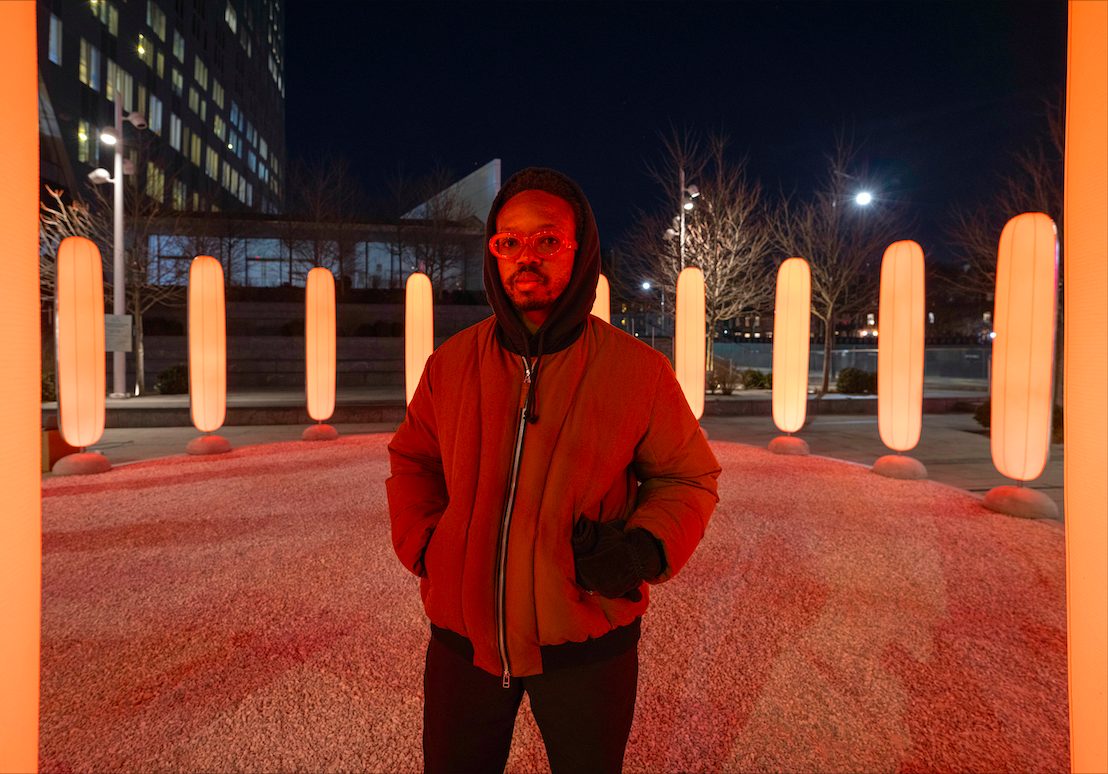 Breathing Pavilion, Brooklyn, USA – by Ekene Ijeoma
Ekene Ijeoma's immersive installation in Brooklyn – comprising 20 illuminated, inflatable, columns arranged in a circle – aimed to provide a sanctuary at a time marked by the continuing crises of the Covid-19 pandemic and systemic racial injustice in the United States. Using computational design, the two-tone columns slowly modulated in brightness to illustrate a deep breathing technique designed to bring calm.
Invocation of Hope, Vienna, Austria – by Superflux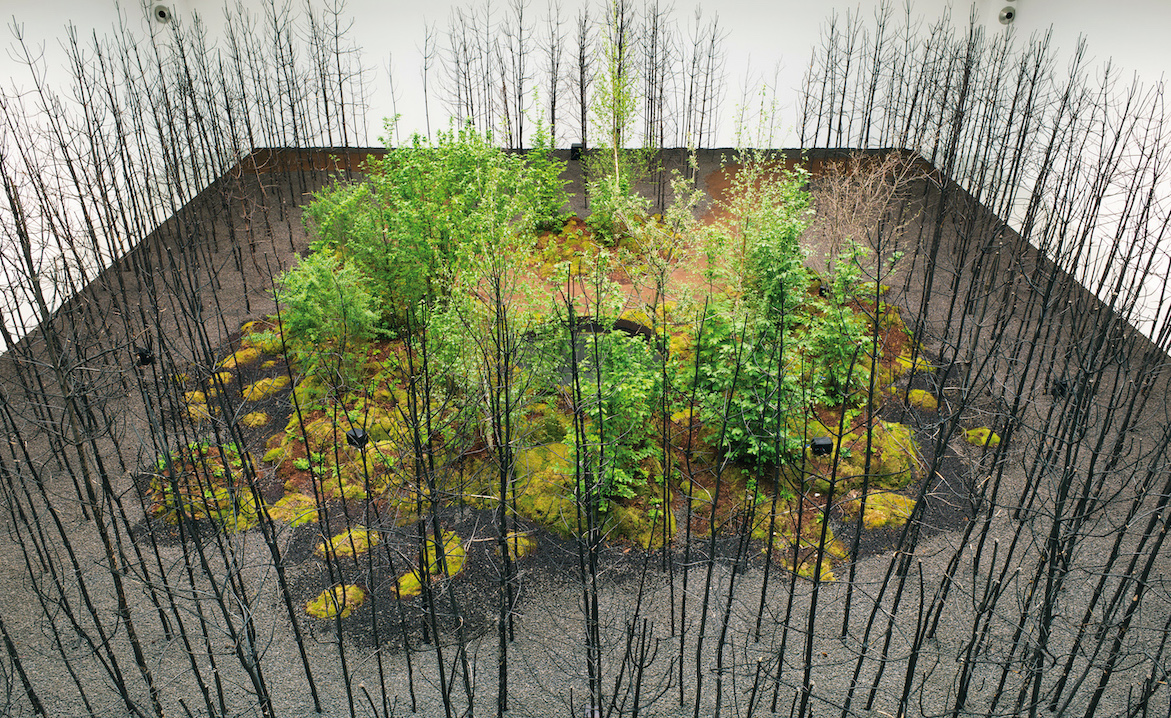 Superflux created a 'resurgent' forest installation for the Vienna Biennale for Change, inviting visitors to contemplate a post-anthropocentric planet. Comprising a grid of fire-blackened pine trees surrounding a centre of greenery and a glistening pool, the installation took visitors through the scorched forest into the central biodiverse oasis. Superflux envisaged it as a journey from the ravages of climate crisis to the possibility of renewal, and in our Winter 2021 issue, Owen Hopkins interviewed the multidisciplinary design studio about its work.
Freedom Skatepark, Accra, Ghana – by Limbo Accra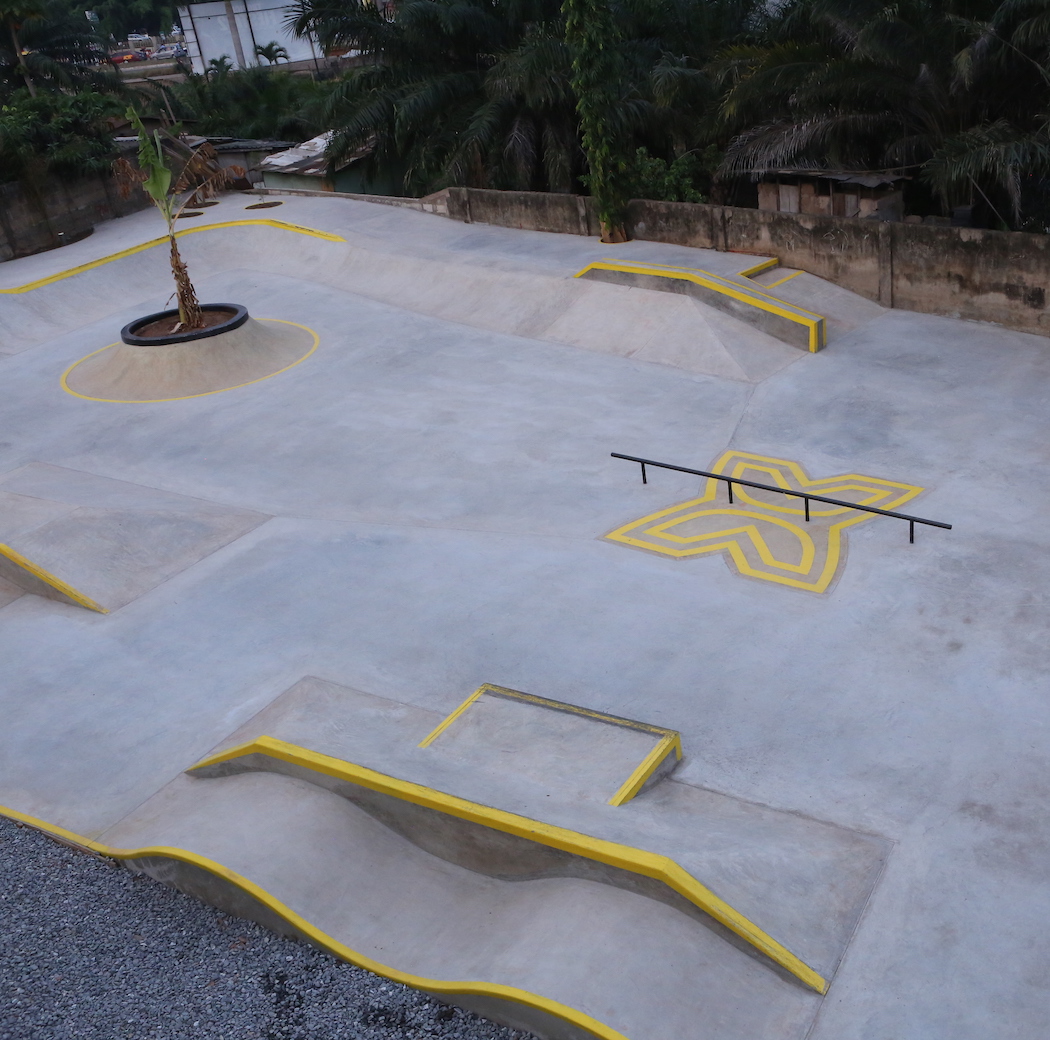 The first phase of the Freedom Skatepark project in Accra – which will eventually include a youth cultural centre – opened this year, with an inclusive skating space designed by Limbo Accra for the city's young people. The space will host public programmes and activities including workshops, events, and skate lessons. A sustainable design strategy for the wider project includes urban greening initiatives, water management and recycled construction materials.
Made on Location, London, UK – by RESOLVE Collective
As part of the London Design Festival (LDF), RESOLVE Collective displayed its Made on Location project, the result of its year-long Creative Youth Worker residency at the V&A. The installation comprised modules of scaffolding supporting recycled wooden panels, which performed both as public seating and as exhibition boards, displaying facts about the provision of youth services in east London. Read more about the project in our LDF review.
CO2AT – by Post Carbon Lab for Azgard9
By activating textiles with microbial treatments and coatings derived from algae, London-based Post Carbon Lab created CO2AT, a garment that captures carbon and produces oxygen. In our Winter 2021 issue, Flo Wales Bonner talks to the design studio about the need to tackle the harmful impact of the fashion industry on our planet.
AirBubble, Warsaw, Poland – by ecoLogicStudio
ecoLogicStudio designed an air-purifying playground project, drawing attention to the need for children to play in healthy air in cities. AirBubble harnesses biotechnology to create a microclimate play space with clean air: 52 glass algae reactors consume polluting molecules and carbon dioxide, and then release clean oxygen inside. The purifying process is powered by solar energy as well as kinetic energy from children playing on the playground's bouncy spheres, foot pumps and swinging ropes.
Büyükada Songlines, Istanbul, Turkey – by Studio Ossidiana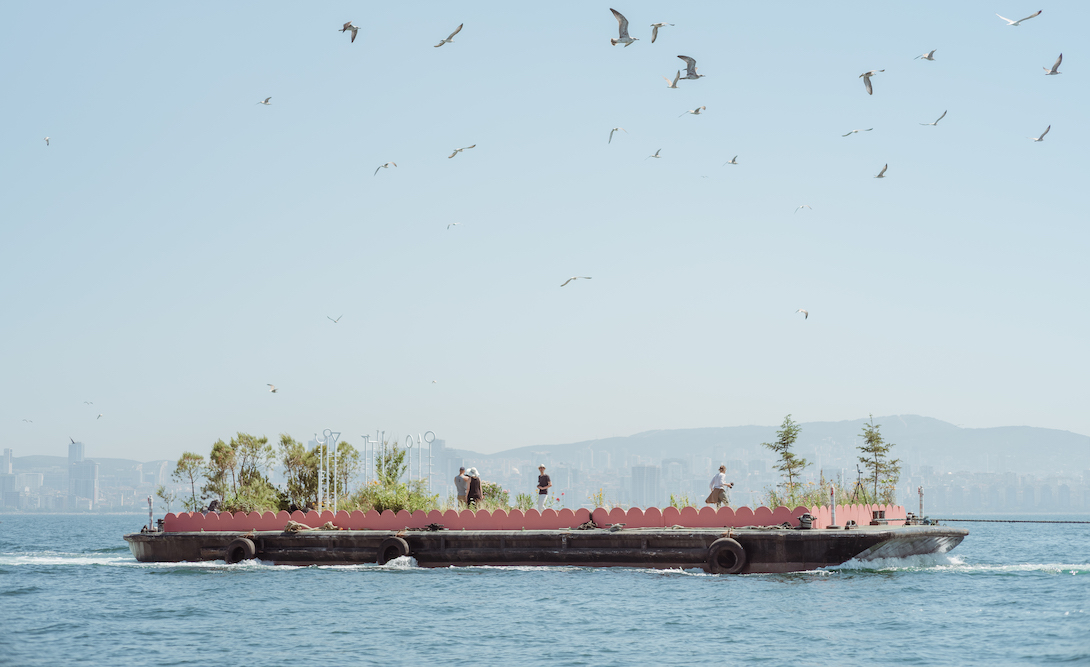 Studio Ossidiana designed a floating garden, which travelled across the waters of the Bosphorus and Sea of Marmara next to Istanbul, visiting the Princes Islands and hosting a diverse array of events and talks that explored the local relationship to nature. The garden is conceived as a mediterranean ecology that is both representative of local landscapes and supports nature, including bird feeders.
Home Court, London, UK – by Mark Warren, LeSpleen and local residents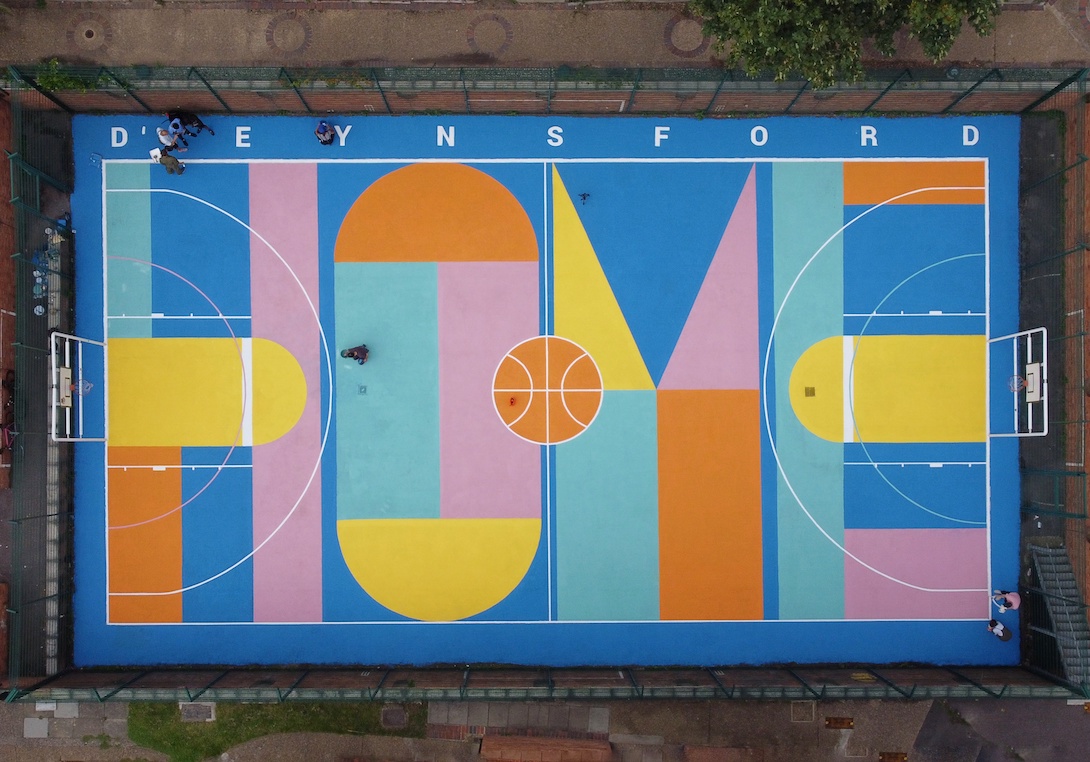 Within the D'Eynsford housing estate in Camberwell, south London, architect Mark Warren – in collaboration with both estate residents and muralist LeSpleen – transformed a tired basketball court with a vibrant patchwork of colourful geometric shapes, turning it into an energetic social hub. The project helped strengthen local community relations, and inspired residents to think more creatively about the spaces they occupy. 'There is power in residents actively transforming their neighbourhood and contributing to positive physical changes,' says Warren.
Petit Market, Japan – by Nendo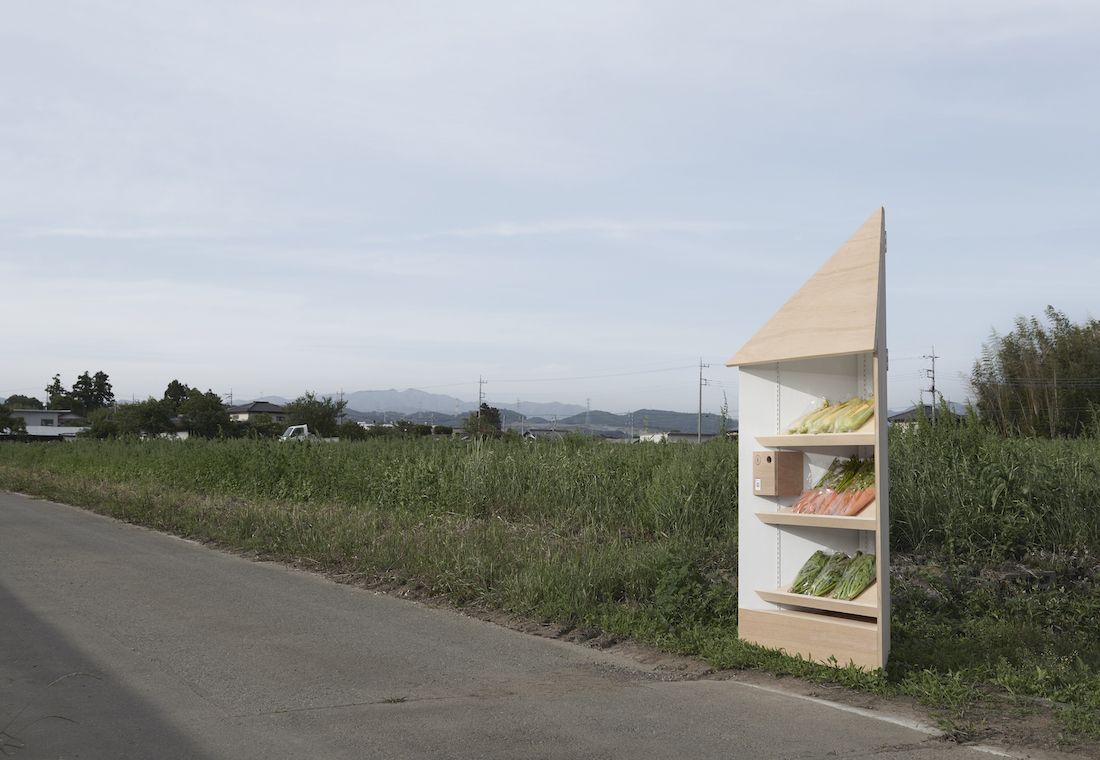 Japanese design firm Nendo developed a modular kit of parts for roadside vegetable stands, with an honesty box system, allowing farmers to sell produce direct to consumers in rural areas and cutting down on food waste. The roadside stand, named Petit Market, is designed to be as affordable and customisable as possible.
Grow, Lelystad, the Netherlands – by Studio Roosegaarde
Spotlighting developments in light science and their role in a more sustainable future of agriculture, Grow is a flickering, colourful light installation powered by solar energy that helps crops grow at night. Studio Roosegaarde's UV 'light recipe' was designed with the expertise of farmers and scientists to address the need to sustainably increase agricultural output in order to feed our growing population. Read more about the project in our Summer 2021 issue.
---