Traversing Istanbul's waters and islands, Büyükada Songlines formed a hub of conversation and debate, as well as a biodiverse garden for birds and humans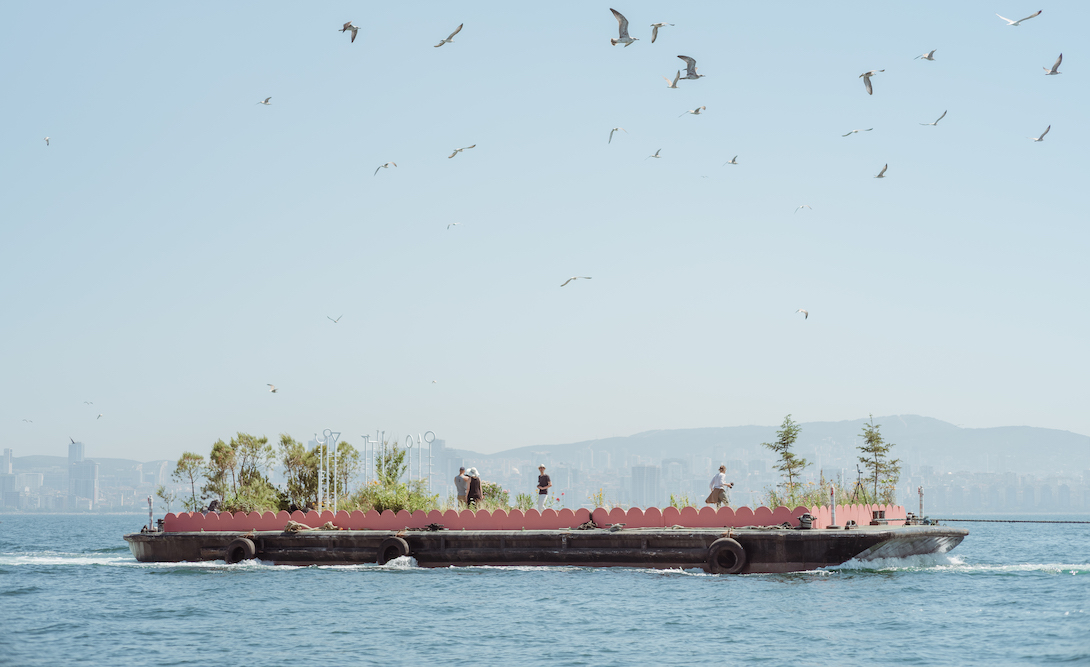 Words by Francesca Perry
Rotterdam-based Studio Ossidiana has designed a floating garden, which during the months of June and July 2021 travelled across the waters of the Bosphorus and Sea of Marmara next to Istanbul, hosting a diverse array of events and talks. Named Büyükada Songlines, the project was commissioned for the 5th Istanbul Design Biennial (October 2020–April 2021) and intended as 'a public and nomadic pavilion'.
Pulled along by tugboat, the floating garden visited Istanbul's Princes Islands – the largest of which is Büyükada. Through its event programme, it explored how the idea of and relationship to nature is evolving in the archipelago, informed by the unique Mediterranean microclimate, the changing migration patterns of birds, the depletion of fish, the mix of native and non-native plant species, the transplantation of corals, the debates on banning horse carriages and the conservation of the islands' pine and maki forests.
As a garden, Büyükada Songlines is conceived as a mediterranean ecology that is representative of the archipelago's landscapes. The garden edge is made of painted marine plywood in a scalloped profile. 'We are fascinated by the language of garden walls and garden hedges, which we found both in Ottoman miniatures as well as in European paintings of baroque topiary garden hedges,' explains Studio Ossidiana co-founder Alessandra Covini.
Büyükada Songlines is inhabited by three installations that reflect and support local nature. A square platform made from pink cement aims to be representative of the soils of the islands; conceived as a place to sit, play, and eat, it encloses a selection of edible plants nursed in Büyükada, and embeds games like backgammon and chess, as well as several bird feeders.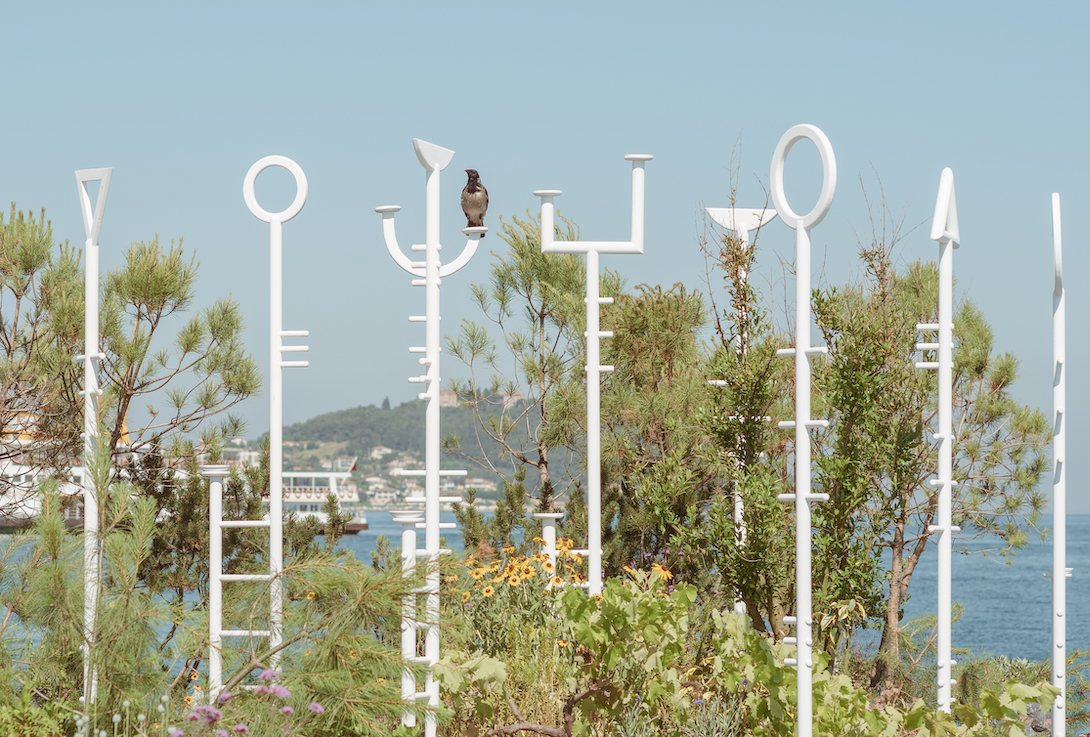 A series of white-painted wooden vertical perches and bird feeders is installed for migratory birds and gulls to rest upon. The perches – which enclose a 'bird garden', made by edible plants including grape trees, mint and sage – are inspired by the masts of sailing boats, lighthouse structures, antennae, and domestic bird perches. Finally, a circular marine-terrazzo medallion is embedded in the ground, made with shells and rocks gathered in Büyükada. At the completion of the journey, together with the plants of the garden, the triptych of sculptural elements will be donated to the archipelago, and permanently installed in Büyükada.
Büyükada Songlines hosted unique material research tied to the soils and minerals of the Princes Islands. Its programme was curated in collaboration with The Young Curators Group, the NGO Dunya Mirasi Adalar, Istanbul's Acik Radio, and ADYSK (Islands Marine Life, Sports and Culture Foundation).
Photography by Riccardo de Vecchi
---