Invocation of Hope tackles the urgent crisis of climate change and invites visitors to imagine a post-anthropocentric planet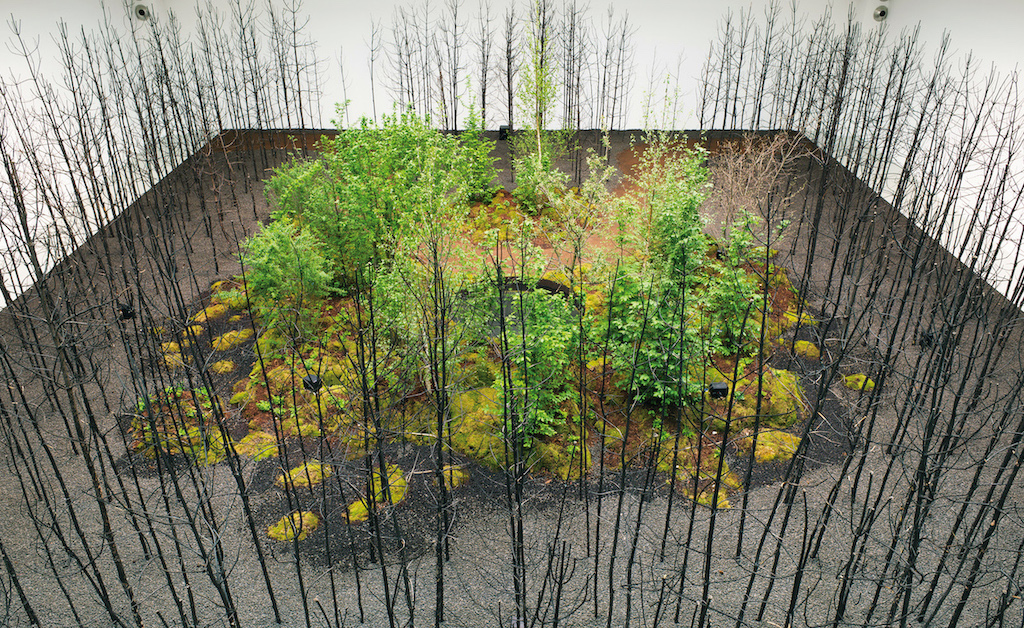 London-based speculative design studio Superflux has created a 'resurgent' forest installation as the centrepiece of the Vienna Biennale for Change (28 May – 3 October 2021). Named Invocation of Hope, the installation – commissioned by and located within the Museum of Applied Arts (MAK) – invites visitors to contemplate a post-anthropocentric planet.
The installation comprises a grid of fire-blackened pine trees, within which lies a centre of bright resurgent greenery and a glistening pool. A red path takes visitors through the scorched forest into the central biodiverse oasis, where they can peer into the circular pool; instead of reflecting the visitor's face, however, the pool depicts an animal – a wolf, lynx or bison – coming to the water to drink.
Envisaged as a journey from the ravages of climate crisis to the possibility of renewal, Invocation of Hope is accompanied by a soundscape created by musician Cosmo Sheldrake.
'Climate change is not a problem we can "solve" but rather a predicament we must navigate with responsibility and urgency,' says Jon Ardern, Superflux co-founder. 'Our proposal for a way out of this dilemma is to completely change the way we view ourselves and our relationship with nature,' adds co-founder Anab Jain. 'Instead of seeing humans as separate from nature, we need to understand that we are a part of it. By radically changing our attitude toward natural systems and the ecology of our planet, we have the best chance to reverse the damage we've done.'
The Vienna Biennale for Change 2021 takes the theme 'Planet Love: Climate Care in the Digital Age'. Combining art, design and architecture, the event interrogates climate care as a way not only to decarbonise the economy and society, but also as instrumental in building a sustainable relationship between humans and nature.
Other exhibitions and projects taking place as part of the biennale, which is hosted in venues across the city, include: Ecologies and Politics of the Living, Tomorrow's Food and Food Spaces, The Soil and Water Residency, and Towards a Circular Society. Participating architects and designers include Atelier Bow-Wow, Mae-Ling Lokko, Rural Urban Framework, Shigeru Ban Architects and Formafantasma. View the full programme here.
Photography by Stefan Lux, courtesy MAK
---