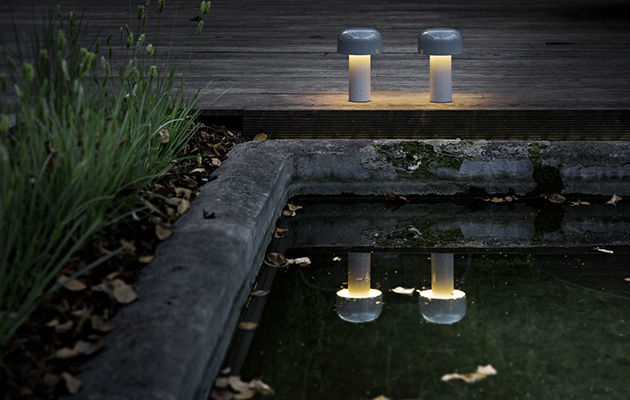 All photos: Germano Borrelli
'There comes a point in the life of a product where technology makes things possible,' says Edward Barber, one half of design duo Barber & Osgerby, about their cordless, battery-powered Bellhop light family.
Barber & Osgerby first launched the first Bellhop lamp, a cordless battery-powered lighting system for Flos in Milan last year, since then it has developed into a sophisticated line of products. Based on an earlier lamp the pair created for the London Design Museum, the Bellhop is now a family of nine distinct pieces, including a forthcoming streetlight model. Icon spoke to Edward Barber as the Bellhop went on sale in the UK.
Icon: Bellhop was originally designed for the Design Museum. What is the process like of making something that's supposed to be bespoke for a room and then making it into a commercially available product that's supposed to be mass marketed?
Edward Barber: The difference between those two projects, whilst the light itself is visually very similar, the internal workings of it are quite different. The biggest thing is that when you're doing a site-specific project you typically don't have so much time. Because the projects are typically well underway when they realize that they need something.
Some of our projects are four years in the development, lighting tends to be two to three years in development, and for the Design Museum, we only had a number of months.
So you end up using existing components and fabrication tends to be more elementary. The Design Museum lamp was made from metal because it was easily made in a small batch. When we went into production and to make it more cost-effective and to make it more durable, we did it out of a hard plastic.
Icon: So partnering with Flos to launch it commercially was an opportunity for you to refine Bellhop further?
Edward Barber: We definitely refined it much, much more. For mass-produced products, you're developing every component of the lamp specifically for that project instead of using off the shelf components and trying to make them work into the design that you've done. Bellhop for Flos is much better engineered. It's more durable because the original metal version is painted and it's a movable lamp, so there's more opportunity for you to drop it, over knock it over or that kind of thing. So plastic is more resilient and paint doesn't come off and all those kinds of things.
The concept was always to produce a lamp that would have a long enough battery life to make it a viable product –we'd approached Flos many years earlier about doing a lamp that was battery powered. And they'd always said that no, up until that point because of battery life.
If you can go back 10 years, batteries didn't last very long. And they've not only quadrupled or more in their battery life but charging time is better, the size of them is better and as time goes on, I'm sure it will improve again. So the lamp that we've produced now, the Bellhop, on a medium power of light, lasts about 20 hours, or 24 hours, which is incredible. Ten years ago you might have got two, three hours out of it. And maybe in two or three years' time, we might be able to get 50 hours out of it.
Technology advances at such a pace it opens up opportunities for different types or different archetypes of products. We were sort of on the cusp with the Bellhop lamp where technology really did allow a very viable portable lamp. And we've noticed pretty much since that, I'm not claiming by any means to be the first portable, battery-powered lamp, but since we launched Bellhop, there have been a number of other lamps that have come up around the world of a similar typology, which just goes to prove that the technology has now opened that world up.
Icon: Bellhop was an indoor lamp and now Flos have launched the outdoor version of it. How was that process like?
Edward Barber: Flos are calling it the modern day candle or something like that. Originally it was designed for the restaurant but it lends itself absolutely perfectly for outdoor lighting.
Typically with outdoor lighting, you want to bounce light off the ground. You don't want to have a beacon. The Bellhop's shape gives the perfect cover for all the technology underneath and the lighting, it's like a sort of perfect umbrella for all that to be kept dry.
It's turned into a really, really good family of products now, all of which have different materials, different finishes. The exterior ones are made from metal. Some are aluminium and anodized, some are brushed stainless steel, and some of them are powder coated. And the inside ones are typically the portable plastic but the floor standing is another metal, is an aluminium lamp.
Subscribe to the Icon newsletter here.
---