The Tip Ton RE has been developed by Vitra using recycled plastic material

Words by Francesca Perry
The gently rocking, simultaneously playful and utilitarian Tip Ton chair was designed by Edward Barber and Jay Osgerby in 2011 in collaboration with Vitra. Nine years later, the brand is launching a new version of the iconic chair made from upcycled household waste: Tip Ton RE.
In order to make the chair, household waste plastic was sourced from a waste disposal centre in Germany, where reusable materials are collected as part of a 'Yellow Bag' programme. After separating out metals and other composite materials, the plastic was shredded, cleaned and transformed into a high-grade granulate. 
'When you work with recycled plastic, you can choose between post-consumer or post-industrial material, even ocean plastic; and there are advantages and disadvantages with each. What we liked about the Yellow Bag system was that it was very easy to trace the journey,' says Vitra's chief design officer Christian Grosen Rasmussen. 'You take packaging waste from households; you clean it and chop it up. Then you turn it into something new that lasts.'
The recycled material is supplemented with small amounts of fibreglass. 'The challenge was to make the chair strong enough, which is often the issue when working with recycled materials,' says Rasmussen. 'That's why we added some fibreglass to strengthen the chair – while using as little as possible.'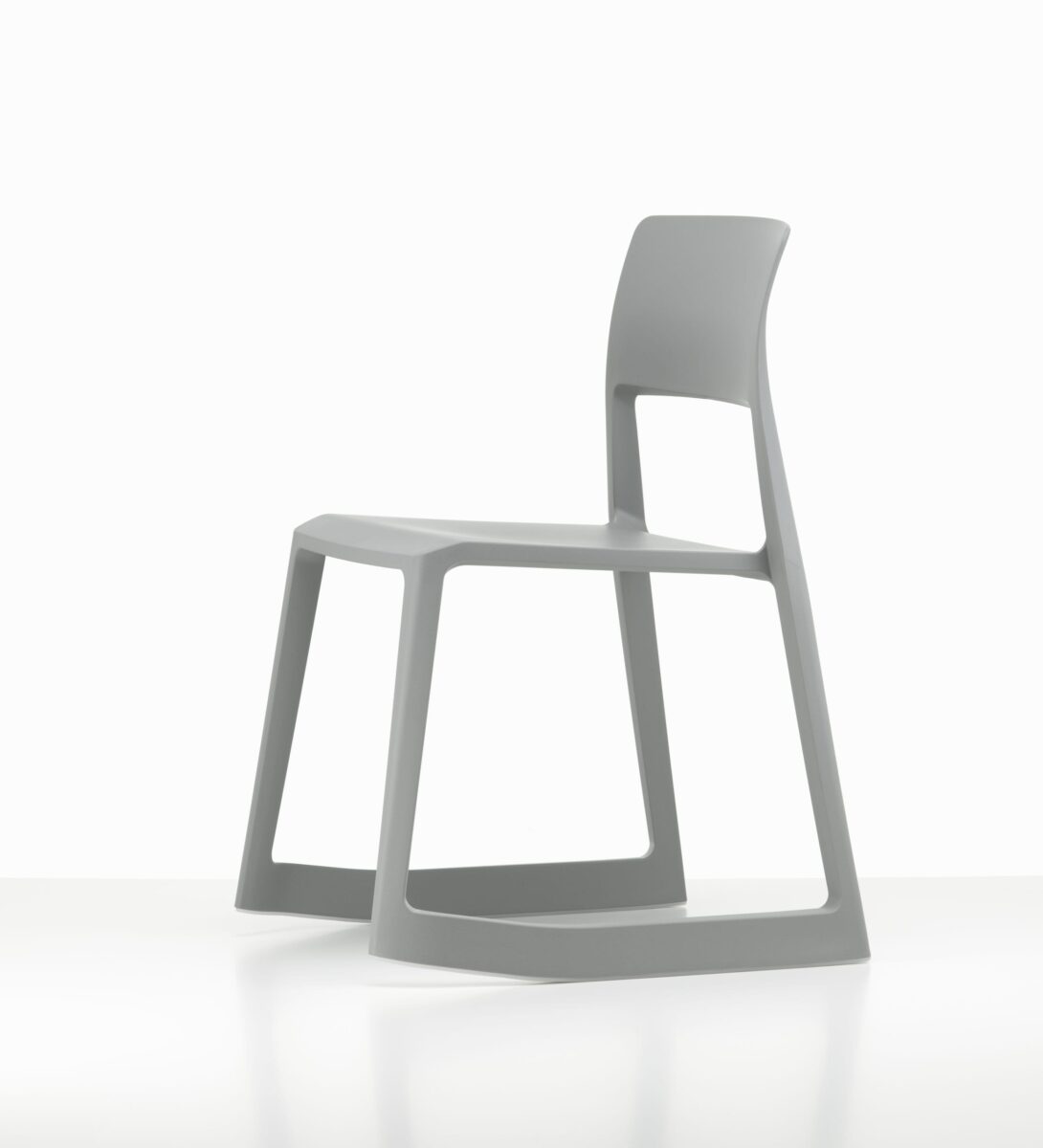 The pale grey colour of Tip Ton RE is the natural colour of the processed recycled material. No additional colourants were added – but the nature of the recycled material results in flecks of pigmentation. 'We wanted to keep the material as clean as possible, so what you see is what you get,' says Rasmussen.
'In the grey there are tiny speckles of other colours, that will vary a little from chair to chair. But for me that adds interest, it pushes our perception of what plastic is. The slight variation in the recycled material adds depth and gives it a story, like the way the structure of a piece of wood tells you how the tree grew.' Tip Ton RE itself is 100% recyclable at the end of its lifespan.
The Tip Ton chair was originally developed for a school in Tipton, England. When used at a table, the chair tilts forward slightly from the horizontal position, straightening the pelvis and spine and improving blood circulation. Since its initial launch in 2011, the chair has been used in multiple schools and libraries as well as other contexts.
Vitra is currently developing other products using the recycled material. The circular approach is not without its challenges though: 'You need a different mindset, but we are adapting to it, because it's the way we need to think and act now. It's part of the designer's and company's responsibility,' says Rasmussen.
'In this dialogue we push each other towards a more circular way of thinking. Testing new materials and processes can give you unknown results; it always leads to some kind of learning and adds to the knowledge base on the circular economy.'
---