words Beatrice Galilee
One of the most dangerous places on the planet has been the focus of an intensive rehabilitation programme, symbolised by a monumental library, cultural centre and public park. Medellín, Colombia, is a former enclave of the cocaine trade, and the Parque Biblioteca España has already contributed to an 80 per cent drop in crime.
Designed by Colombian architect Giancarlo Mazzanti, the library sits at the top of a mountain towering over the sprawling slum of Santo Domingo Savio, once known only as a desperate community at the heart of the violent drug wars.
One visitor to the project said: "This place had the nickname The City of Death; now you go inside the library and just see kids playing on their One Laptop Per Child. It's absolutely remarkable."
The eight-storey library is divided into three monolithic, deliberately rock-like forms that impose their presence on the city below. The buildings contain an auditorium,internet rooms, a daycare centre and an art gallery, and are connected through a series of public spaces. The internal layout is designed as a place for people to to be able to isolate themselves from noise and the environment.
The steep slopes of the Medellín valley suffer frequent landslides and the structure of the towers – concrete and steel frames clad in locally sourced black slate – includes retaining walls to protect the neighborhood below. Access is via a new cable car system, which glides visitors up and over the hillside slum.
The transformation of Medellín is owed to the social strategy implemented by the city's mayor, Sergio Fajardo, focusing on public spaces and buildings. Fajardo has poured billions of dollars into five new libraries, a science centre and dozens of schools to be built in economically and socially challenged areas, with a particular interest in ensuring the best quality architecture.
"The main objective of the library is to encourage people to behave physically and mentally in a way that they thought impossible before," says Mazzanti.
The project follows in the footsteps of nearby Bogotá, whose social renewal strategy for favelas is being hailed by urbanists. "Architecture as a means to create social wellbeing is now more relevant than ever," says Mazzanti.
images Sergio Gómez
top imageThe facade combines local black slate and coloured glass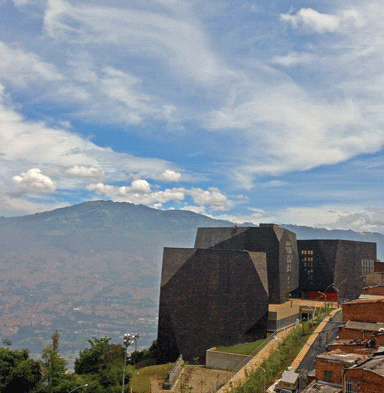 The library buildings sit on concrete retaining walls to protect against frequent landslides

The library was intended as an architectural and social beacon for its impoverished surroundings
---