words Justin McGuirk
Away from all the talk, we saw the first results of a scheme that was launched at last year's Design Indaba. The 10×10 project is channelling the ideas and expertise of the international speakers into the problem of affordable housing in South Africa. It will produce ten houses in Freedom Park, outside Cape Town, that will be templates for future development. One of them was nearly complete in February.
The house, which is built of sandbags around a timber frame, was designed by Luyanda Mpahlwa of local architect MMA, which recently built the new terminal at Cape Town airport. It was meant to be a collaboration with Will Alsop but the London-based architect proposed a concrete design that was several times over the allotted £3,000 budget and then allegedly refused to rethink it. "I tried to engage with Will on this," says Mpahlwa, "but Will doesn't engage."
Nevertheless, the house is a triumph of affordable and sustainable design, and a local family, the Jonkers, was preparing to move in by Easter. The two-storey home was built using a locally designed structural system known as Ecobeam, which uses timber supports built up with sandbags. This is the modern equivalent of indigenous mud housing and has the same advantage of being cool in summer and warm in winter. It is also simple to build and thus doesn't rely on skilled labour.
Despite the modest budget, this is a generously proportioned and dignified home. Like all the designs being produced as part of the 10×10 scheme, it is available as an open source model to be rolled out in numbers. One of the factors aggravating the affordable housing crisis in South Africa, says Mpahlwa, is the failure of architects and urban planning professionals to engage with the problem. "As a matter of fact, housing, although driven by government, is largely being delivered by developers," he says. "It's fair to say that the non-involvement of architects in the process has led to the neglect of urban quality of life."
It is a pity that the first of these international collaborations broke down so completely, but Mpahlwa has turned this into a success story. Other collaborators include David Adjaye, Shigeru Ban, Thomas Heatherwick and Cameron Sinclair.
images Frederico Duarte, Yasser Booley
top image Freedom Park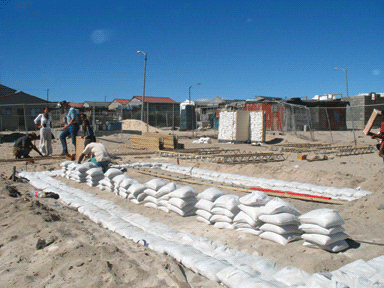 Marking out the plan with sandbags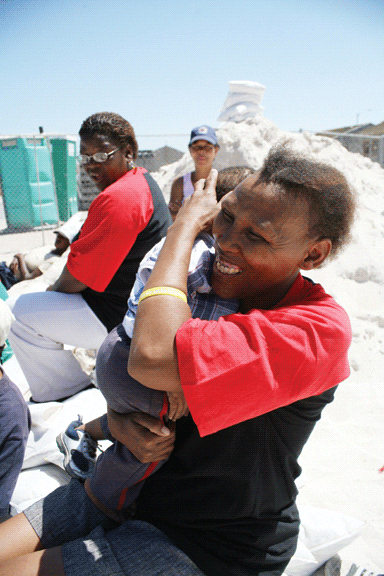 The resident in waiting, Mrs Jonker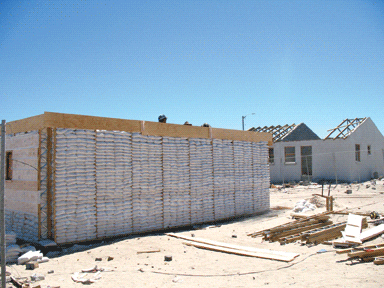 The sandbag and Ecobeam system

The second storey taking shape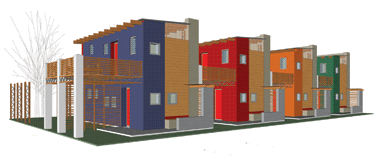 Visualisation of the expanded scheme
---