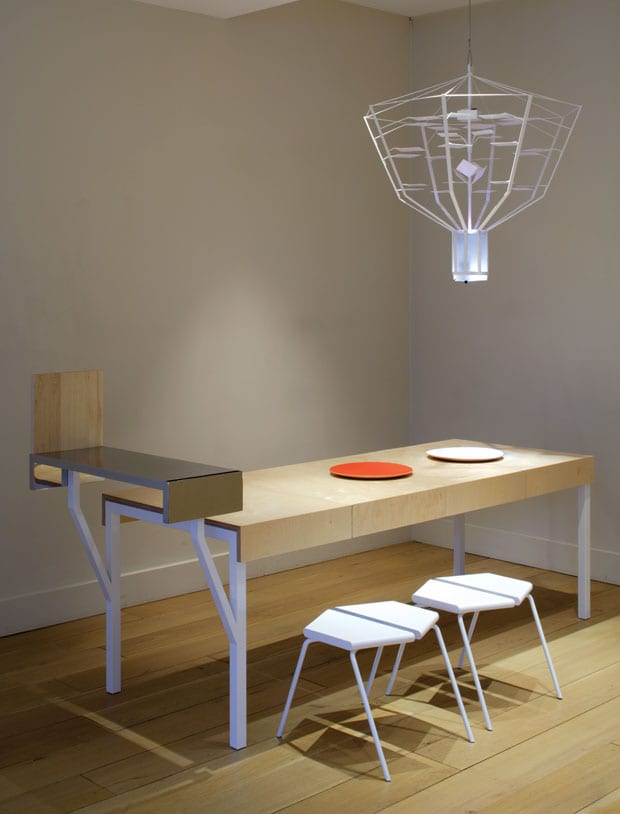 words Anna Bates
A light powered by the moon and a chandelier that reads the colour of your food are among French designer Matali Crasset's latest research projects, on show at her exhibition, Another Logic Of.
Crasset, who wanted to use technology "in a poetic way", designed Moon Lamp to make people more conscious of how much energy they use.
The outdoor component has three photovoltaic antennae that use the moonlight to charge a battery. The battery is then transferred to a floor lamp. But in place of a bulb and shade, Crasset has opted for an electroluminescent panel that hangs from a cylinder like "a fax from the moon", or a piece of toilet paper.
"The moon represents when you travel in your mind and dream," says Crasset. "You have to wait for ten days until there's enough moonlight to light the lamp. You get this rare moment, it reminds you how fragile energy is."
Crasset's other project is also rooted in ritual. Responding to the diminishing amount of time French families spend at the dining table per day (currently an impressive 83), Crasset wanted to design a setting that would increase meal times.
An integrated bench encourages the cook to prepare the meal with the family. But the most intriguing part is a chandelier that "photographs" the food below, reads the dominant colour and then "tells the LEDs". "It changes colour to match the meal," Crasset explains, to create a sense of occasion.
The pieces were commissioned by London's Rabih Hage gallery, and will be on show until 20 December.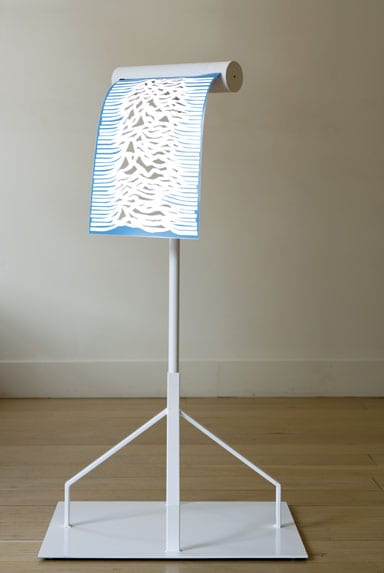 ---