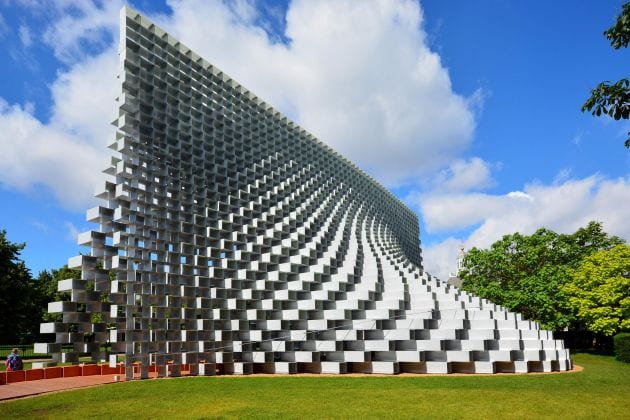 BIG's Serpentine Pavilion, which stacks numerous repeating units, is characteristic of the firm's designs. Image: George Rex / Creative Commons.
Danish architect Bjarke Ingels heads BIG, one of the most technically advanced studios in the world
Bjarke Ingels is one of the most prominent architects of the 21st century. Born in Copenhagen to an engineer and dentist, as a child Ingels dreamed of being a cartoon artist. In pursuit of this dream, he enrolled at the Royal Danish Academy of Fine Arts in 1993. During his degree he studied architecture. He went on to study an architecture diploma and graduated top of his class.
As a young architect Ingels worked with provocative visionary Rem Koolhaas at his studio OMA in Rotterdam. Ingles co-founded PLOT Architects in 2001 and then opened his own Atelier BIG, Bjarke Ingels Group in 2006. BIG now has offices in Copenhagen, London, Barcelona and New York.
BIG have undertaken a number of award-winning design projects and buildings, and Ingels quickly earned an international reputation for being at the forefront of a new generation of architects that could combine radical experimentation with contextual sensitivity and technical skill. 
Read more: ICON's in depth interview with Bjarke Ingels
Ingels's various projects combine elements of art, architecture, urbanism and nature. He strongly advocates that architecture should respond to the environment and aim to be sustainable and use renewable energy wherever possible. 
In 2014, Ingels release a video entitled 'Worldcraft,' which presented future scenarios and possible solutions to the growing needs that architecture must address. The documentary encourages architects to be more ambitious with making their fantasies realities and thereby bring a certain sense of surrealism into their work. 
His significant projects include the Danish National Maritime Museum, The Mountain in Copenhagen, 8 House and the Sjakket Community Building also both in Copenhagen. BIG also completed a clean 'waste-to-energy' power plant in Copenhagen in 2019 with an artificial ski slope on the roof and a twisting art-gallery-cum-bridge that spans a river in Norway. 
Read more: BIG: Ski park on a power plant
Ingels was named as one of the 100 Most Influential People in the World by TIME Magazine in 2016. In 2004, he was awarded the Golden Lion at the Venice Biennale for the Stavanger Concert House, the following year he received the Forum AID Award for VM Houses. His project The Mountain has also received a variety of awards including the World Architecture Festival Housing Award and the Forum Aid Award. He was also named an Honorary Fellow by the AIA in 2020, by the RIBA in 2015 and by RAIC in 2014. 
As well as running his own architectural practice, Ingels lectures at the Rice University's School of Architecture and Columbia University's Graduate School of Architecture. He is also a visiting professor at Harvard University and Yale.
Ingels also cofounded the KiBiSi design group along with Jens Martin Skibsted and Lars Larsen. The group investigates urban mobility and personal electronics, creating items as diverse as bicycles, household objects and aircraft. KiBiSi is one of the most influential Scandinavian design groups operating today. 
---