From homes made of 3D-printed raw earth to a community library in Mexico, we round up the projects championing sustainability, inclusivity and innovation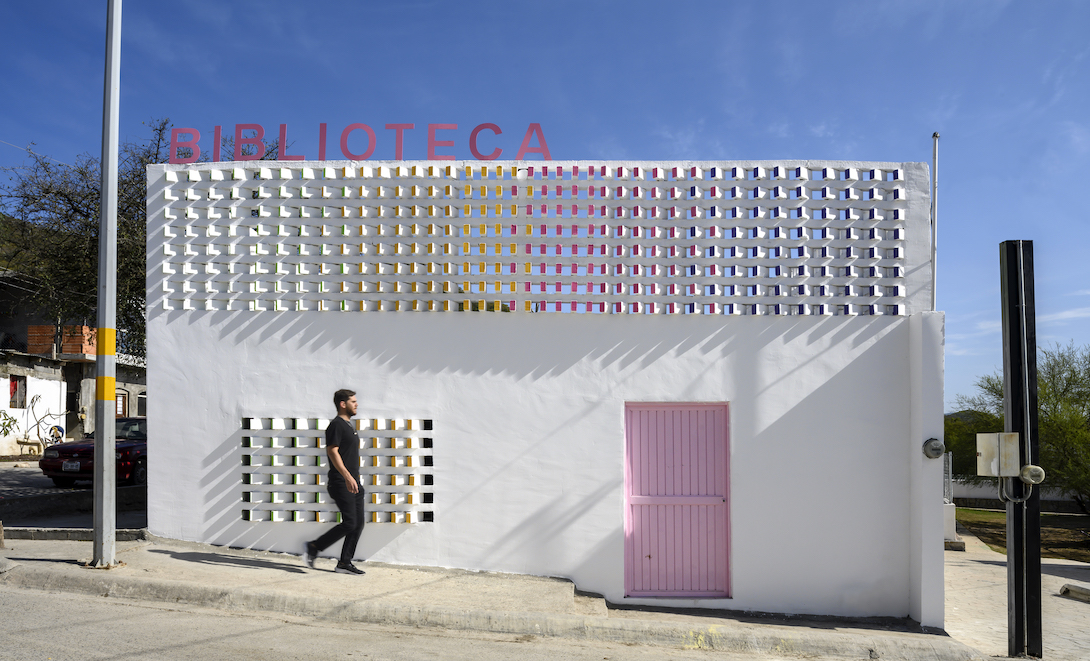 Words by Francesca Perry
As we look back over 2021, there are inevitably plenty of things to feel make us feel deflated. But what has gone right this year? Which architectural projects are tackling carbon emissions, or breaking social barriers? Here are some of the projects from across the globe that point to a hopeful architectural future – one in which reuse plays a vital role, spaces drive social inclusivity and sustainable lifestyles, communities are involved in processes of co-design, and real needs are met.
Héctor Caballero Library, Mexico – by Proyecto Reacciona
This project in north-east Mexico (see above) transformed a tired library building into a new community hub through a process of local co-design. The project is part of the Crear Comunidad (Create Community) programme, led by Proyecto Reacciona, which aims to rehabilitate under-resourced libraries through citizen participation. Here, the new library responds to the needs of the community and nurtures a colourful, flexible space for positive cultural activities.
Sara Cultural Centre, Sweden – by White Arkitekter
Located in the city of Skellefteå, this timber civic complex – home to an art gallery, museum, theatre, public library and hospitality venues – sequesters more than twice the carbon emissions caused by its operational energy and embodied carbon, which means it should be carbon negative within 50 years. The project reflects White Arkitekter's commitment to making all its architecture carbon-neutral or better by 2030 – much of which relies on timber construction.
The Burkina Institute of Technology, Burkina Faso – by Kéré Architecture
In the city of Koudougou, this project is a hub for high school graduates to continue their education, focusing on technology and entrepreneurship. The design – using a system of orthogonal, repeated modules – ensures the building can be flexible, expanding over time according to need. Passive cooling and natural ventilation strategies – including thick clay walls, eucalyptus screens and chimneys – are used to decrease energy consumption. During the rainy season, water is channelled into a large underground tank that is then used to irrigate the mango plantations on campus.
REWE Market of the Future, Germany – by ACME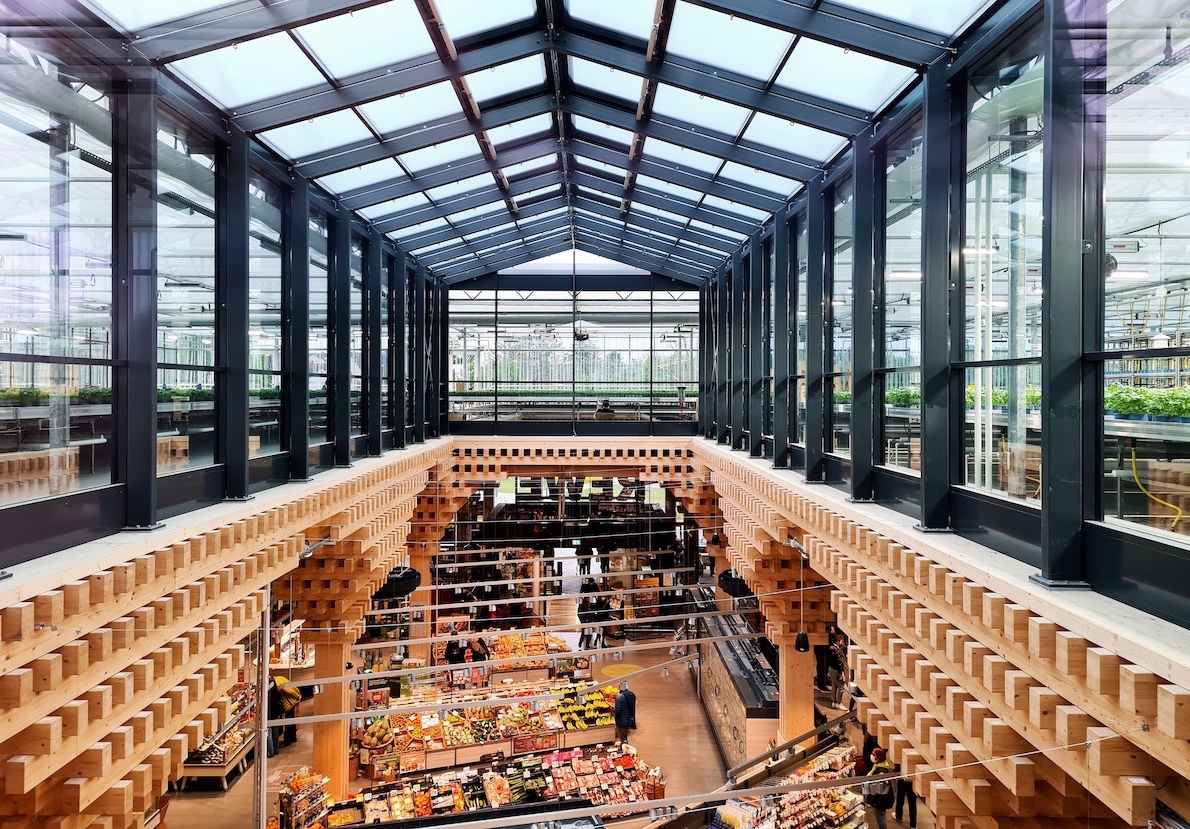 Mixing urban agriculture with sustainable construction and supply chain overhaul, the Market of the Future project, designed by ACME for German supermarket chain REWE, consists of a rooftop farm which grows produce to be sold on the supermarket floor directly below, alongside other locally farmed produce. The concept reduces carbon emissions in the growing, transportation, storage and distribution of food. An innovative glulam timber structure also forms a central part of the building.
Forma HQ, UK – by Sanchez Benton Architects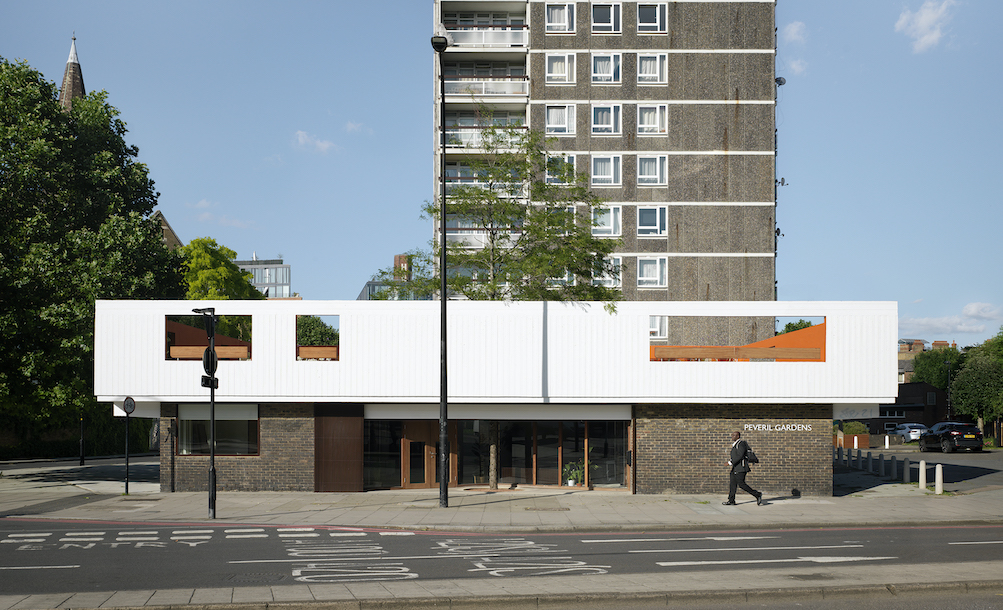 This culturally focused adaptive reuse project in south London, by Sanchez Benton Architects in collaboration with artist Gabriel Kuri and horticulturist Nigel Dunnett, transformed a low-rise 1960s complex of disused garages into a new hub for arts organisation Forma. The building now comprises Forma's new offices, five affordable artist studios, a residency space for visiting international artists, an event space, room for a cafe and bookshop, as well as a walled and colourful public rooftop garden.
Mosque of the Late Mohamed Abdulkhaliq Gargash, UAE – by Dabbagh Architects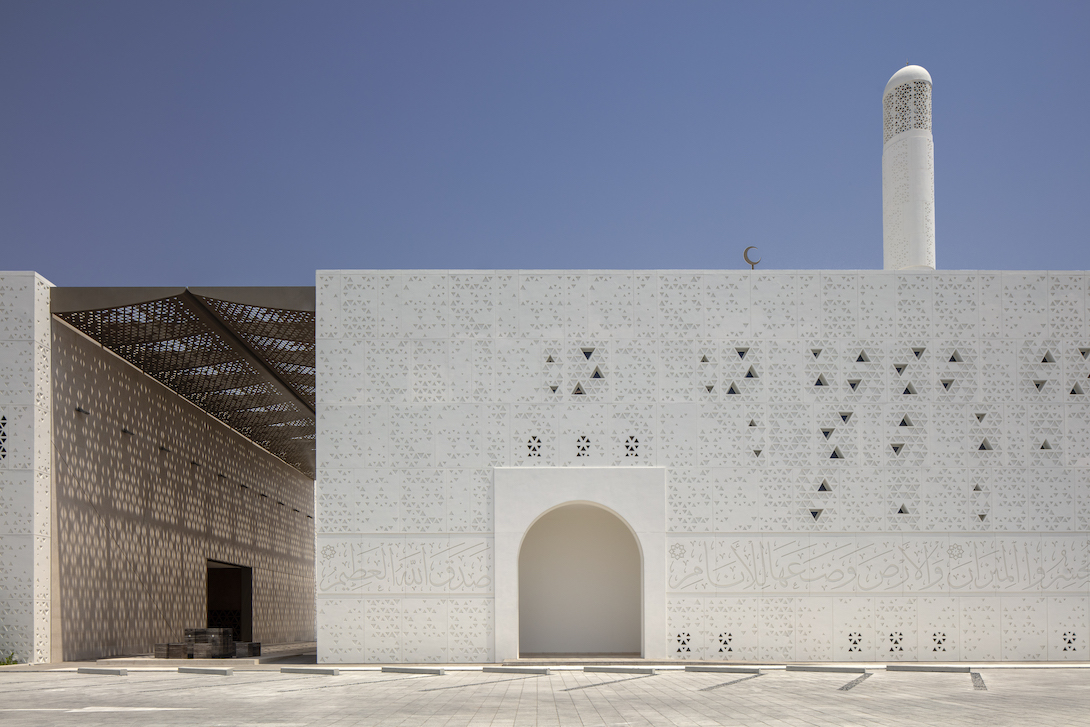 Saudi architect Sumaya Dabbagh and her practice designed this graceful yet monumental mosque for the community of Al Quoz in Dubai. The project – one of the first mosques in the UAE to be designed by a female architect – harnesses natural light to create an intimate and spiritual atmosphere. 'There is a defining, magical moment when the building is born and claims a life of its own,' Dabbagh says. 'For this, my first mosque, that moment was particularly moving.'
Philippine Pavilion, Venice Architecture Biennale – by Framework Collaborative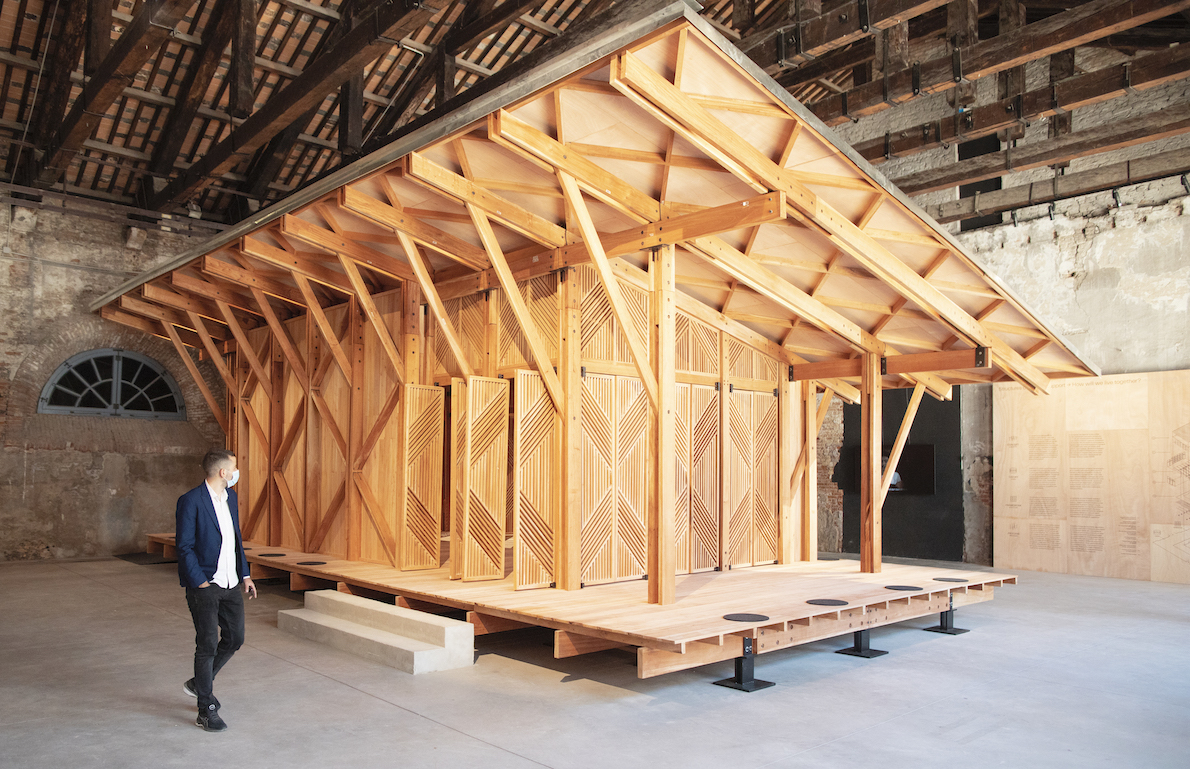 The Philippine Pavilion at this year's Venice Architecture Biennale focused on practices of mutual support (known as 'bayanihan' in Filipino) as an approach to both architecture and community building. Led by architects Sudarshan V Khadka and Alexander Eriksson Furunes, the project – a wooden library space – emerged from a long-term collaboration and co-design with 32 community members of the Gawad Kalinga Enchanted Farm, located north of Philippine capital Manila. Having been showcased at Venice, the building is now returning to the Philippines to take its place in the Gawad Kalinga community, where it directly responds to local needs.
TECLA prototype, Italy – by Mario Cucinella Architects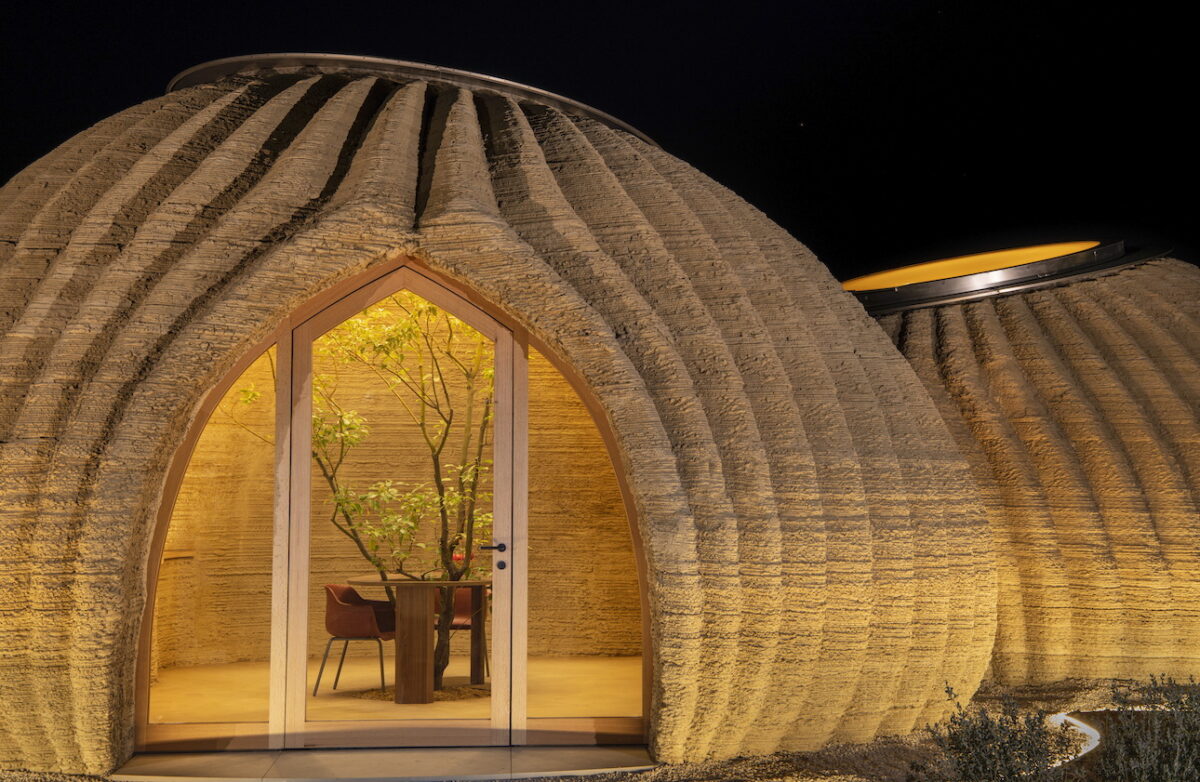 TECLA (Technology + Clay) is billed as the world's first 3D-printed house made from raw earth. The domed prototype, developed by Mario Cucinella Architects and 3D-printing specialists WASP, is both low-carbon and biodegradable, constructed from the very ground it sits on. The 3D-printing technology means the homes can be produced quickly and on a mass scale, with proposed applications including low-income community housing or emergency shelters. The structure of each house is self-supporting, removing the need for scaffolding, and the project is described as zero-waste.
Alhambra's Cross, Colombia – by Colab-19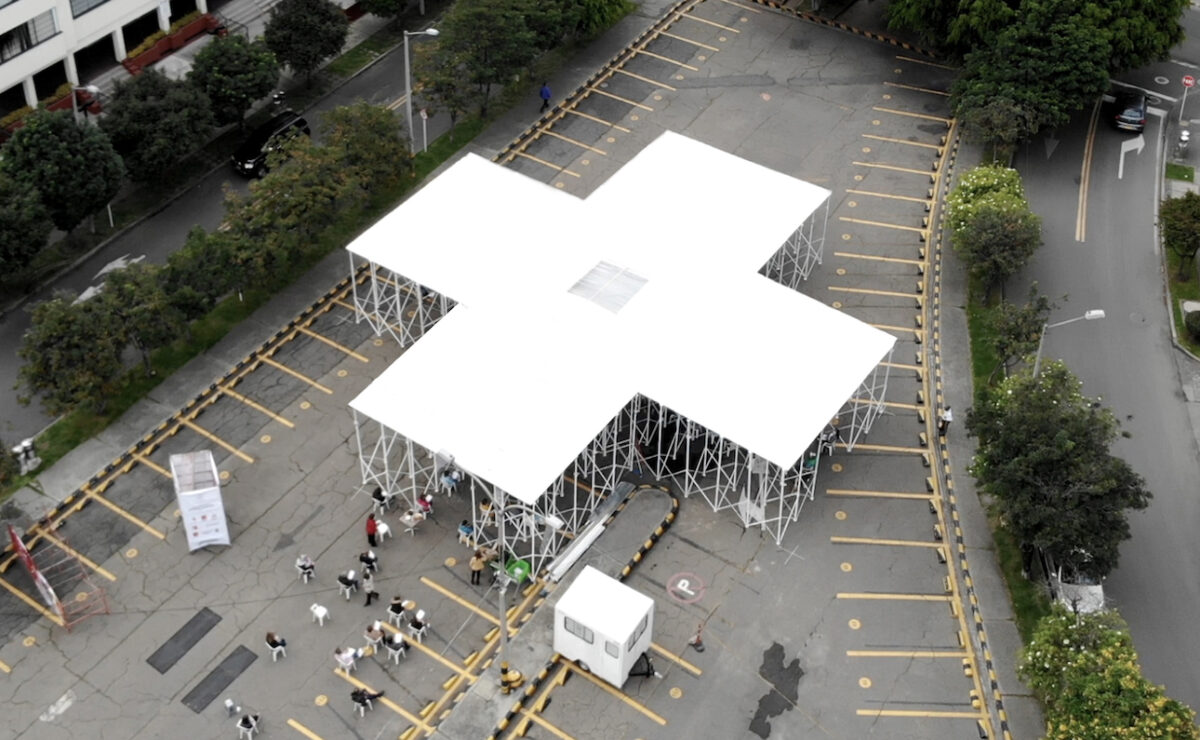 This temporary church structure was a rapid response to the restrictions caused by the Covid-19 pandemic, and deployed in Bogotá for the Easter weekend. Using a recycled and recyclable formwork system, decorated simply with white mosquito net partitions, the cross-shaped structure enabled people to come together and celebrate Easter while remaining in a socially distanced, open-air setting.  Colab-19 – a Colombian architecture studio set up in response to needs emerging from the pandemic – worked closely with the Colombian Society of Architects to realise the project.
Anne Street Garden Villas, Australia – by Anna O'Gorman Architects
This project, on Australia's Gold Coast, comprises seven social housing dwellings arranged around a communal garden. The design was informed by workshops with local stakeholders, and includes various passive climate-responsive considerations, including the integration of solar energy and water storage. The pedestrian-oriented complex prioritises community interaction and equitable, sociable space, all delivered using affordable materials and construction techniques.
Tambacounda Hospital extension, Senegal – by Manuel Herz Architects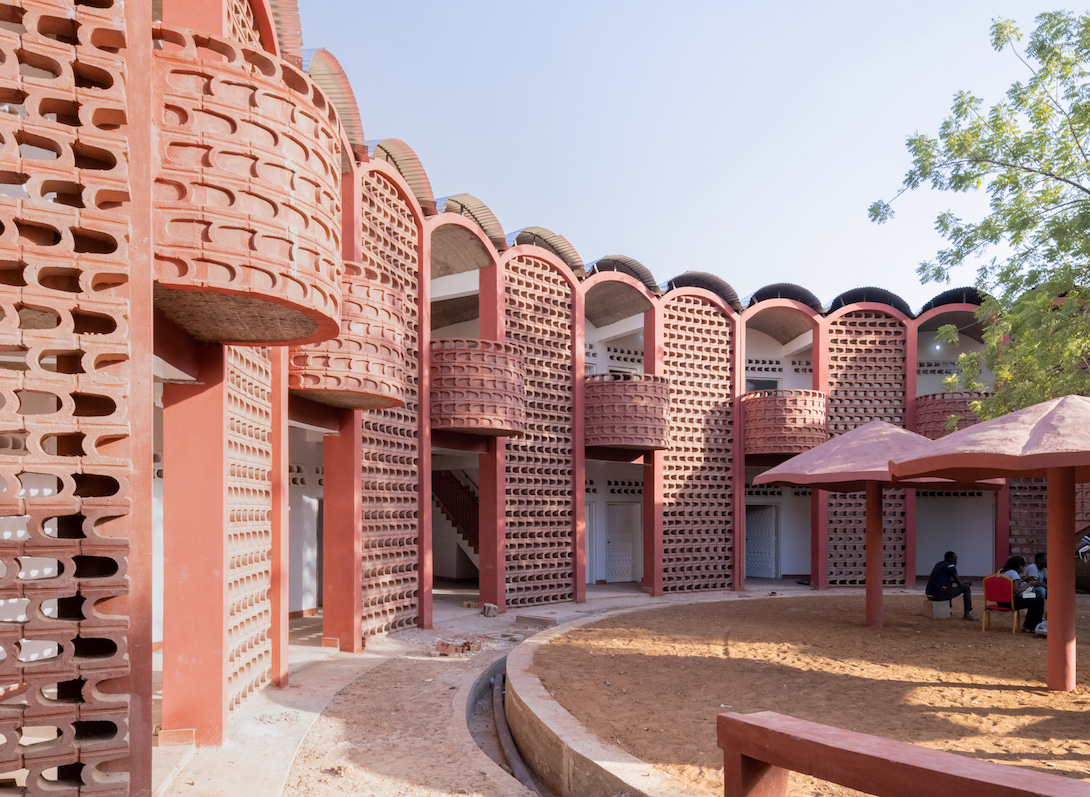 In eastern Senegal, the Tambacounda Hospital got a vital new wing, designed by Manuel Herz, catering to maternity and paediatric care. The structure, built in collaboration with local craftsmen, is defined by a facade of U-shaped bricks which allow air flow but shelter the interior from strong sunlight. For our Autumn 2021 issue, Dakar-based journalist Nellie Peyton travelled to the project to report on its evolution and impact.
What did we miss out? Tweet us at @iconeye
Photography credits, top to bottom: Héctor Padilla Ferraris, Åke E:son Lindman, Jaime Herraiz, ACME, Brotherton/Lock, Gerry O'Leary, Andrea D'Altoe, Iago Corazza, David Carretero, CFJ, Iwan Baan
---