The 'Market of the Future' for German chain REWE tackles food miles and carbon emissions in a two-tiered structure

Words by Nile Bridgeman
Over the last century, humans have grown distant from food-growing culture. Farming is mostly invisible to city dwellers, and supermarkets make food's origins opaque. Consumers increasingly expect the predictability of big-shed supermarkets over the seasonality of produce from the simpler markets that they evolved from. In Wiesbaden, Germany, the newly completed REWE Market of the Future – designed by Berlin- and London-based architecture practice ACME – seeks to challenge what a (super)market should be.
REWE, Germany's second largest supermarket brand, has over 3,700 stores nationally, but this Market of the Future is the first of its kind, and the latest in REWE's efforts to become more sustainable. At Wiesbaden, the market floor is topped by a rooftop farm, which grows food to be sold downstairs, alongside other locally farmed produce. 
The concept aspires to reduce carbon emissions in the growing, transportation, storage and distribution of food, while literally bringing customers closer to the production of the groceries they purchase. The Wiesbaden Market is conceived as a sustainable, adaptable and repeatable prototype – REWE intends to roll out the concept nationwide, with each store growing a specific type of food.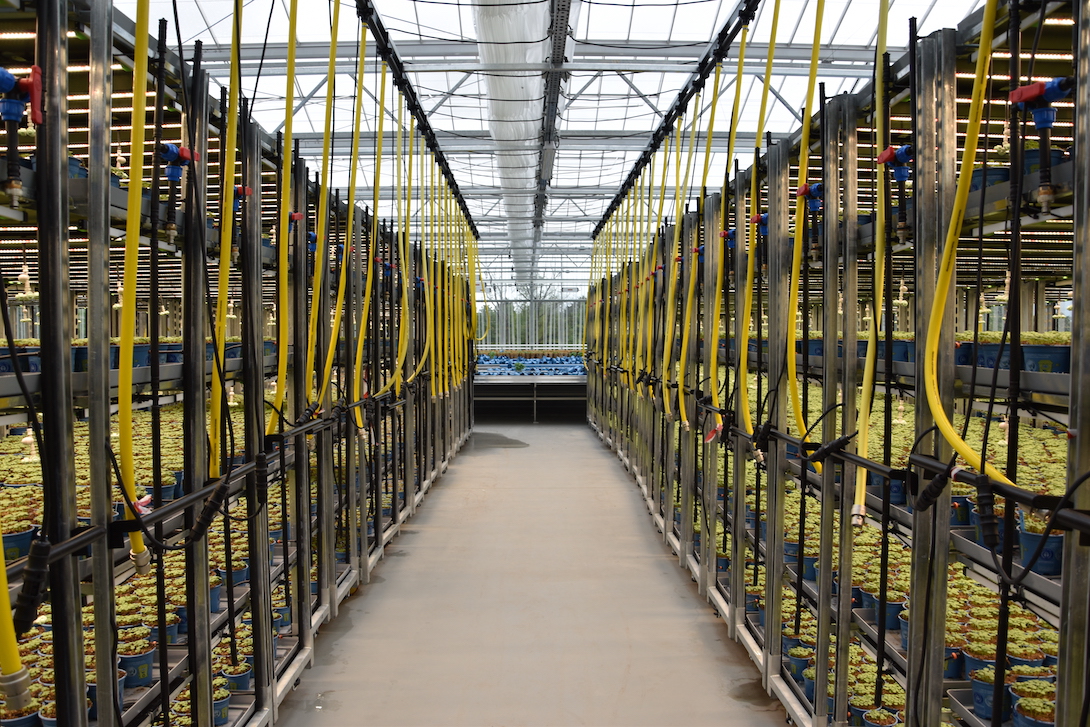 Each year, the Wiesbaden Market's rooftop farm will produce around 10,000kg of fresh fish and 800,000 pots of basil. It is a seemingly odd pairing of produce, but the two things support one another: the basil filtrates the water for fish farming, and fish faeces is used as plant fertiliser. Reuse and ecology are embedded within every facet of the project.
Reflecting the wider concept, the building utilises historic methods in an innovative and contemporary way. A wooden structure was designed with engineering firm Knippershelbig, comprising stacked glulam timber cross-sections held up on columns. This mushroom-like wooden structure provides intimacy at market level and supports the farm functions in the greenhouse above.
Locally farmed produce fills every corner of the 2,000 sq m market floor. Fish farms, storage, greenhouse access, a bakery and click & collect are grouped in two green box-like sections that flank the market, freeing up its centre.
Internally, at first glance, little distinguishes this from a standard supermarket – beyond the dramatic wooden elements, ample natural light from the open sides and open shell of a greenhouse above. Look more closely and the lack of packaging and the locality of the groceries slowly reveal the market's ethos.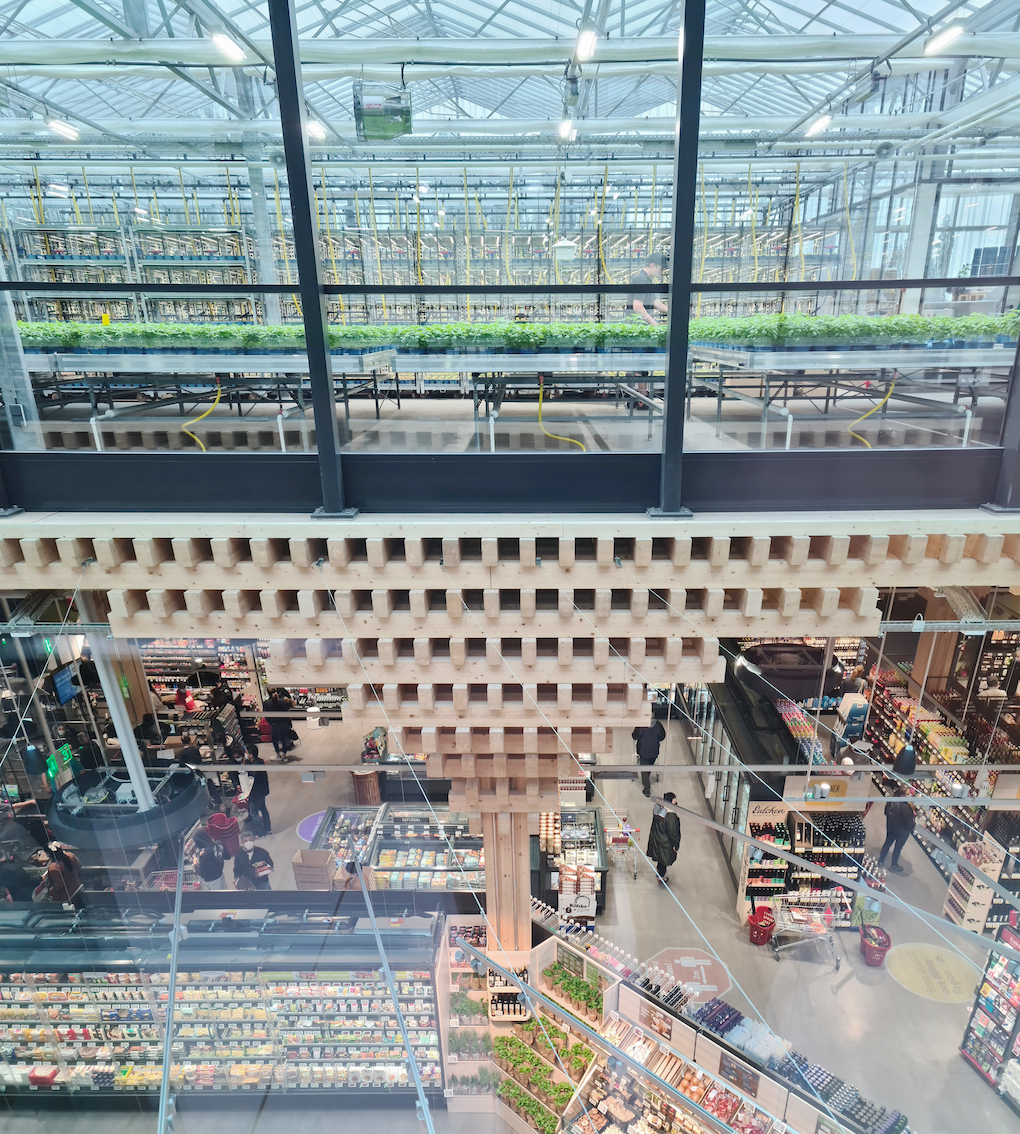 On average, in Europe, fresh food travels 1000km before being stocked on shelves. Here, this reduces to mere metres. The closer connection between grower and consumer is also supported by the internal design: a central atrium bisecting the dense timber ceiling reveals glimpses of the greenhouse. A spiral staircase within the cafe leads to a viewing room where growing processes are laid bare.
Wiesbaden Market artfully combines familiarity and an inventive, integrated sustainability. Only the results of the wider rollout will determine whether it is a novel concept or truly the Market of the Future.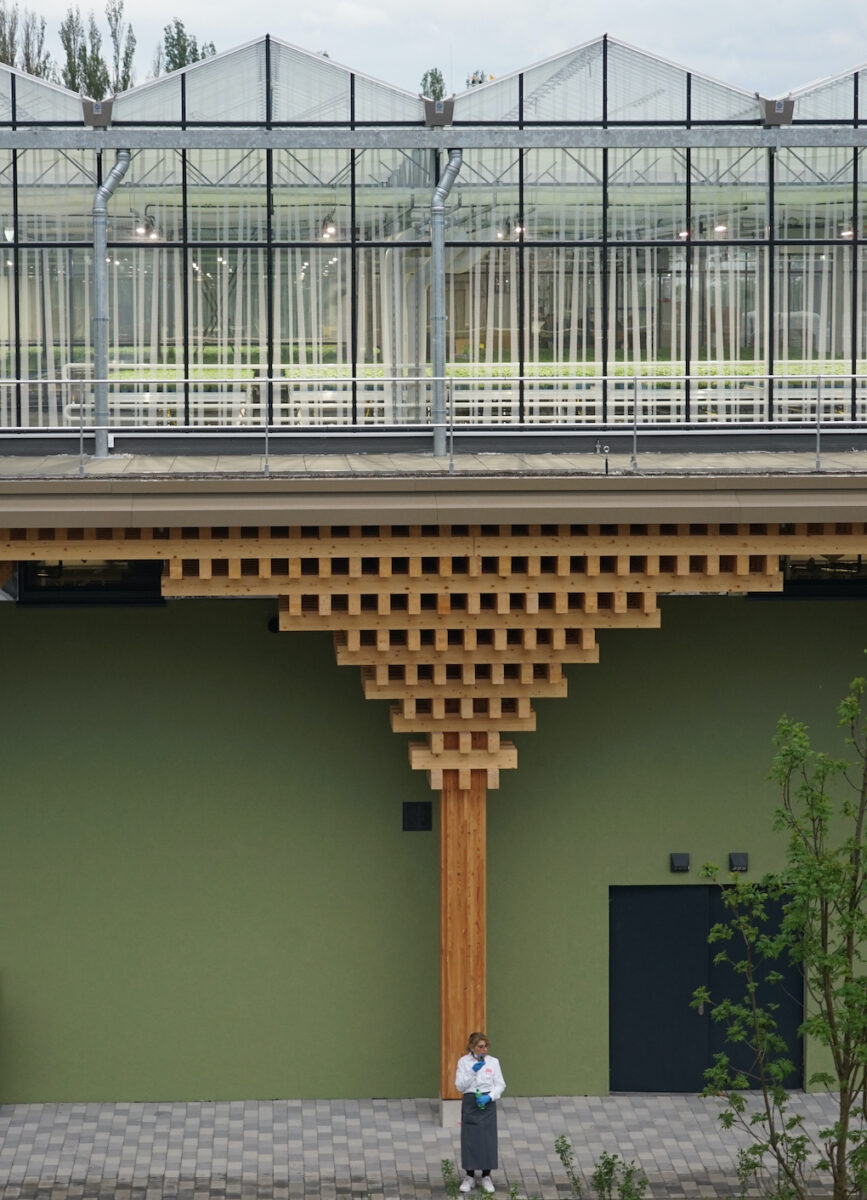 All photography courtesy of ACME
---