Defined by intricate exterior detailing and careful use of natural light, the new mosque is one of the first in the UAE to be designed by a female architect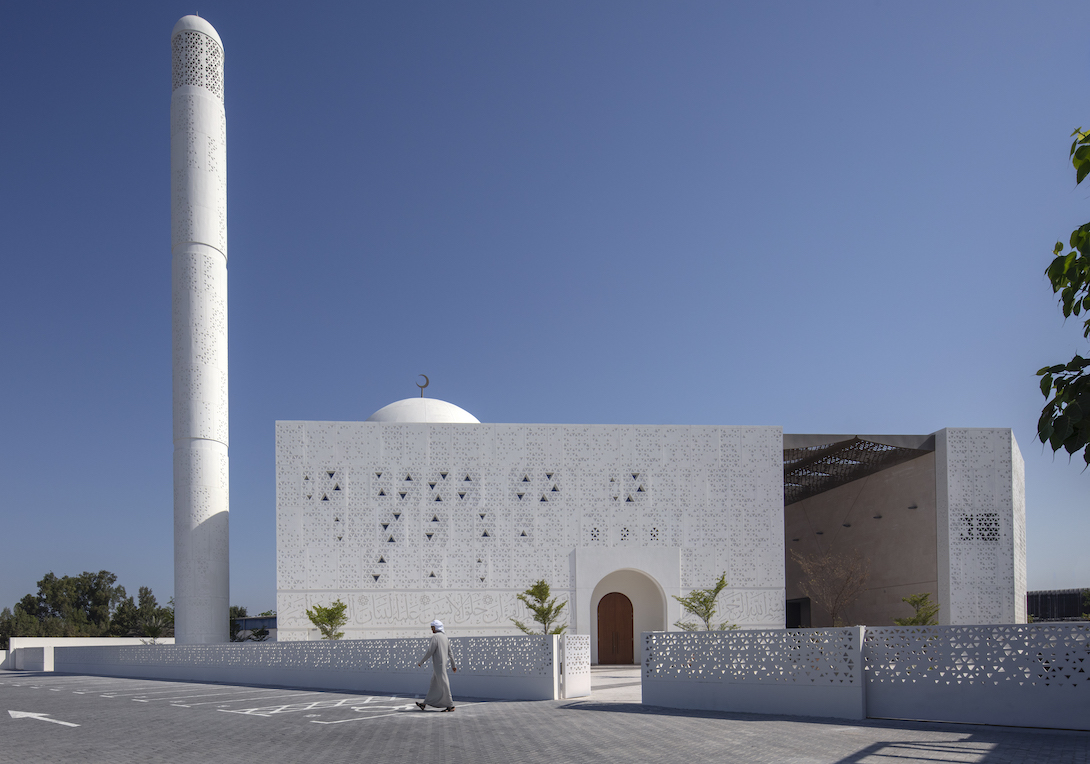 Words by Francesca Perry
Eyes may currently be fixed on Dubai for the delayed Expo 2020 it is currently hosting – packed with showy structures from the likes of Grimshaw, Santiago Calatrava and Foster and Partners, and attracting criticism for treatment of migrant construction workers – but elsewhere in the city, the Saudi architect Sumaya Dabbagh and her practice Dabbagh Architects has completed a graceful yet monumental permanent mosque for the community of Al Quoz.
The Mosque of the Late Mohamed Abdulkhaliq Gargash, a 1,680 sq m concrete structure, is one of the first mosques in the UAE to be designed by a female architect. Commissioned by the Gargash family as a gift to the community and in honour of its late patriarch, the brief was to create a minimal contemporary place of worship.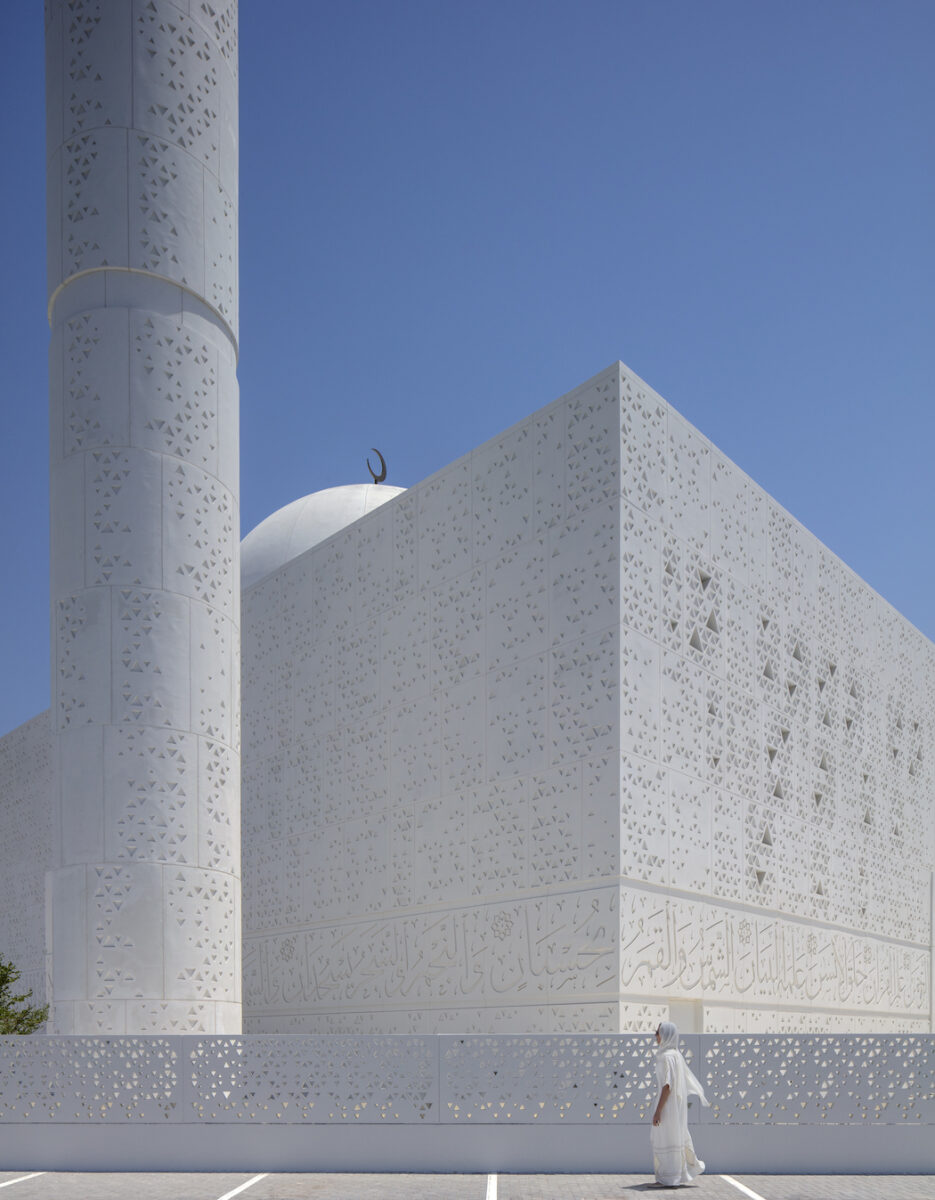 'Creating a space of worship was a very particular design challenge,' says Dabbagh, who established her practice in 2008. 'Prayer is a devotional act. It requires the worshipper to be totally present. With all the distractions in our modern busy lives it can be challenging to quieten the mind and find an inner calm to allow for full immersion into prayer. Through the design, a series of spaces are created that allow the worshipper to transition from the busy outer world and prepare for an inner experience.'
In the process of design development, the building volume was separated into two: the main prayer block and the service/residence block. Between the two lies a courtyard covered by a sculptural, perforated metal canopy. Worshippers enter through the shaded area, which leads to the ablution area, before entering the lobby space and finally the prayer hall. In contrast to traditional mosque architecture, the minaret is designed as a separate volume.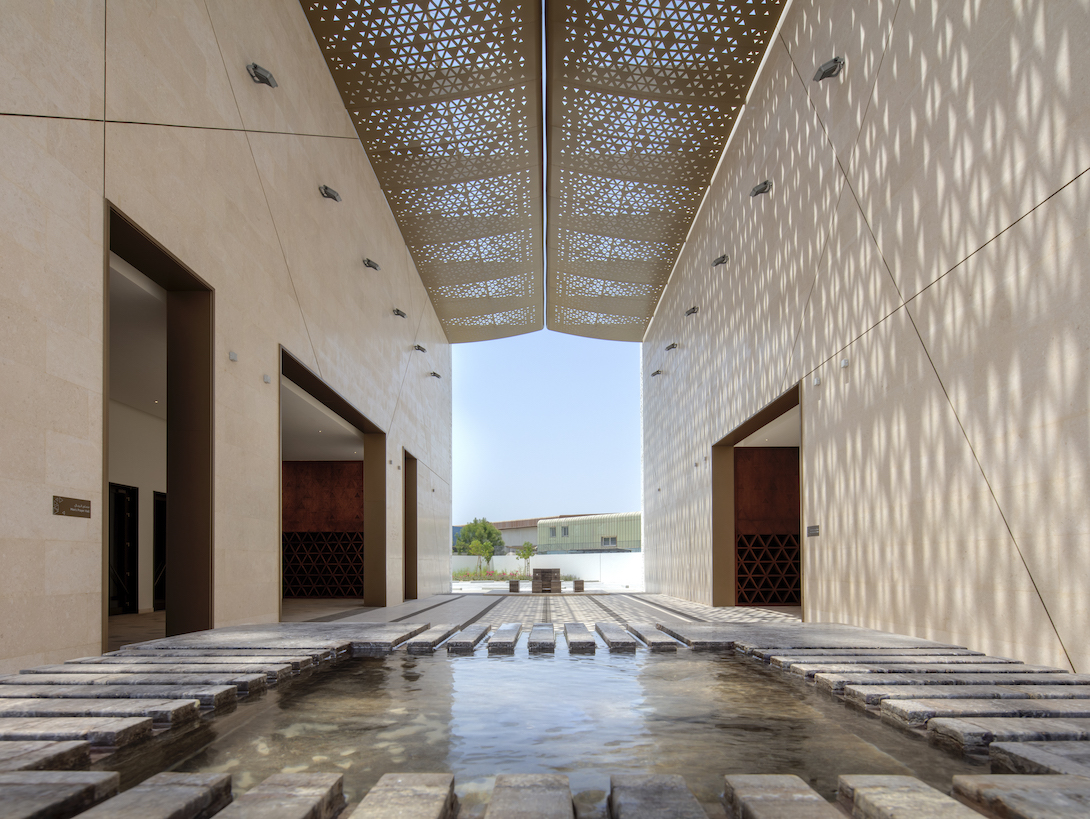 Through carefully placed triangular facade openings and rooflights, the project harnesses natural light to create an intimate and spiritual atmosphere. The triangular pattern is used throughout the building, including extensive intricate patterning on the facade, referencing traditional Islamic geometry but reinterpreted in what Dabbagh calls a 'deconstructed contemporary language'. Calligraphy also plays an important role, with a Surah (verse from the Quran) engraved on the exterior, wrapping around the prayer hall.
For the construction of the project, Dabbagh Architects sourced materials from the local region, including stone from Oman and concrete, aluminium, joinery and ceramics from the UAE.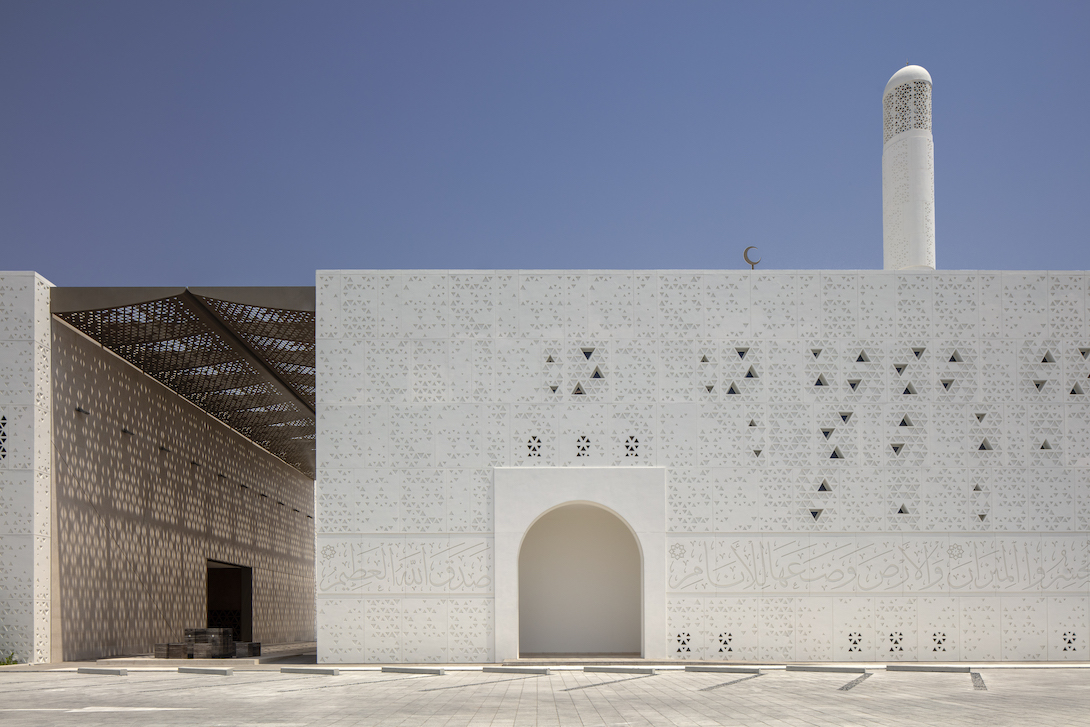 'There is a defining, magical moment when the building is born and claims a life of its own,' Dabbagh says. 'For this, my first mosque, that moment was particularly moving. I feel truly blessed to have had the opportunity to create a sacred space that brings people together for worship.'
Photography by Gerry O'Leary
Get a curated collection of architecture and design news like this in your inbox by signing up to our ICON Weekly newsletter
---