Drawing from local architectural heritage, the new library for Taiwan's oldest city is designed as a symbolic temple to culture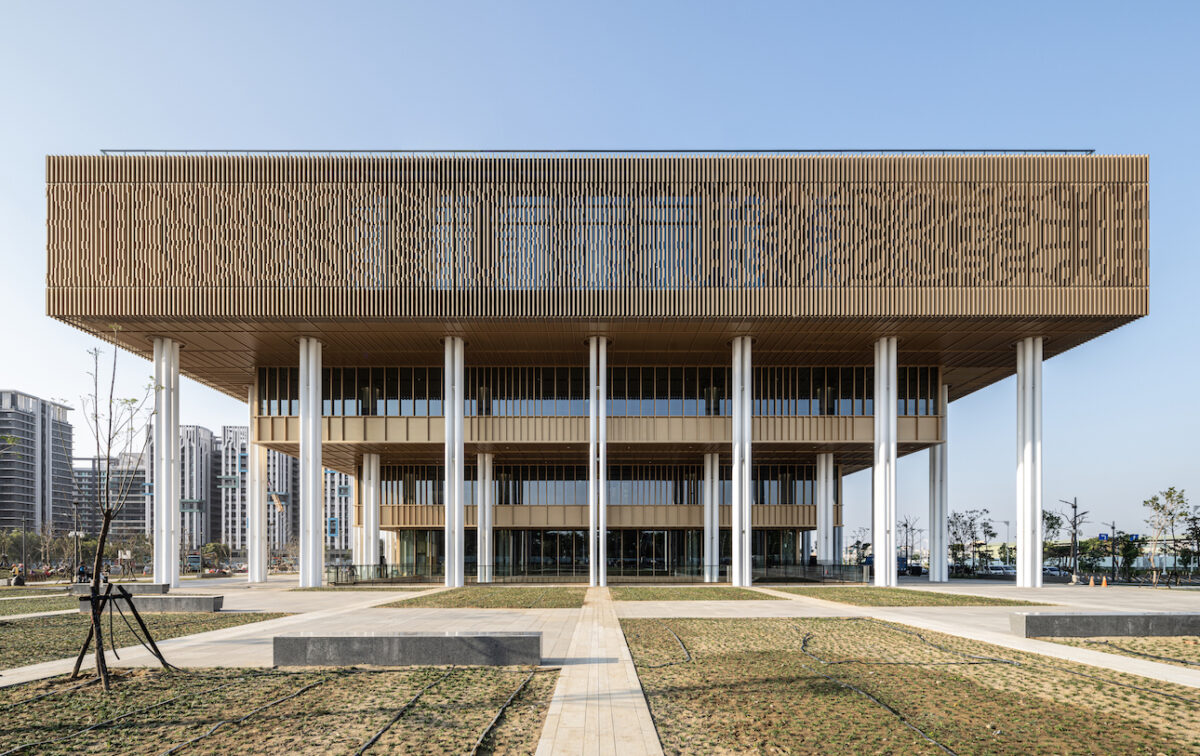 Words by Ewa Effiom
In Taiwan's oldest city and former capital, Tainan, Dutch architecture firm Mecanoo – in collaboration with local practice MAYU Architects – has completed a 37,000 sq m public library that is designed as a symbolic temple to the city's culture. The library contains over a million books, in addition to music, films and modern art.
The building takes its design inspiration from the local vernacular. Its cantilevered roof subtly references from the 17th-century Tainan Confucian Temple in the city. The striking inverted ziggurat exterior is supported by what the architects refer to as 'rhythmically placed quartets' of columns, intended to be reminiscent of a bamboo forest. 
The building's stepped silhouette – recognisable from afar – also allows for sheltered outdoor activities to take place in sunken patios under the canopy that this design creates.
The crown of the structure is decorated with flower-patterned, champagne-hued aluminium slats with staggered reliefs, which make reference to decorative latticed windows found in Tainan's Old Town. The slats also filter light and regulate heat gain. 
Inside, the library's orthogonal plan allows for high levels of flexibility. Upon entry you are greeted by an 'urban living room' for reading newspapers and magazines; a children's library is situated beneath, which is also where a 24-hour study room is. A teenagers' library is on the level above, along with a media library that is complete with personal alcoves to watch films.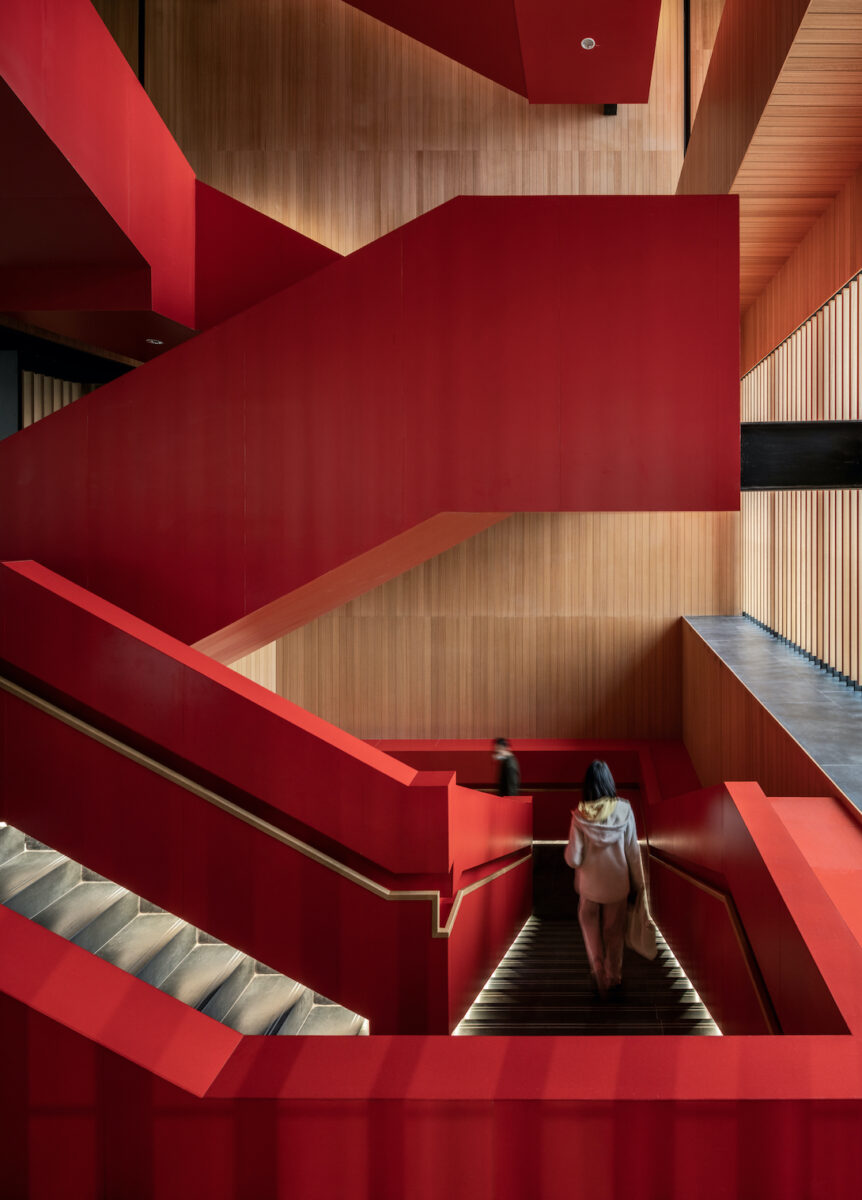 Above that is the general collection as well as the heritage collection of books. This level also has outdoor areas which include a roof garden, three multifunctional spaces and a cafe. On the top level can be found a 324-seat theatre, conference hall, and staff offices, as well as sweeping views of the city through the aluminium slats. 
A red sculptural staircase intersects all levels of the building, greeting you at every opportunity. The project also includes exhibition spaces, a maker space, an archive and a bookshop.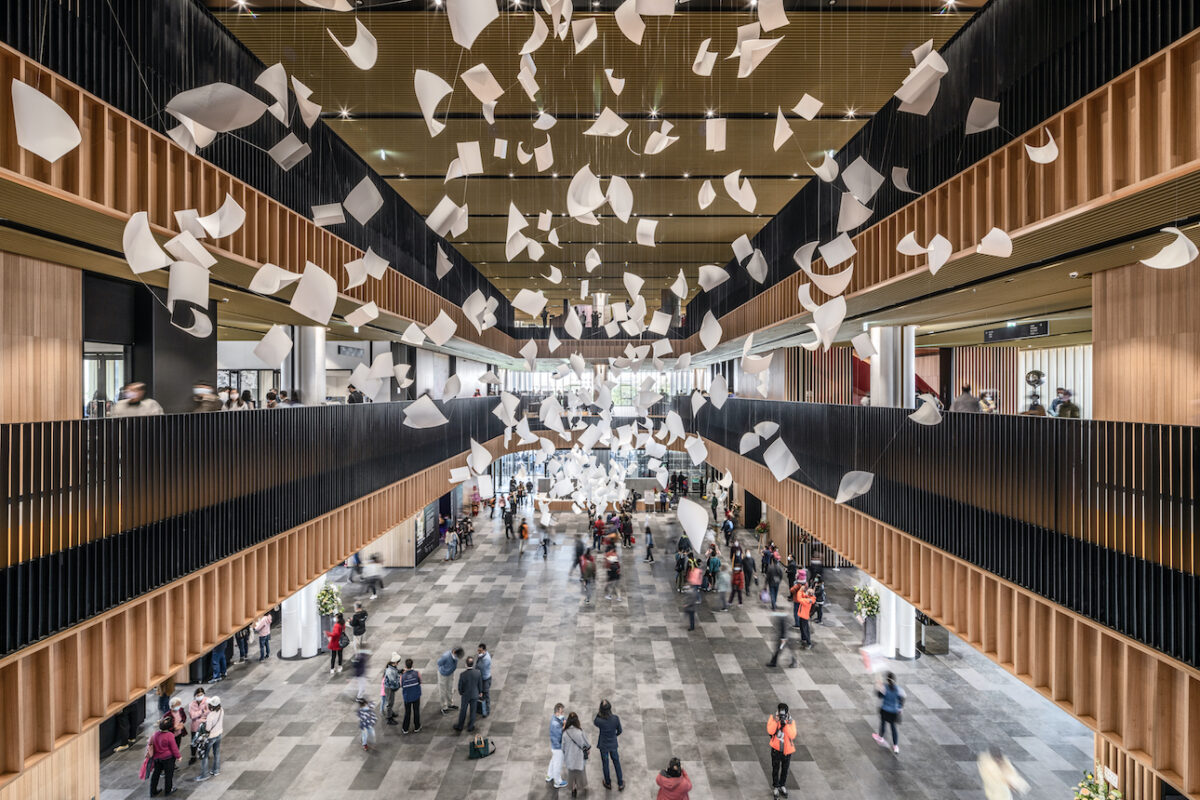 Commissioned by Tainan City Government's Cultural Affairs Bureau, the library contains a wide array of art exhibited throughout, including a large-scale installation by Paul Cocksedge in the double-height atrium. Named Overhead, the artwork depicts seemingly frozen white sheets of paper in the wind, symbolising freedom of thought and the pleasure of reading.
Photography by Ethan Lee
Get a curated collection of architecture and design news like this in your inbox by signing up to our ICON Weekly newsletter
---