The YueCheng Courtyard Kindergarten wraps around a historic 18th-century courtyard and stimulates intergenerational integration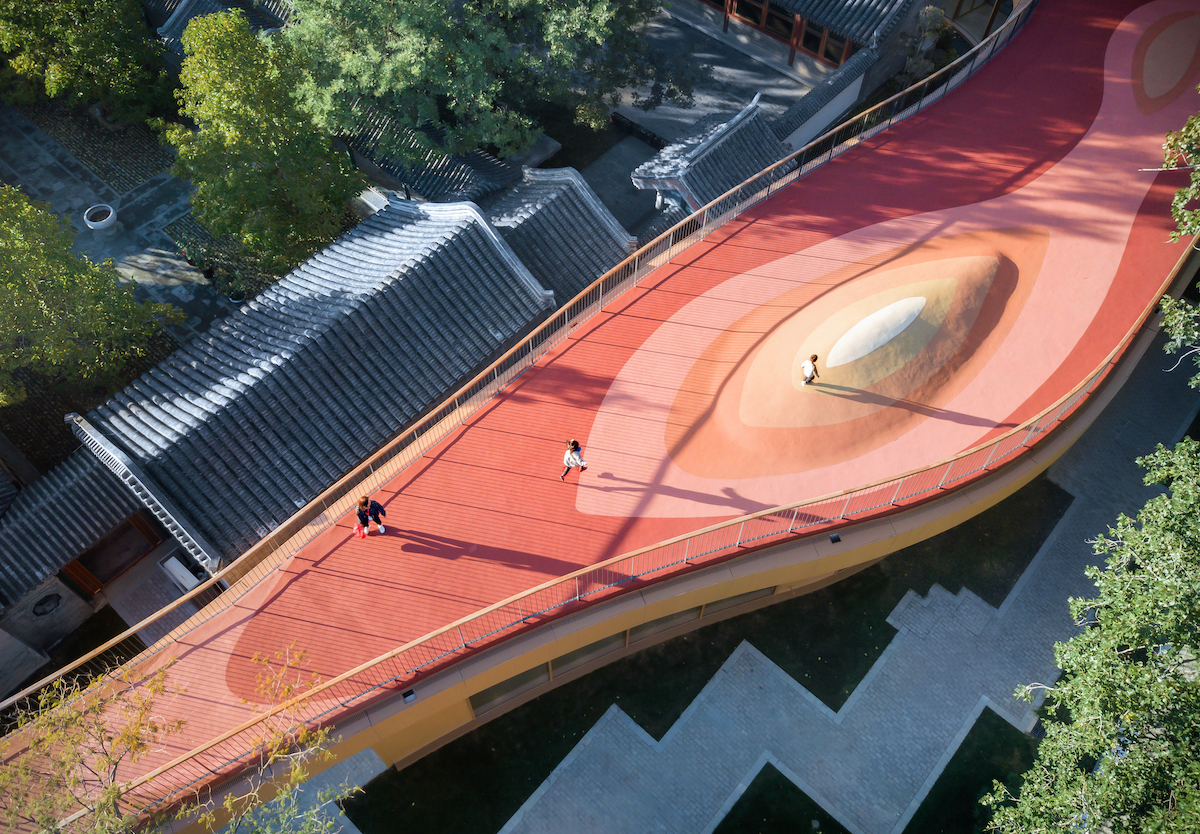 MAD Architects has completed a large-scale kindergarten project in Beijing with a 'floating', multi-coloured roof playscape. The YueCheng Courtyard Kindergarten design is the result of a commission that sought 'intergenerational integration' by locating a kindergarten next to a senior citizens' apartment complex, and is based around a curriculum that centres learning through exploratory play.
The original site consisted of an 18th-century Siheyuan courtyard, an adjacent replica courtyard built in the 1990s, and a four-storey modern building. Led by Ma Yansong, MAD chose to remove the replica courtyard and replace it with a new space that envelops and celebrates the Siheyuan courtyard.
The new 10,778 sq m kindergarten – which accommodates 390 children aged from 1.5 to 6 years old – is low-rise and curvaceous, hosting an undulating 'floating roof' above which becomes an extensive playground and space for gathering. The topography and bright colours of the roof – which stands in contrast to the muted tones of surrounding historic hutongs and alleys – encourages children to run, play, and interact with it and each other.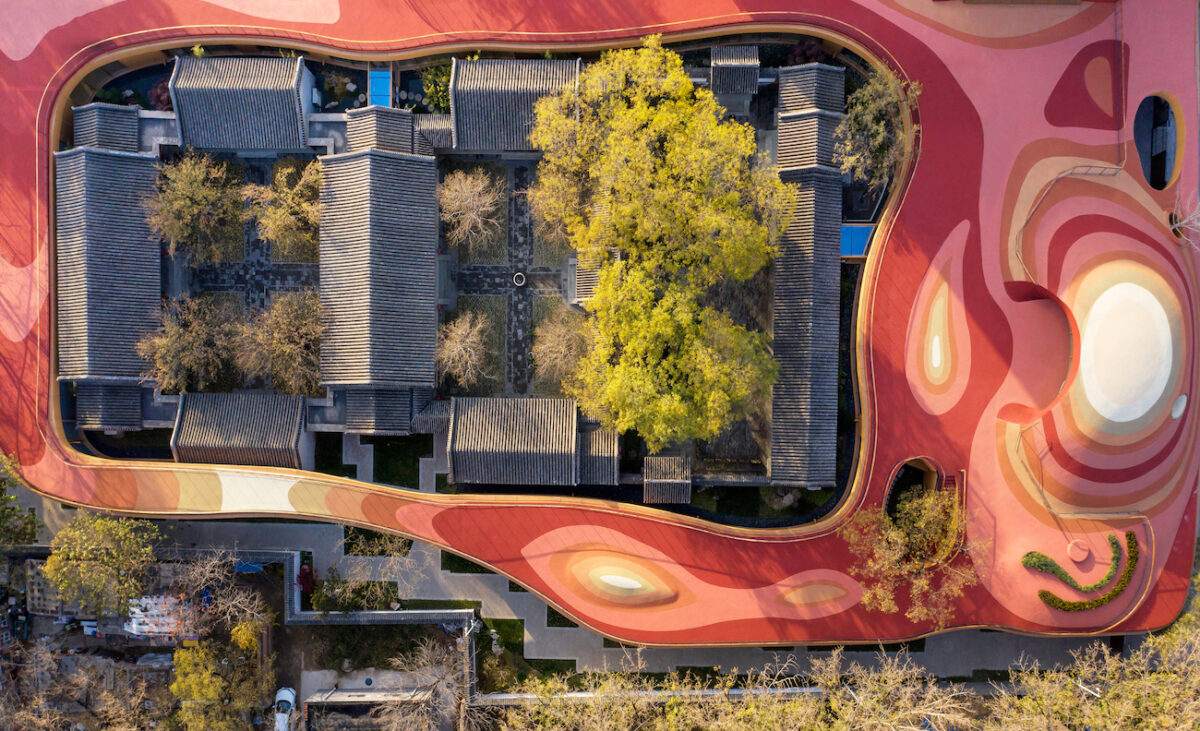 'When I looked back at my own kindergarten years, and even the ones I saw after I grew up, I always wondered what it is that kids long for the most,' says Ma Yansong. 'Perhaps it is freedom and love. A kindergarten doesn't always have to offer complex hardware or fixtures, but it must always make kids feel freedom and love – something that leads them to endless possibilities.'
At ground level, MAD designed three courtyards around several old trees on the original site. The new courtyards correspond to those of the old Siheyuan structures, providing the teaching spaces with light, ventilation, and an outdoor extension, while slides and stairs connect the courtyards to the rooftop landscape above. 'Here, nature becomes the main subject, and the architecture instead revolves around it,' says Ma Yansong.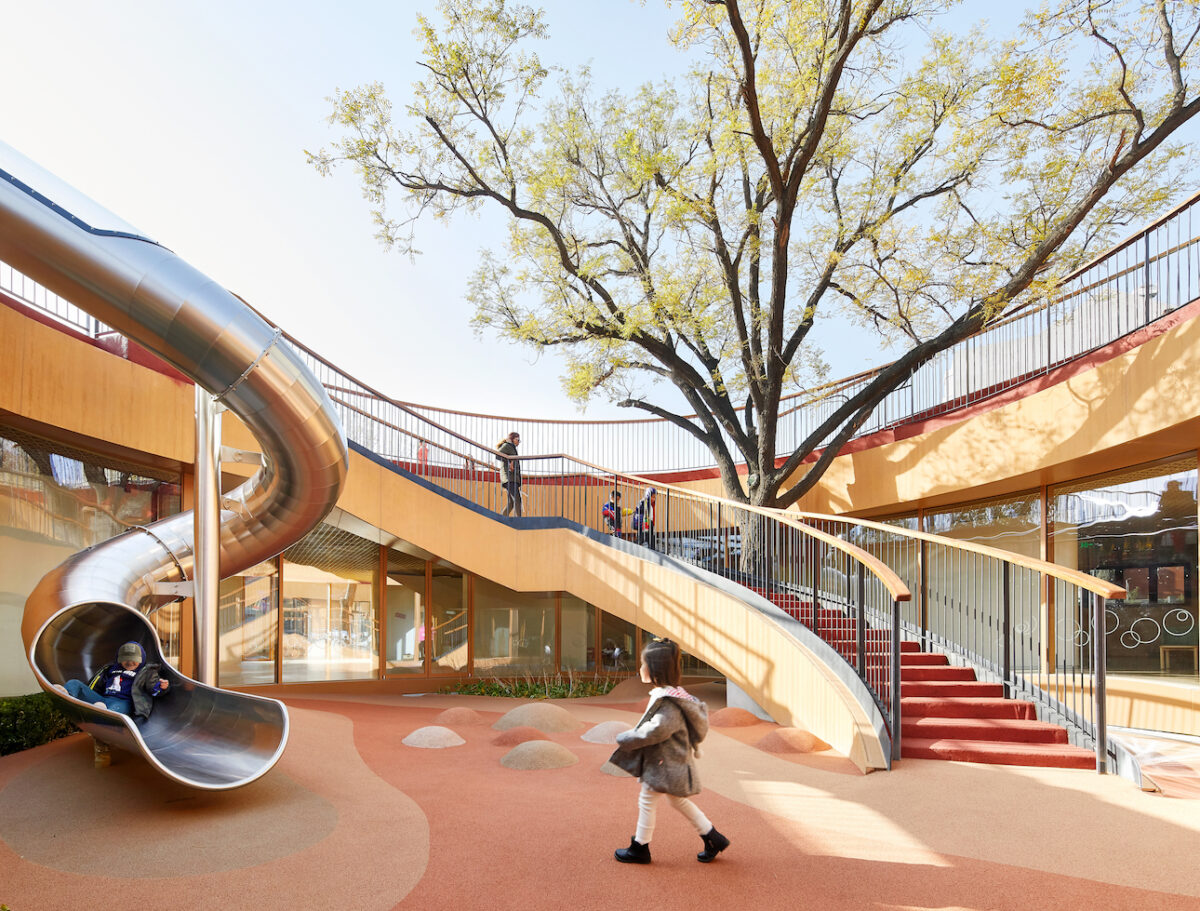 The interior of the building is suspended from a single aluminum grille, which lowers the visual height of the scheme while instilling the interior with an intimate scale. Meanwhile, floor-to-ceiling glass walls allow generous daylight into the interior, while forming a visual connection with the old courtyard house. Here, the three-hundred-year linear history between the old and new buildings becomes three-dimensional.
A flexible theatre connects to a two-level indoor playground, which serves not only as a space for children's activities, but also a place for the whole kindergarten to hold arts and sports events. Within the open-plan learning area, the different learning groups are not separated by closed walls, but by curved partitions at regular intervals, creating a 'borderless' learning space.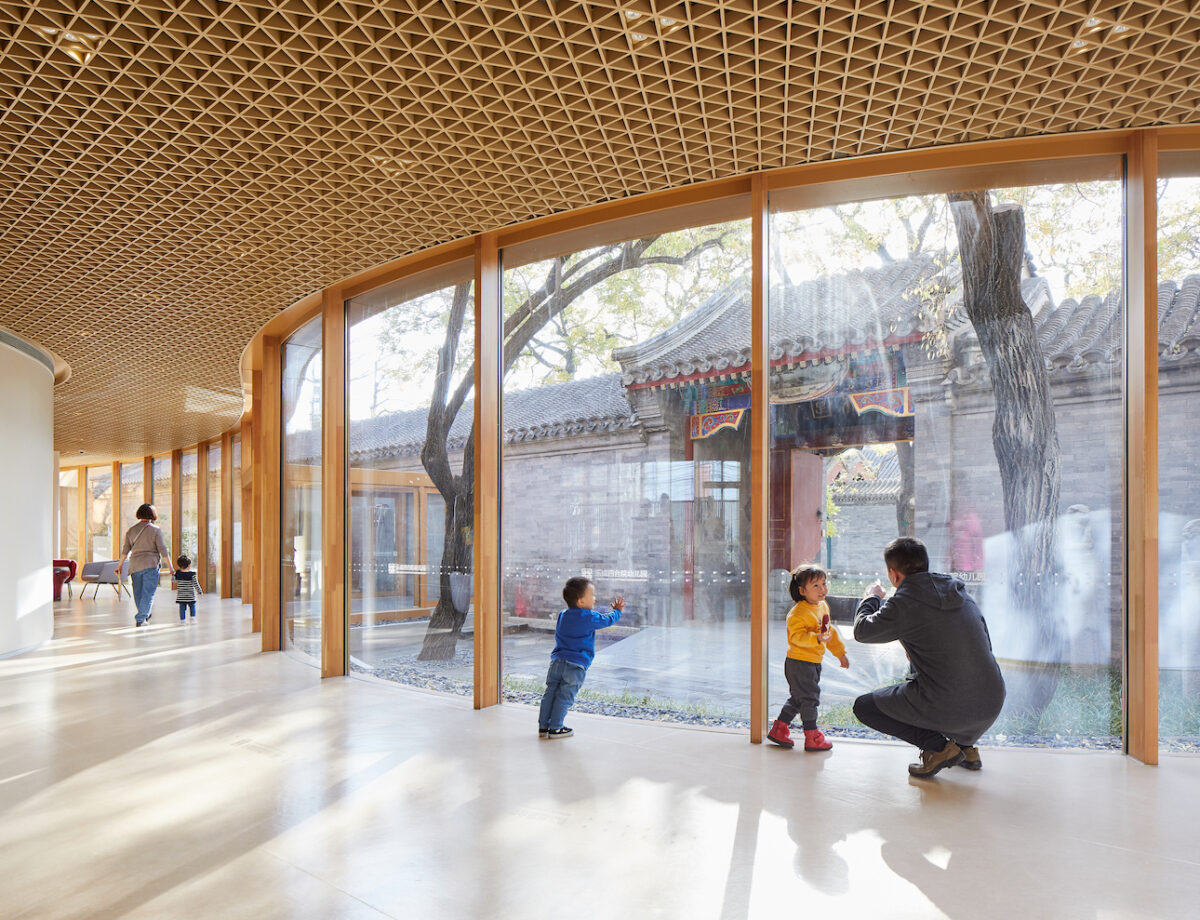 The historic courtyard house, connected to the new space via courtyards and corridors, serves as a place to host the children's extracurricular cultural, artistic, and creative activities, as well as an office for staff.
As a whole, the YueCheng Courtyard Kindergarten aims to show how several seemingly disparate, even sometimes contradictory, elements of architecture from different historical periods can coexist harmoniously.
Top image by ArchExist. All other photography by Hufton+Crow
---