A wave of recent neighbourhood-based projects demonstrates an architectural shift away from traditional form-making to embrace reuse and participation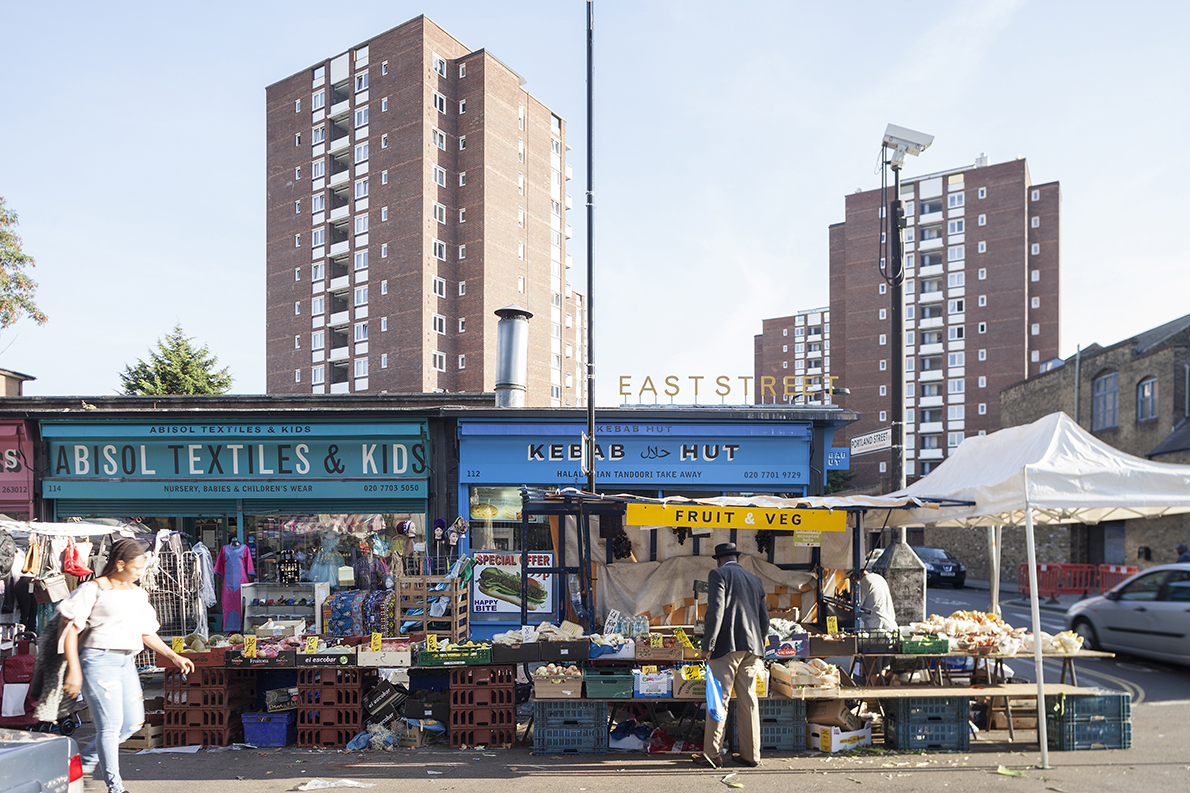 We Made That's East Street Market project in south London. Photo: Jakob Spriestersbach
Words by Marwa El Mubark
Historically, architecture's close dependency on building as its primary output has left it time and time again in a precarious position. Meanwhile, the growing ecological, economic and social challenges we currently face require a dexterity that invokes and enables a diversity of people, practices and disciplines, rather than singular responses.
In architecture, then, we are seeing a decentring of practice, both in terms of architects – as they veer away from a culture of the single 'starchitect' auteur towards more collaborative and participatory approaches – as well as output. There is more to architecture, after all, than designing buildings. In attempting to address both social and sustainable responsibility, practices are moving away from the fetishised form-making that has long been upheld as the central expression of the discipline.
Since the start of the Covid-19 pandemic, many of us have been spending more time in our local communities, bringing greater focus to neighbourhoods as core hubs of a city, while the traditional 'city centre' perhaps empties out. For architecture practices that have long championed the value of community-led engagement and building on local assets, this renewed focus provides added fuel and appetite for participatory work that looks to improve those neighbourhoods in ways that champion existing cultural infrastructure.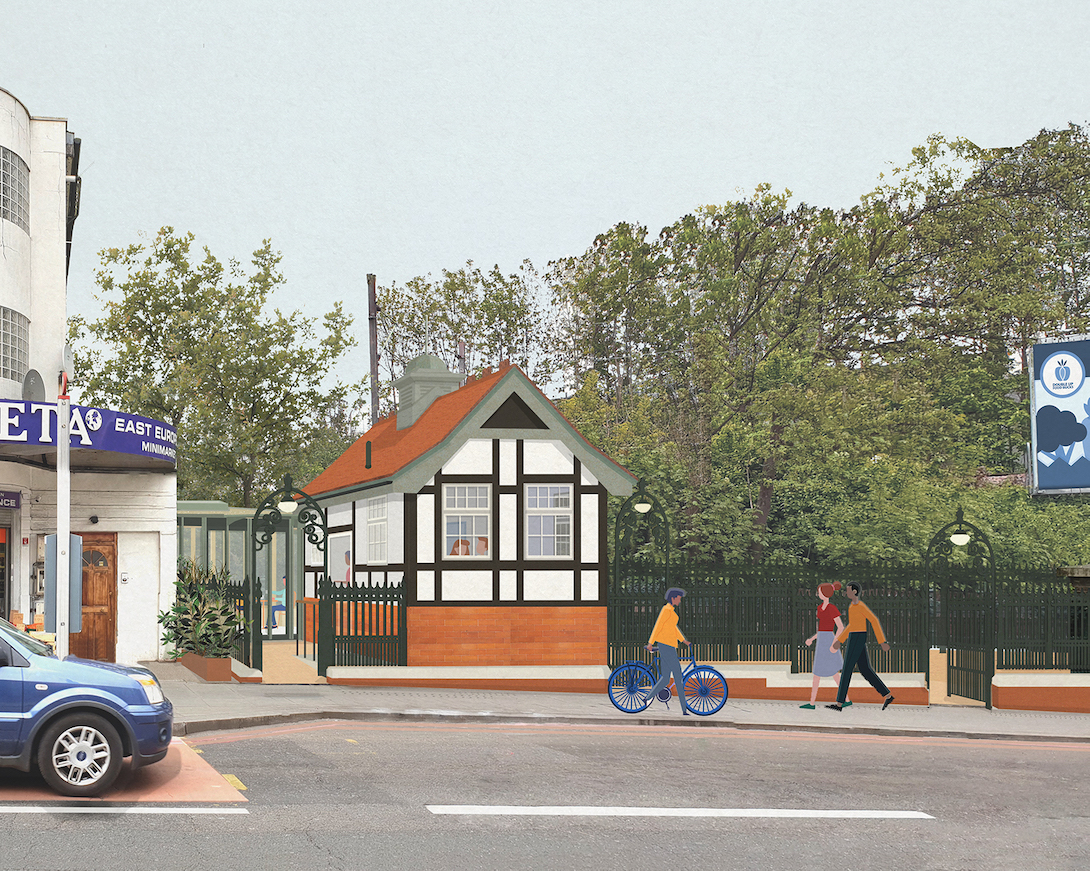 A historic public conveniences building in Haringey set to be brought back to life by DK-CM
Taking London as a case study, a number of recent and ongoing projects exemplify this incremental approach to researching and understanding community needs in order to build social value.
In Haringey, north London, DK-CM's Bruce Grove Public Conveniences project sees the restoration and extension of a Grade II-listed Heritage at Risk building into a cafe with new community facilities. The project is the result of a series of engagement processes realised in collaboration with local community group Last Elm and the Bruce Grove Residents' Network, which has long campaigned for the sustainable re-use of the former public conveniences. 'We worked alongside local heritage champions to look at the wider Bruce Grove area and co-delivered a series of heritage walks, citing the public conveniences amongst some of the other really fascinating heritage assets in the area,' explains Emma Twine, DK-CM associate and project lead.  
The project, due to complete later in 2021, seeks to harness the shift in focus amplified by the pandemic towards local social value. 'There's been an upswing in enthusiasm from communities, whether it's just spending more time at home or building a closer relationship to the area that you are in,' explains Twine. 'One of the hallmarks of why this project is so interesting is the ambition from the local authority to use it to prototype a new social value lease that will directly tie the amount of rent paid to the amount of community benefit the final business gives. The new host will be a local female-led business that is already active in the community.'
Speaking on the preservation of this heritage asset, DK-CM founding co-director Cristina Monteiro adds: 'Architects have a responsibility to educate and empower other people to promote a sustainable way of living. And that might mean that sometimes you have to say: we're not going to build a new fancy glossy building, because the building that we have got can last another 30 years.'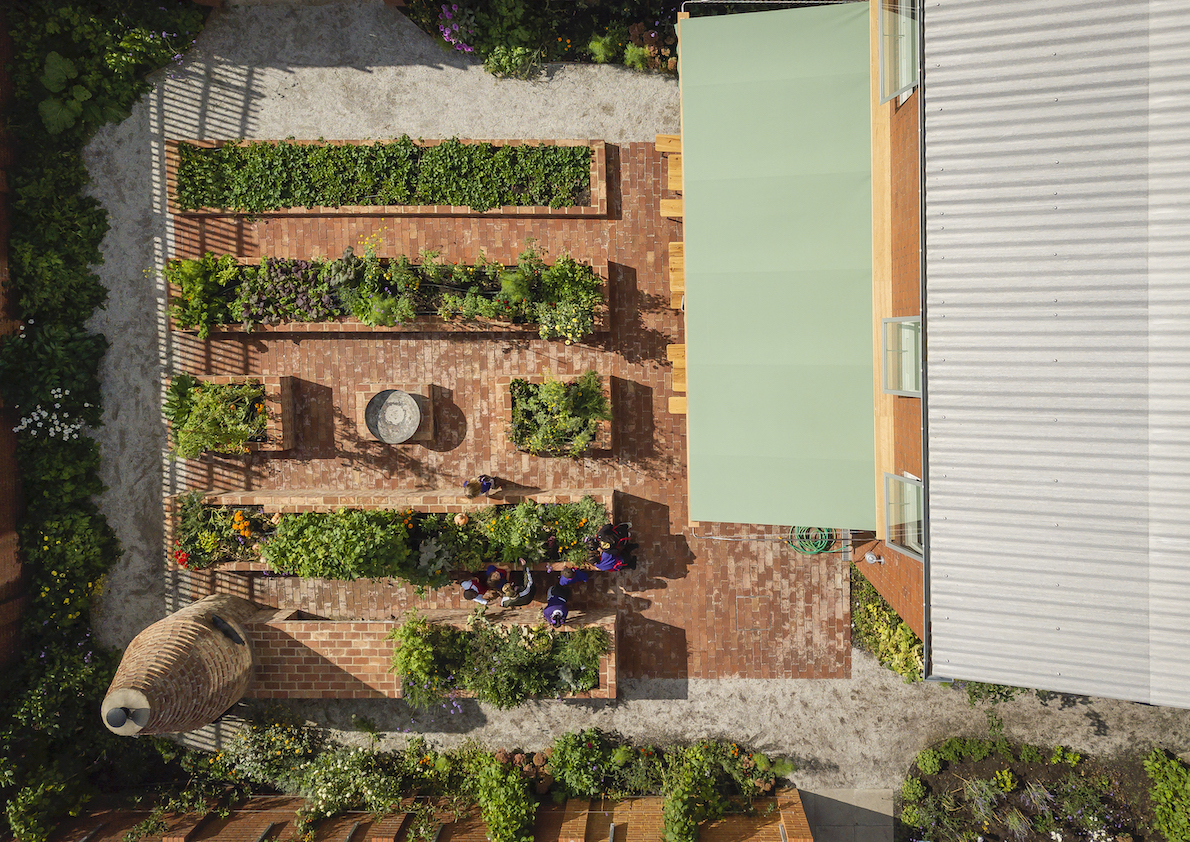 A redundant caretaker's cottage and garden at a primary school in east London was transformed into the Hackney School of Food by Surman Weston
Similarly, the Hackney School of Food (2020) project by Surman Weston in Clapton, east London, promotes a shift away from newbuilds towards reuse, through its adaptation of a redundant caretaker's cottage on the premises of a primary school into educational kitchen facilities for both school pupils and the wider community. The existing red-brick house was stripped out to create a bright, double-height, open-plan space. 'We tried to reuse and preserve as much as possible, maximise the space and take out what was unnecessary,' explains Percy Weston, co-founder of Surman Weston.
Externally, a kitchen garden has been created as a productive growing space, featuring a sun terrace, fire pit and oven. This, combined with the new interior, enables the space to be hired out for large events, thereby ensuring a vital income stream to maintain educational programming and sustain the building's continued use.
The benefit of making such outdoor green space available has not gone unnoticed in light of the pandemic, and highlights the role of such spaces in sustaining the social infrastructure of community exchange. 'Quite a few demographics benefit from the space,' explains Weston. 'During the pandemic the school received loads of volunteers for the kitchen garden to keep them occupied. The outside spaces became more important than the inside.'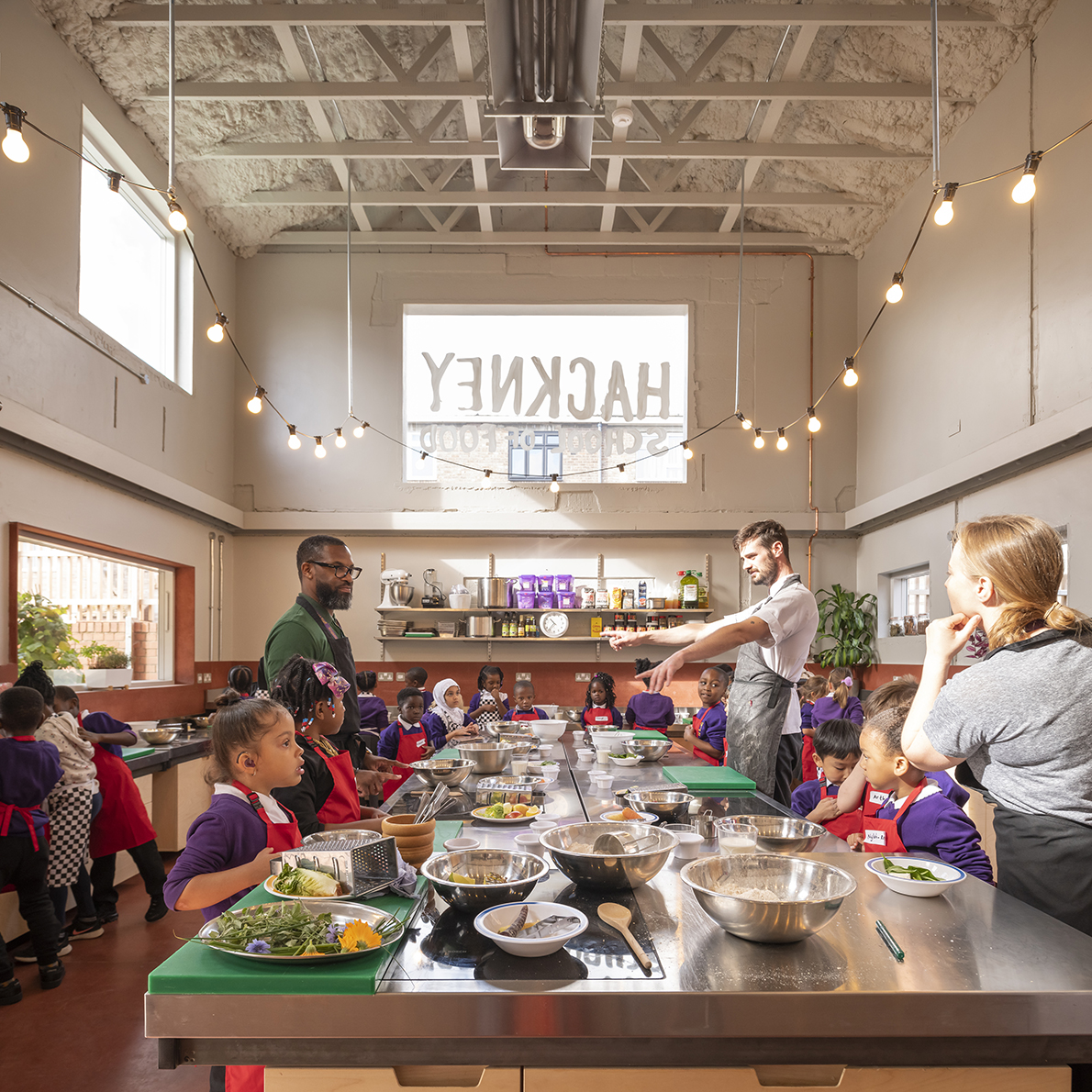 'We tried to reuse and preserve as much as possible,' says Percy Weston. Photo: Jim Stephenson
Projects like this show how diverse community needs can be addressed and supported through existing assets – particularly when aligned with local authority funding. Ascertaining these needs, however, is not always a straightforward task. Sometimes it requires stepping outside of the traditional remit of practice and undertaking research and policy work. The work of London-based practice We Made That falls under three strands of practice: urban research, area and masterplanning work, and traditional delivery of built projects.
For its East Street Market and Library project, completed in 2018 in Walworth, south London, the practice undertook an extensive research and engagement process with active local groups in order to 'get a different type of research about histories and nostalgia, pointing to what is valuable and what isn't', explains associate Nisha Kurian. The engagement resulted in the creation of a catalogue of local priorities and ideas – titled What Walworth Wants – as well as the delivery of a variety of small-scale intervention projects, including new market stalls and shop front improvements, as well as public furniture and a library extension.
'In essence, the proposal is co-designed, as it has come out of the needs of the area, with the end user directly informing the brief,' says Kurian. It also removes wasteful speculative design which too often puts consultation very late in the stages of project development.
The public realm interventions in We Made That's East Street Market project resulted from an extensive local research and engagement process. Photo: Philipp Ebeling 
Meanwhile, in the work of Hayatsu Architects, the definition of architectural practice is similarly extended beyond simply building, to one in which architects become social custodians of people and place. With its ongoing project Made in Bermondsey, designed in collaboration with architecture studio Assemble, the practice will work to revive the historic Blue Market in Bermondsey after its long-term decline following the closure of the nearby Spa Road train station in 1915.
The project, initiated and led by a set of proactive community leaders, invited the practices to test a series of interventions such as refurbishing the market office and training centre, improving shopfronts, delivering a community mural project, creating new pedestrian routes and planting as well as designing public furniture with local organisations in a bid to improve the longevity of the project.
'Perhaps the interventions are modest,' reflects practice founder Takeshi Hayatsu, 'but architecture has the capacity to expand things – and expanding is a good thing. It is not only designing buildings. To me, doing public realm or housing has no distinction in terms of making and building using physical materials and working with builders and makers.'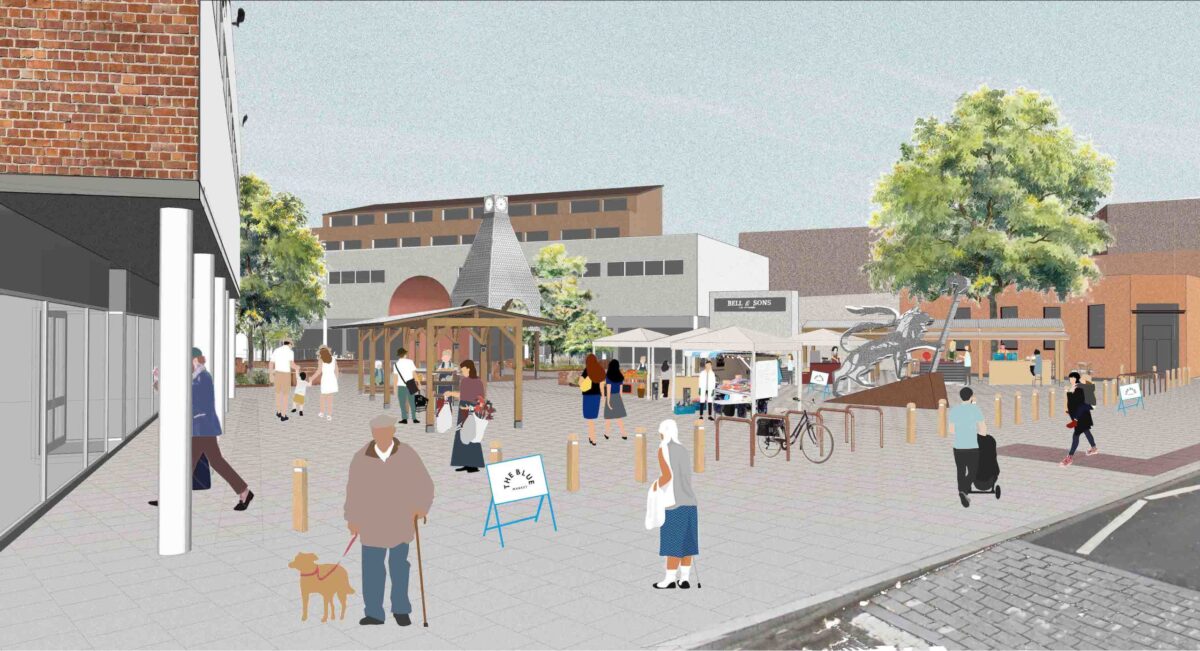 Hayatsu Architects is working with Assemble and community members to revive the historic Blue Market in Bermondsey
It is clear from the work of these architects that in order to survive, future practice needs to be attuned to the nuances of people and place, and underwritten with an ethos of planetary consciousness and responsible humanism. Indeed, it can be argued that if the profession is truly invested in a better civic society – as architectural education sets it up to be – then a diversification of practice is necessary for it to become truly accessible by all who need it. In this way, decentring is critical for the ongoing relevance of architectural practice.
A new book, Architects After Architecture: Alternative Pathways for Practice (2021, Routledge) – which features Hayatsu Architects and We Made That alongside many others – aims to inspire the next generation of graduates to apply their skills beyond the traditional limits of the discipline. 'Architecture is a wide thing, and to only limit it to buildings is to do it a disservice,' says Rory Hyde – co-editor along with Harriet Harriss and Roberta Marcaccio – when we speak over Zoom in January. 'Architecture is propositional and visionary, but also pragmatic – and these are skills that can benefit many aspects of society'. Marcaccio echoes the sentiment: 'You need to bring value beyond brick and mortar.'
Ultimately, this ongoing expansion of architectural practice helps support a more polycentric city where the architect's skills are equitably distributed, communities more engaged and the profession more responsive to addressing society's needs.
This article was published in ICON #203, which you can read online for free. There was accidentally missing text in the issue (we're sorry!), but the correct text is included here in full
---