The subtle new space houses exhibitions and events to celebrate the natural and social history of Skamlingsbanken, a storied hill in southern Denmark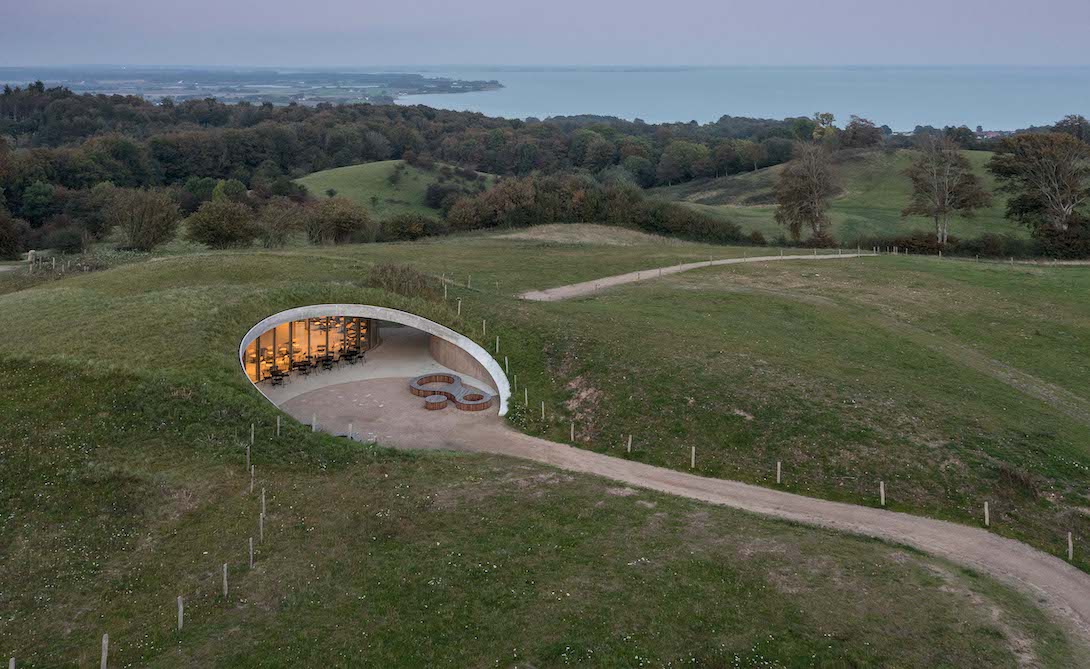 Nestled in a hill in Denmark, on the south-east coast of the Jutland peninsula, CEBRA has completed a visitor centre as an 'architectural portal to the landscape'. The hill, Skamlingsbanken, actually plays an important role in Danish culture and history: over time it has been a setting for debates about democracy, national borders and women's suffrage, as well as the resistance movement in the Second World War. As the highest point in South Jutland, it has also been a natural gathering point, hosting various events and festivals since the 19th century in particular. 
'Skamlingsbanken connects the past with the present and the future, and one of the project's main ambitions has been to actualise the place's remarkable history and nature into a contemporary context,' says Carsten Primdahl, partner and architect at CEBRA, a Danish practice. 'The new visitor centre… recreates Skamlingsbanken as a setting for important debates and education about the things that concern us. At Skamlingsbanken we have created a place where visitors will gain knowledge about our democracy and nature through a diversity of experiences.'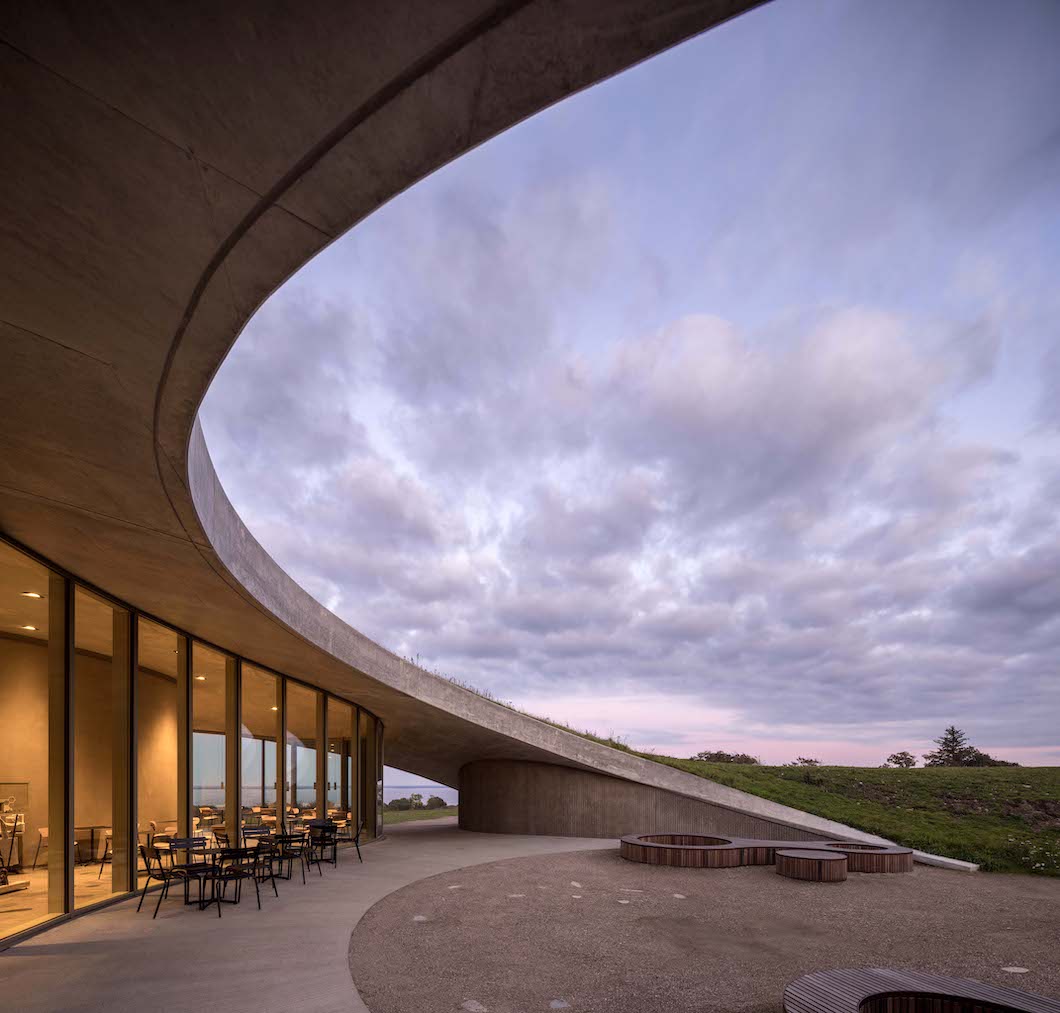 The 500 sq m visitor centre is designed to host various events, alongside an exhibition about Skamlingsbanken's history. There is also a cafe, teaching facilities and an outdoor seating area. It looks out over the Little Belt Strait and connects to a network of local hiking paths.
The architectural intervention responds to and becomes part of the surrounding landscape, which was formed in the last ice age and is characterised by rolling hills and meadows. The centre is subtly inserted in the hill in the form of a softly curved mound, with two circular cuts for access and views. 'The visitor centre is an architectural interpretation of the glacial landscape,' says Primdahl. 'The building is a portal – to the significant history and the local nature.'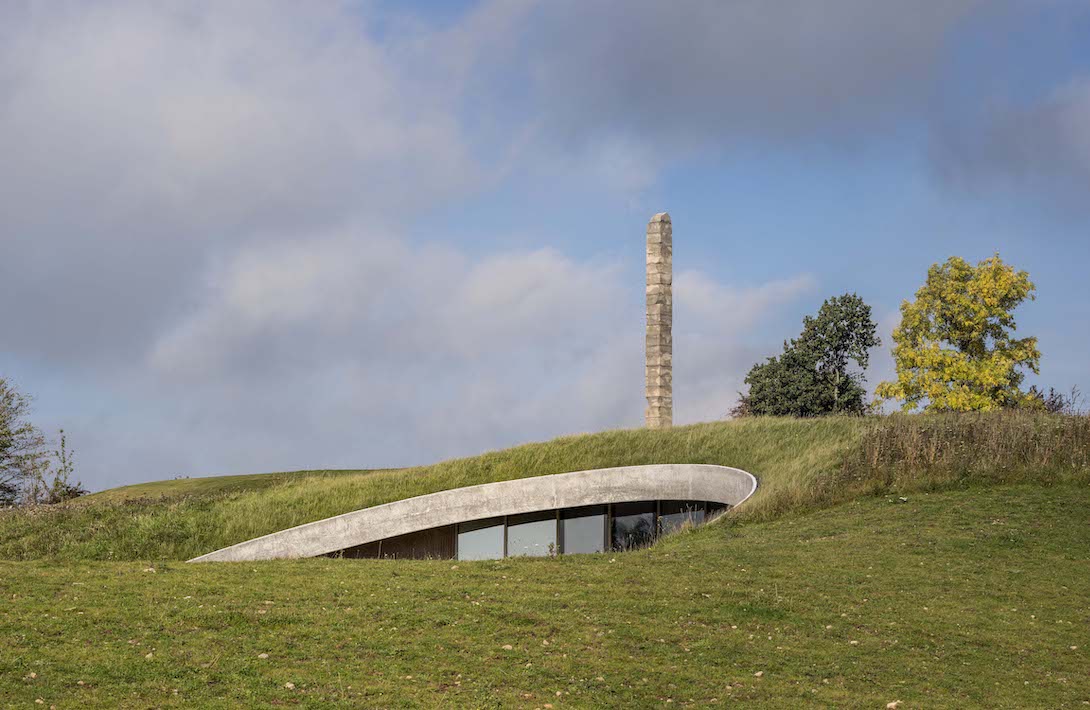 The centre sits within a protected area, and through the course of the project – in collaboration with the client (the local municipality), landowners and the Danish Society for Nature Conservation – the team succeeded in expanding the protected area around the centre from 35 to 128 hectares.
To ensure the protection of the site's flora and fauna, CEBRA worked with the biologist Mette Keseler List from Kolding Municipality; a special grass mixture based on local species was developed and spread over and around the building. This mixture, together with the reuse of natural peat from the building site, helps support the continued development of local biodiversity.
Photography by Adam Mørk
Get a curated collection of design and architecture news in your inbox by signing up to our ICON Weekly newsletter
---