The Camley Street Natural Park learning centre, designed by Erect Architecture, promotes engagement with nature in the middle of London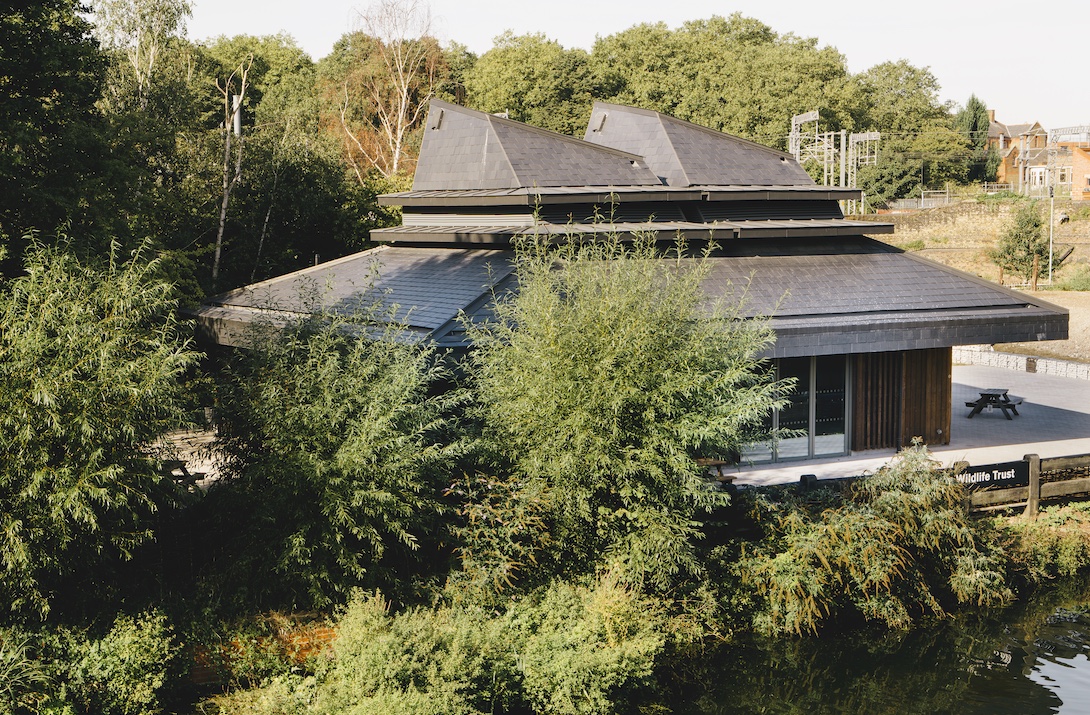 Words by Lois Innes
Whilst the colossal 20-year transformation of King's Cross awaits its crowning glory in the form of Google's London headquarters – topped with an extravagant 300m-long sloping roof plane of manicured sky garden, and nestled amid a gloss of other new developments – the recently re-opened Camley Street Natural Park lies hidden at the heart of the evolving area, offering visitors a rare pocket of inner-city wildlife and tranquillity.
Run by the London Wildlife Trust (LWT) and closed to the public for four years in order to enable access and habitat enhancement, the protected nature reserve – originally established in 1985 – was boosted by £1m Heritage Lottery Fund grant to add a new visitor centre to its linear, 2-acre site.
East London-based Erect Architecture has designed a sleek yet robust single-storey structure, comprising a visitor and learning centre, cafe kiosk, volunteer facilities and toilets. The building – constructed primarily of locally sourced timber and boasting a host of passive sustainability features – will enable the LWT to engage thousands more people annually onsite in nature education.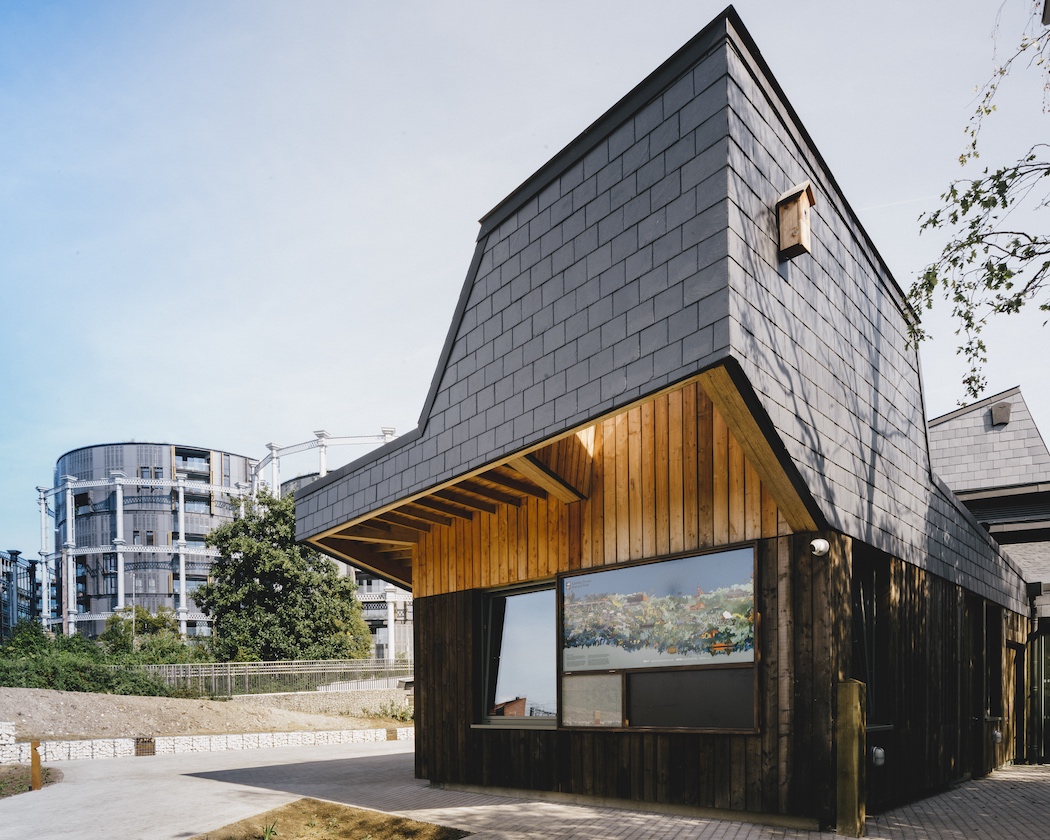 Camley Street Natural Park itself traces a somewhat accidental history. Once a contaminated yard for discarded coal in the 19th century, carved on the fringes of Regent's Canal and St Pancras Railway, this small sliver of land eventually returned to wilderness as the railway's use of coal declined in the 20th century.
The site's history has influenced the design of Erect's new building: the roof form – arranged in three irregularly shaped 'hoppers' clad in dark slate – harks back to the former coal chutes, yet are installed with nesting-friendly chimneys to increase biodiversity habitats.
On each side, the new building engages with its surroundings. To the north, the land – which gently inclines from Camley Street – features a central rain garden and was designed to accommodate a marquee for additional event capacity. The cafe kiosk, kitchen and outdoor seating area enjoy views out on to the canal, whilst the rear learning space of the building opens directly out on to the woodland reserve. Additionally, the exaggerated, truncated roof overhang provides an intermediary space in its own right, extending the potential for year-round outdoor learning whilst also providing external sinks and gathering spaces for visitors.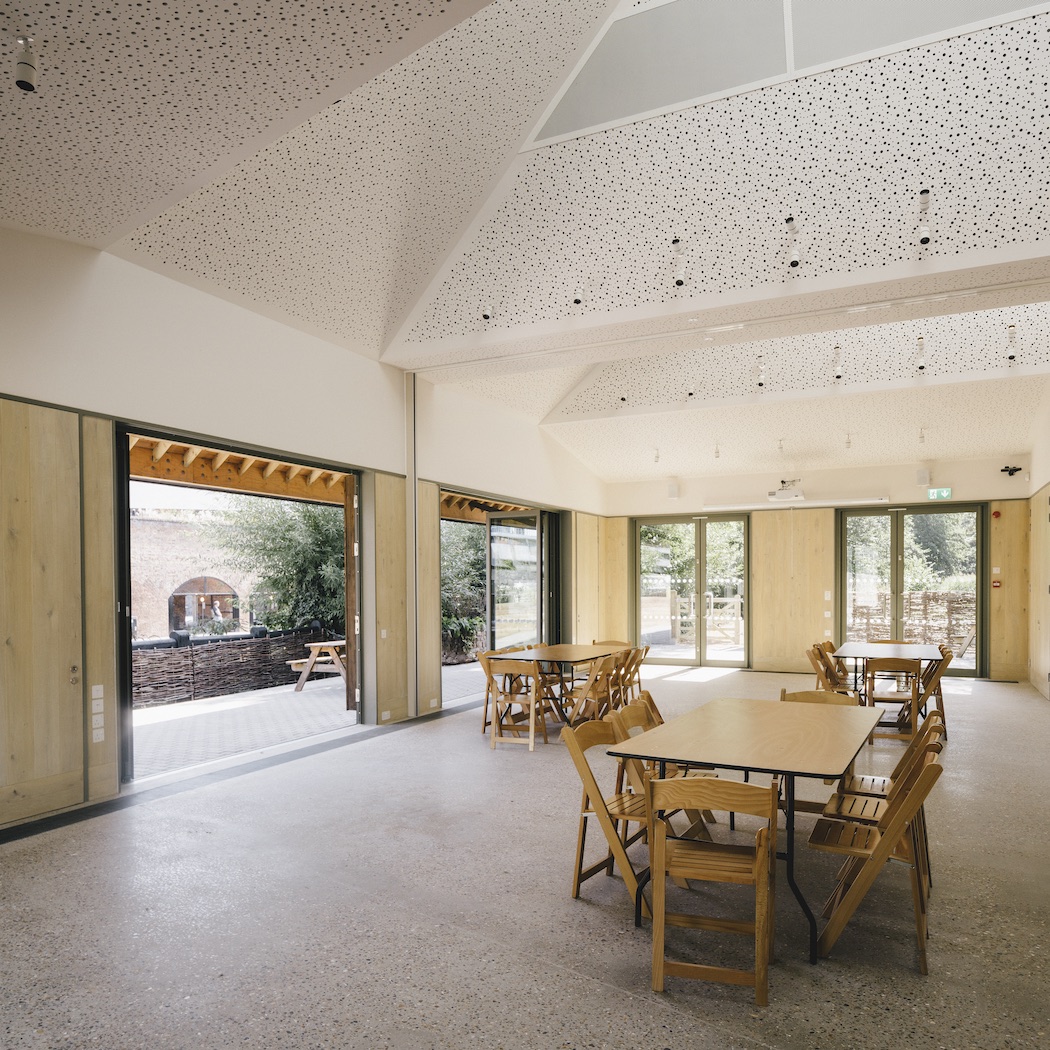 Inside, the three pyramidal rooflights strategically harness northern daylight, each lined with off-white perforated acoustic panelling, which dapple light softly across the smoothly textured timber wall and terrazzo floor surfaces. The learning space has been designed with flexibility for the needs of the LWT, including a bi-folding partition wall and high-efficiency LED lighting, so that it can be hired out for conferences and events.
Throughout the project, particular consideration has been paid to the park's volunteers: the structure is easy to operate with manually openable doors and rooflights; the stained larch cladding reduces the need for regular maintenance; and secure facade ventilators allow passive night cooling.
Amid the busy and commercial King's Cross neighbourhood, Camley Street Natural Park acts as steward for the city's dwindling natural green spaces. 'This green oasis in the buzz of King's Cross is such an important site for respite and education about wildlife conservation,' says Susanne Tutsch, director at Erect Architecture. 'It will be great to see children and adults alike enjoying the building and nature reserve.'
Photography by Henrietta Williams
---