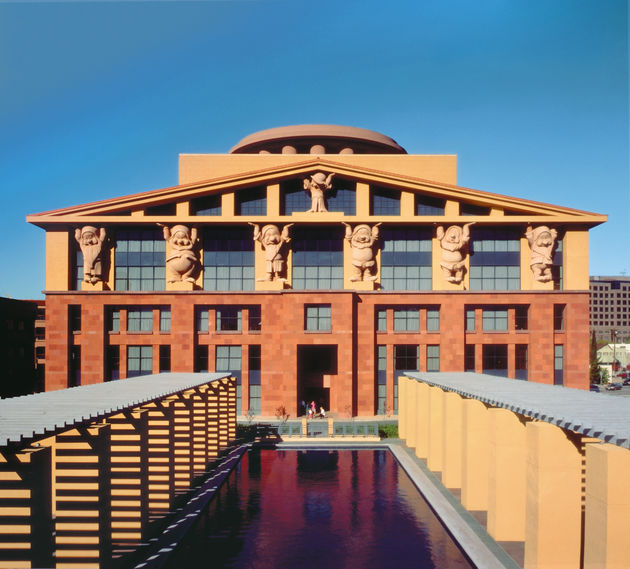 Michael Graves: Team Disney Building, Burbank, California, USA, 1986. Picture credit: © Michael Graves Architecture & Design Alamy Stock Photo
From brutalism to the neo-shingle style, modern architectural movements have a marked tendency attract controversy. There is perhaps none, however, that can claim to be so misunderstood, so maligned and so outright mocked as postmodernism.
Curator, author and Icon contributor Owen Hopkins' new book Postmodern Architecture: Less is a Bore (Phaidon) takes a deep delve into this eclectic, exuberant strand, which grew from radical roots in the 1970s to become one of the default modes of corporate extravagance in the 1980s, before petering out as the style-du-jour at the turn of the century.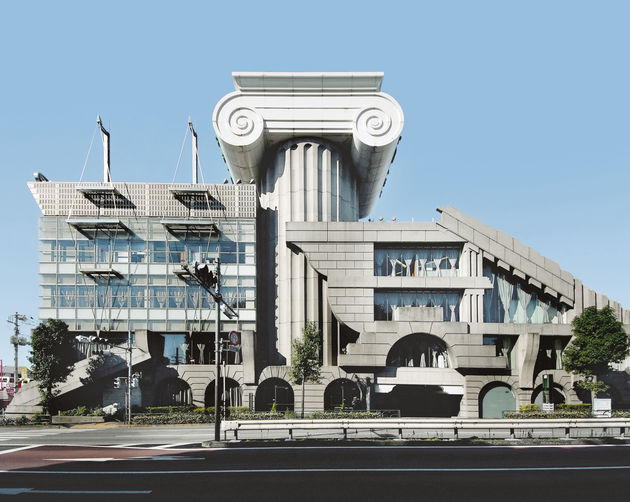 Kengo Kuma: M2 Building, Tokyo, Japan, 1991. Picture credit: © wakiiii
Mashing together typologies from history in bold, sometimes manic juxtapositions, postmodern architecture has come to epitomise giddy excess and bad taste. The likes of Michael Graves' Team Disney building in Burbank, California — a mock-classical temple that casts the Seven Dwarves as caryatids — and James Stirling's cockerel-like Number One Poultry in the City of London have attracted both slack-jawed wonder and vituperative dislike.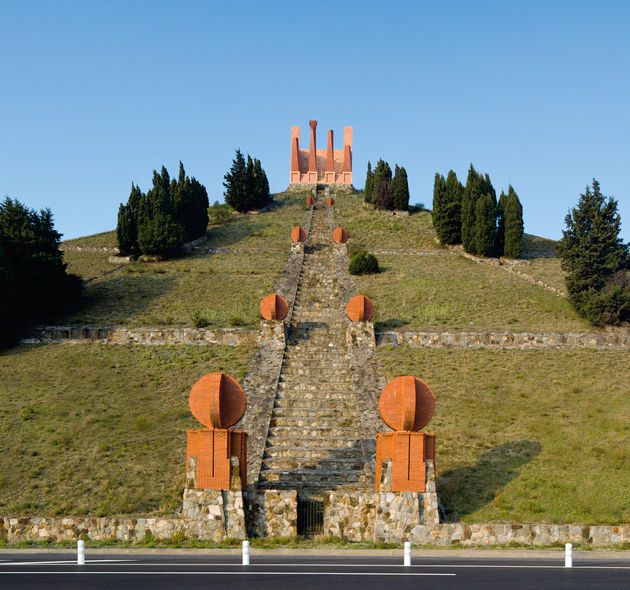 Ricardo Bofill: The Pyramid, Le Perthus, Spanish-French Border, France and Spain, 1976. Picture credit: © Ricardo Bofill Taller de Arquitectura
Subtitled for arch-postmodernist Robert Venturi's famed maxim, Hopkins' tome expands the conventionally US-and-Eurocentric story of postmodernism to instead span four continents. And while he features those architects who had have come to be seen as the movement's core – Venturi and Scott Brown, Aldo Rossi, Ricardo Bofill, Frank Gehry and more – Hopkins has also turned his gaze on the those, like Richard Meier, who stand with one foot in and another out.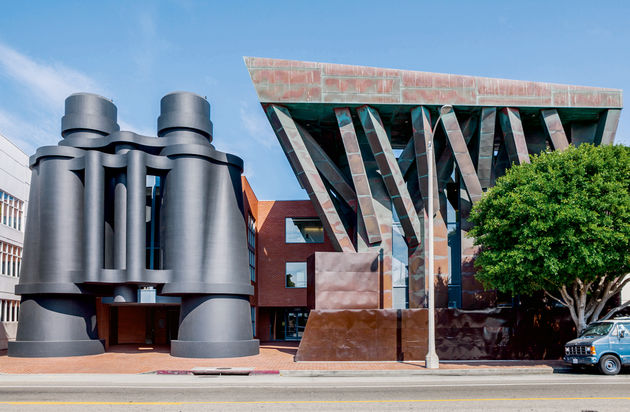 Frank Gehry and Claes Oldenburg: Chiat/Day Building, Los Angeles, California, 1991. Picture credit: © Elizabeth Daniels
Hopkins has also extended his purview forward, embracing those who have brought postmodern forward into the 21st century. Less is a Bore makes space for some of the most gloriously maximalist structures of recent years, including MVRDV's Markhal in Rotterdam, FAT and Grayson Perry's A House for Essex, and Camille Walala's Industry City Mural in New York.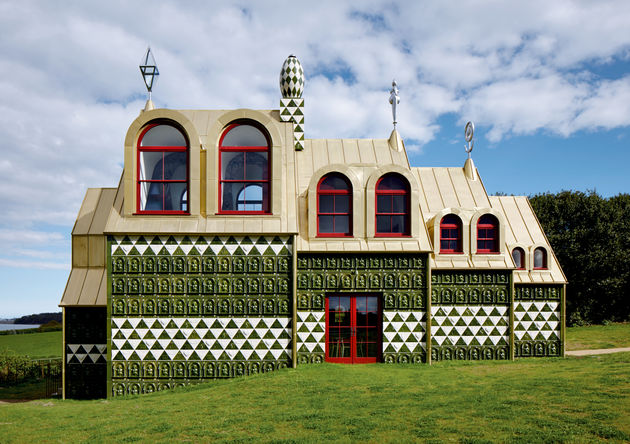 FAT and Grayson Perry: A House for Essex, Manningtree, Essex, England, UK, 2015. Picture credit: © Jack Hobhouse
Quotes from architects and designers are situated alongside those by artists, writers and musicians, providing a portrait of postmodern that broadens out beyond the architectural. Spanning everything from philosophy to pop culture, these range from the critical theorist Michel Foucault to the rock icon David Bowie.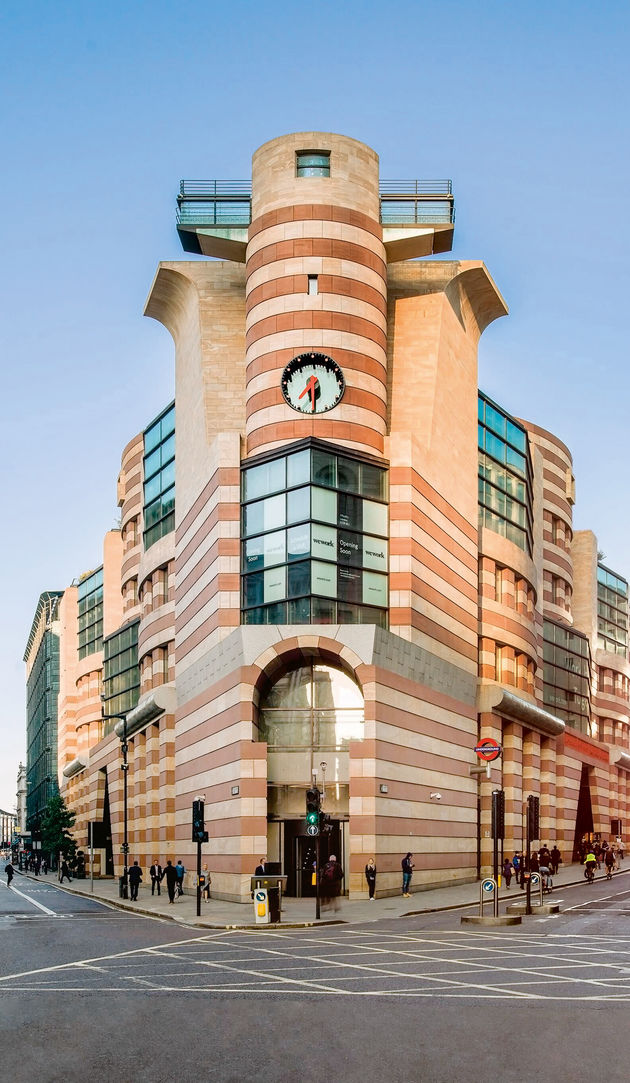 James Stirling, Michael Wilford and Associates: Number 1 Poultry, London, England, UK, 1997. Picture credit: Courtesy of WeWork
Hopkins — who explicated the revival of postmodernism for Icon 184 — is director of a new architecture and urbanism hub at Newcastle University, established by the seminal postmodern architect Terry Farrell and slated to open in autum 2021. He was previously senior curator at Sir John Soane's Museum, where he was responsible for a series of exhibitions that brought contemporary design into the museum's historical hallways. He is the author of five books and was editor of Conversations on Postmodernism, which collected interviews with eight fixtures of the movement.
Postmodern Architecture: Less is a Bore by Owen Hopkins is published by Phaidon, 14 February, £29.95 (phaidon.com)
---