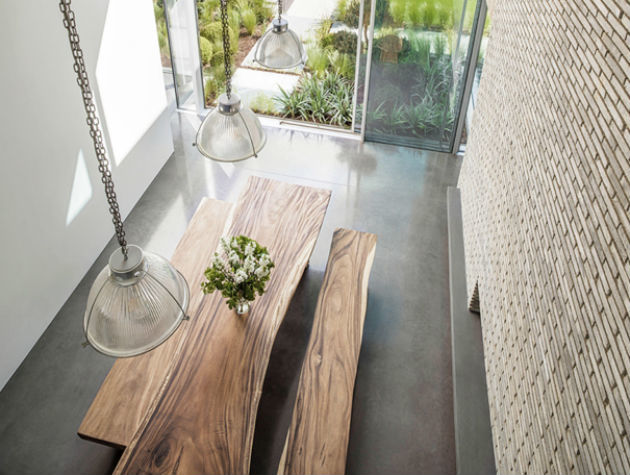 Decorative concrete in use. Image courtesy of Gregory Phillips Architects; photography by Mel Yates
Get to know the versatility of concrete
Concrete has a long history as a building material, but in the 21st century it's most often seen in its decorative form. Lazenby has been producing polished concrete flooring and surfaces since 1990 and continues to innovate with the material.
Concrete's thermal mass means it can be cool in the summer and warm in the winter. It is also robust, characterful and totally bespoke, and can be laid over underfloor heating systems.
For a range of project types
Lazenby has found that colour is the number one reason why architects, specifiers and project owners choose its product range. The range of polished concrete colours are designed to complement or match pre-cast colours, but can also be created in a bespoke RAL colour and installed by Lazenby.
Concrete with multiple uses
The beauty of concrete now is its range of finishes and applications. Lazenby offers polished, pre-cast, cast in-situ, diamond polished or GFC (Glass Fibre Concrete) products suitable for use in flooring or pre-cast wall tiles and in any magnitude of project. The varieties are huge, from diamond polished floor tiles to GFC reception desks, pre-cast sinks, furniture and art. There are interior and exterior uses too, whether it's on stairs, treads, patios and paths and even wet play areas.
Decorative concrete in action
Gregory Phillips Architects designed Berkshire House using Lazenby's cast in-situ, cantilever worktop in the kitchen diner, an elegant option alongside the matching polished concrete flooring. Lazenby's fire surround is the finishing touch for a garden access space to complement another polished concrete floor.
Berkshire House. Image by Gregory Phillips Architects; photography by Mel Yates
Iconic status
Lazenby started with external projects nearly 30 years ago. Disneyland Paris features Lazenby concrete, as does the Diana Memorial playground. Clifton Park, Cassiobury Park and Tumbling Bay wet play are further examples of the brand's handiwork. UK coastal areas feature Lazenby promenades and sea approach areas, including Tate St. Ives. Lazenby's concrete expertise has been used in London museums and art galleries, company HQs, restaurants, motor museums and many more places. If there's a surface you can imagine, get Lazenby to create it.
Visit the Lazenby showroom at Unit 1 Victoria Industrial Estate, North Acton, London W3 6UU
For more information, call 01935 700 306, email [email protected] or visit Lazenby's website
---