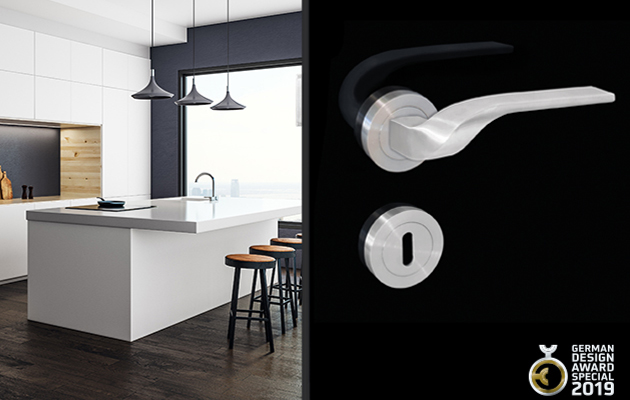 ER87 Las Vegas: The winner of the German Design Award 2019
Las Vegas is a city of contrasts. The casinos, hotels and spectacular shows are the heart of the metropolis, yet the sprawling emptiness of the desert is only a short drive away.
That contrast of the bright lights and open landscape, of modernity and nature was the inspiration for KARCHER DESIGN's range of door handles. The Las Vegas and Nevada handles are both made of stainless steel, available in different finishes, with shapes designed to complement each other.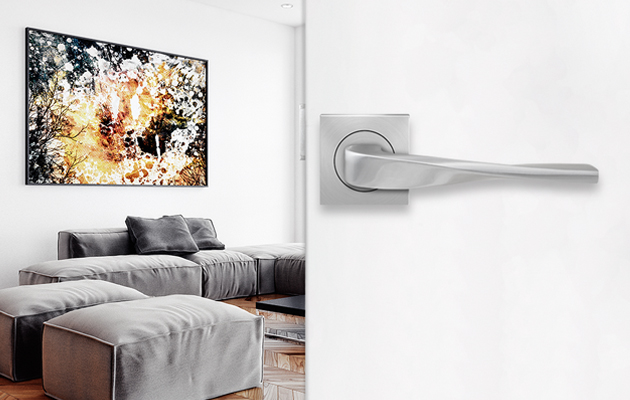 Nevada ER88Q: The Nevada door handle on a square rose
The Las Vegas handle is defined by its rounded shape and sweeping curves, with a flat end designed to give it a futuristic feel. It is available in satin and in polished stainless steel, designed to provide a smooth feel when pressing it and a high quality finish. The attention to detail in the design, both in shape and material helped the ER87 Las Vegas become a multi-award-winner: it scooped up a German Design Award 2019 and the design in Cosmos Black won a prestigious Red Dot Award in the material and surfaces category.
The Las Vegas door handle is the fourth project in which KARCHER DESIGN has worked with designer Itamar Harari, a specialist in architectural and industrial design. Harari also designed the Torino, Chicago and Denver handles for KARCHER DESIGN, which went on to great success for the brand.
"I believe in good design for all, not only for the selective elite. I believe in design as an interpretation of pleasure," Harari said of his ethos.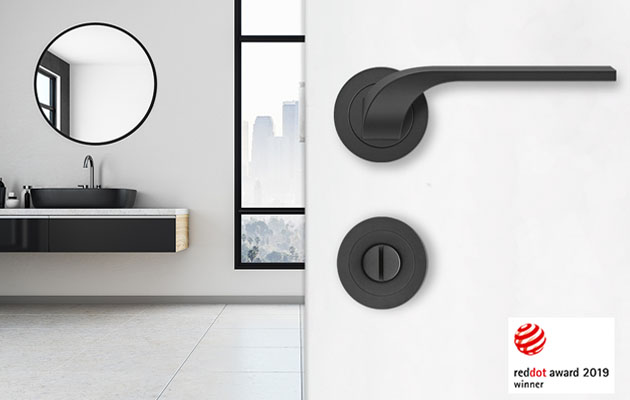 Las Vegas ER87 in Cosmos Black: Available upon request
In contrast to the Las Vegas handle's thin, futuristic design, the Nevada has a thicker base, but still curves down to a flatter end. The pair are designed to complement each other, both defined by a rounded and curved shape that fits a hand comfortably.
Both are made with Harari's concept in mind of design as pleasure, with the unusual but ergonomic designs made to create a statement.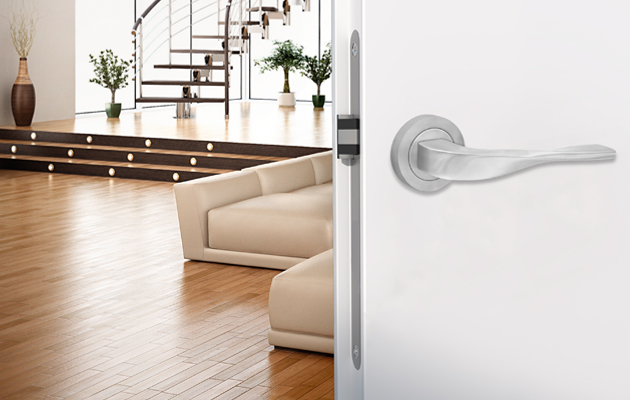 ER88 Nevada: Designed to complement Las Vegas
---