Presenting Ethereal, Silestone's new design-led and sustainable collection

Developed with innovative HybriQ+ technology, the new Ethereal collection from Silestone by Cosentino combines sustainability with dream-like, avant-garde designs. It is a creative and technological evolution of Silestone's famous Eternal collection.
Unlike previous collections, Ethereal is not inspired by a specific stone, but is based on an original and exclusive design, with patterns of freely interpreted veins on a blank canvas. The ethereal beauty of the sky, with its different colours throughout the day and night, takes the concept of the marbled effect to a new creative dimension. The new designs are an evolution of some of the most renowned and most popular designs within the Silestone Eternal collection, but with a new perspective representing the updated Silestone brand.
Thanks to HybriQ+ technology, the collection is entirely eco-friendly and sustainable. Its surfaces are produced using renewable energy, recycled water and composed with a hybrid formulation; a high-performance blend of premium minerals, quartz and recycled glass.
Each of the four designs in the collection has its own character, but while showcasing a common theme; an original and deep design capable of adapting to any style of interior design, thanks to a white background providing a blank canvas.
Ethereal Glow, the sunniest glamour
The hottest sky of the day, which gives us intense reds, oranges and yellows, inspires this colour. A renewed version of the classic and internationally acclaimed Calacatta Gold, Glow elevates any interior design with its bold and contemporary tone. Its golden and grey veins on a nuanced white background add a very modern touch. A colour rich in contrasts, Glow combines perfectly with dark colours, from blacks to intense browns.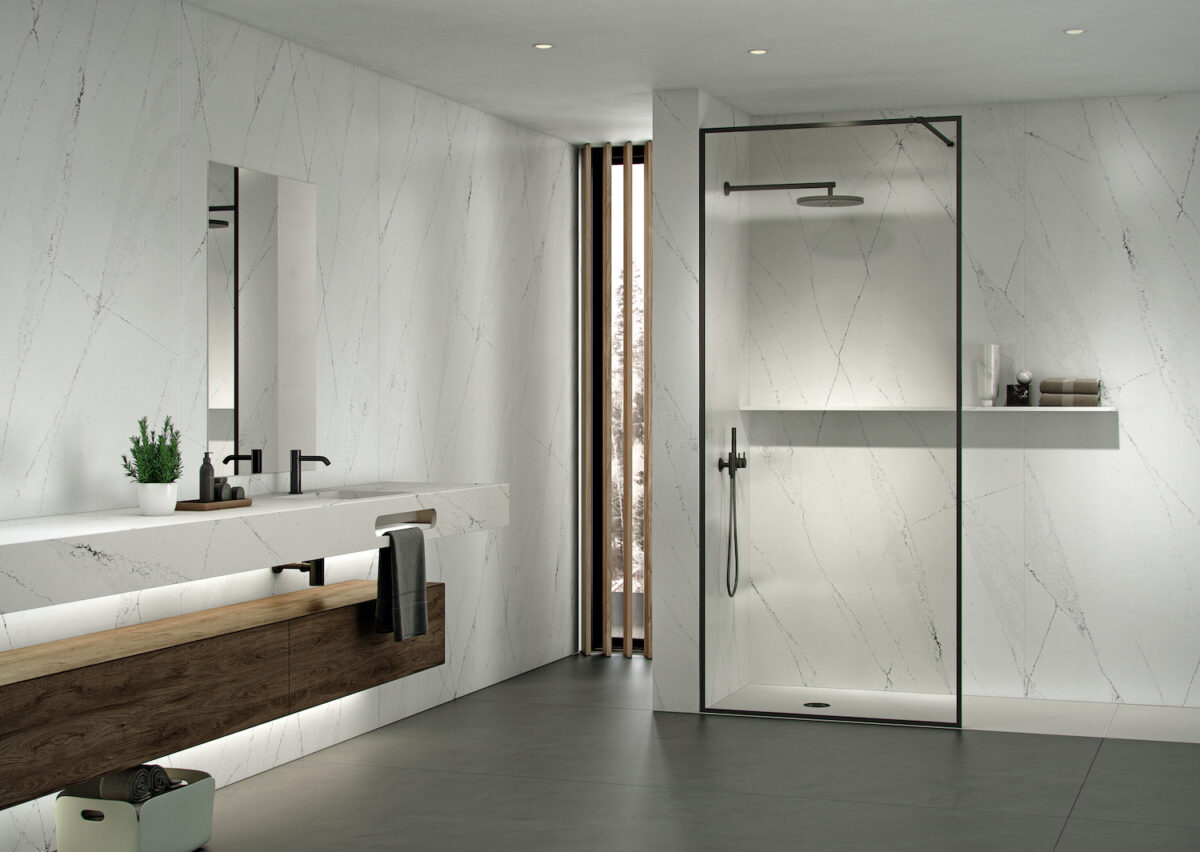 Ethereal Dusk, the most avant-garde sunrise
Inspired by the first rays of light that leave behind the darkness of the night, this avant-garde and geometric design is born. With bluish interior veins, it brings a modern and urban touch that combines perfectly with dark colours such as black and brown. It works well when combined with reddish woods, metals with traces of rust such as gunmetal or antique metals such as bronze.
Ethereal Noctis, the most elegant evening
The presence and elegance of this design inspired by the deepest night make it a classic. Its black and grey details bring elegance and depth to a background with a short grain texture. Noctis is a colour that will give a sophisticated touch to any interior design and works well with brass lamps, stained wood floors and light furniture, such as grey and white.
Ethereal Hace, subtle clouds of design
Soft and gentle, this colour presents an interesting play of gradients in grey tones, with the result as subtle and elegant as a sea of clouds. The fusion between cold and warm tones make this design a perfect complement to rustic and pure looks featuring materials such as wood or cements. In terms of style, it is perfect alongside coppery metals, golden touches and limestone.
For further information, visit cosentino.com
All images courtesy of Cosentino
---