Arper joins the 60th edition of Salone del Mobile in Milan from 7-12 June to showcase new collections by Doshi Levien and Altherr Désile Park
At Salone del Mobile, the brand presents its work in rethinking physical spaces and relationships, tracing a new direction summarised as The Project of Living.
This concept explores possibilities created by the blurring lines between home and work, and at the same time by our needs of living more seamlessly, more sustainably and more inspired.
Arper's Project of Living is interpreted by new and iconic collections with harmonious forms and dynamic colours, through the choice of soft, sustainable materials and versatile systems, and by creating a fluid atmosphere and an energetic, positive experience for visitors.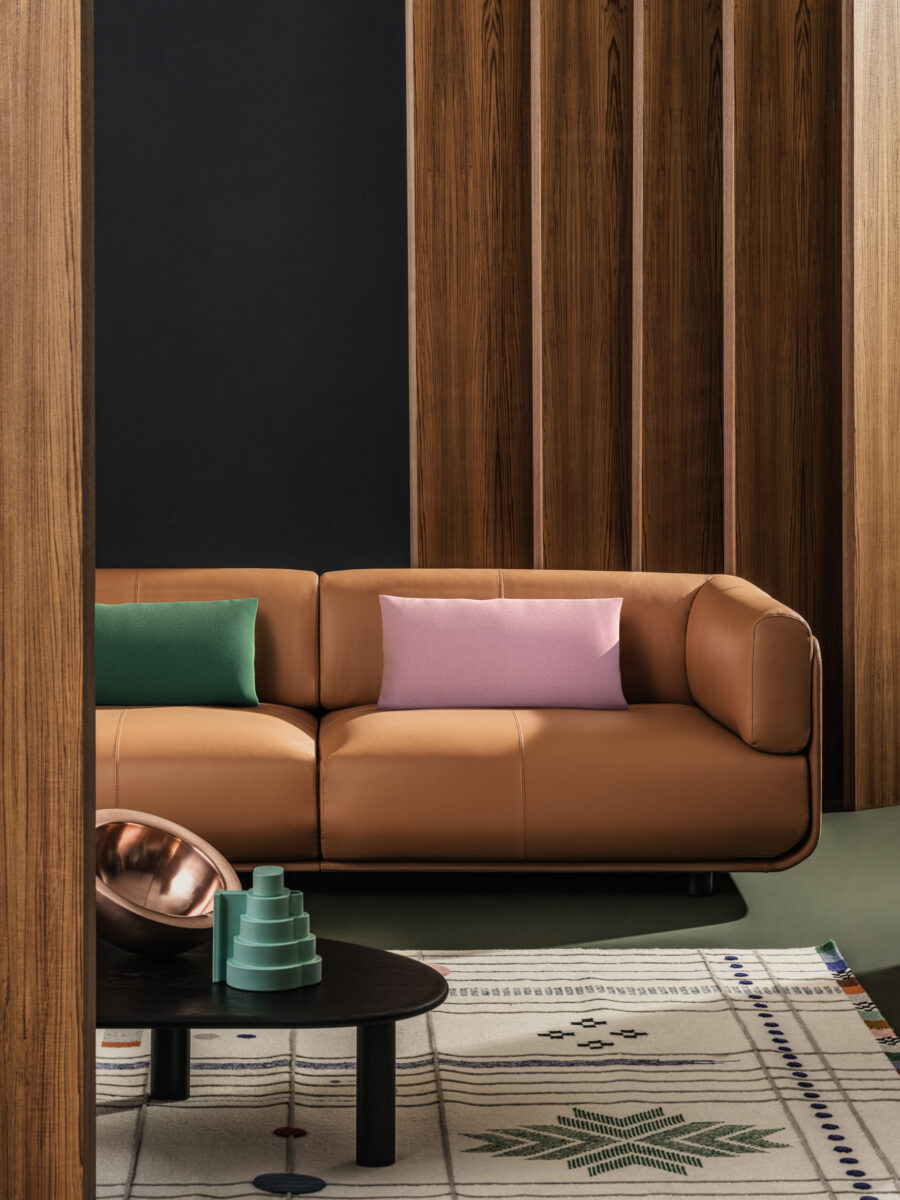 Shaal by Doshi Levien invites tactility and warmth into any space, from residential to contract.
The sofa collection brings together the heightened comfort of residential furnishings with the adaptability of modular construction. Its six core modules can be combined to create angular or linear configurations that expand and adapt to different spatial needs for home, office or hospitality.
A supportive shell elevates Shaal off the ground whilst cradling its supremely plush cushions, and both shell and cushions can be customised with endless combinations of materials, including leather and bespoke textiles.
Shaal is conceived with consideration for its entire lifecycle – removable upholstery can be replaced to extend its life, whilst components and materials can be separated for recycling.
Nipa Doshi, founder of Doshi Levien, comments: "We wanted to produce a design for Arper that works equally in a soft residential setting as it does in a work space. Anyway, generally in terms of look and feel, these spaces are moving closer together.
One of the things that was very clear right at the beginning is that we were not going to do a standalone piece but create an environment. We also started very much from a construction point of view, asking how do you create a system which could very easily be separated into components? At the same time, we're thinking of the identity of the piece, the qualities we want to bring to Arper, the sensuality, tactility, softness that you associate with the domestic environment."
Jonathan Levien, founder of Doshi Levien, says: "Our work is very much about bringing together different worlds and trying to find this kind of hybrid between universes. The second aspect of this project is the need for us to approach the issue of sustainability seriously. Arper is a company that is clearly taking responsibility and wants to create products that genuinely address this issue. In terms of design, we considered what happens to Shaal at the end of its life.
How do we recycle components? How do we separate the materials for recycling? This really means we had to make the product from the inside out […]. Designing with sustainability in mind is something exciting for the design industry as a whole because there is a need to rethink everything that's around us […]. There is a tremendous opportunity for innovation."
Ghia by Altherr Désile Park is a new collection of low tables exploring soft, sculptural forms and tactile, nature-inspired materials. The organic, geometric shapes bridge different styles and spaces – including domestic, hospitality and public environments.
With its countless configuration options, Ghia invites curiosity and customisation through perpetual reinvention. The new low table system presents a diverse array of form and finish options that harmonise with any seating collection or setting, extending the product's applicability.
Bases are available in three different heights and two shapes: sculptural central totem or three legs with a slightly asymmetrical profile. Top options include a large size in an organic shape, as well as small and medium sizes in a circular shape.
Finish choices for both bases and tops are carefully chosen for compatibility and sustainability.
According to Jeannette Altherr, partner at Altherr Désile Park, "The beauty of Ghia is that it offers many choices within one single system. The idea was to have a set of tops that combine with different bases to adopt distinct characteristics.
Solid yet soft, the central base is more iconic and sculptural, while the wood legs offer a delicate twist on a table archetype. The range of character is also addressed through the materials and finishes, from a painted MDF top, to FSC-certified wood, to a more expressive terrazzo version.
So for example, a set of tables could combine just one base style but play with different colours for the top and bottom. Or, a set of multiple tables might each sit on a distinct base style, but use only one colour, giving them a totally different expression. The range of combinations emerge when the tables are displayed as a constellation of smaller objects in varying sizes, bases, and finishes".
For further information, visit arper.com
All images courtesy of Arper
---