Solus and Red Deer architects join forces to provide Lina Stores' new venture with a dazzling look
PROMOTIONAL FEATURE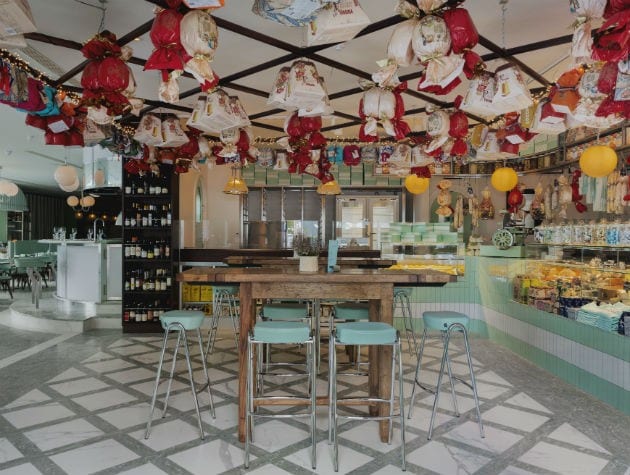 Image: Mariell Lind Hansen
The famous Italian deli, Lina Stores, opened their Soho store in 1944. For their 75th anniversary, they cut the ribbon on a new restaurant in Kings Cross. They wanted to celebrate their classic, mid-century look, and employed Red Deer architects to work with Solus on a fabulous floor…
The Lina story
For those who know London, work in Soho or just visit, Lina Stores is an institution. This Italian delicatessen opened its doors in 1944 and has been serving the best pre-made pasta, imported goods, cheese, meats and more for three quarters of a century. After successfully expanding their offerings with their first restaurant in Soho, they decided to follow with a brand new Kings Cross venue.
While the quality of the goods comes first, Lina Stores has also had a classic timeless Italian look which they wanted to capture and reflect in their new venture.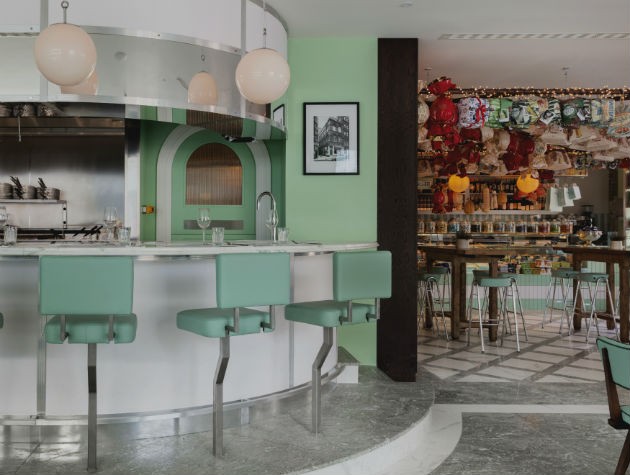 Image: Mariell Lind Hansen
Timeless tiles
Working with Red Deer architects, Solus were asked to provide the tiles for a bespoke mosaic that was integral to setting the tone in the new Granary Square location.
Solus are one of the UK's leading tile suppliers, with a stunning range that incorporates porcelain, glass, ceramic, metal, natural stone and more. The breadth of their products made them the perfect choice for the project.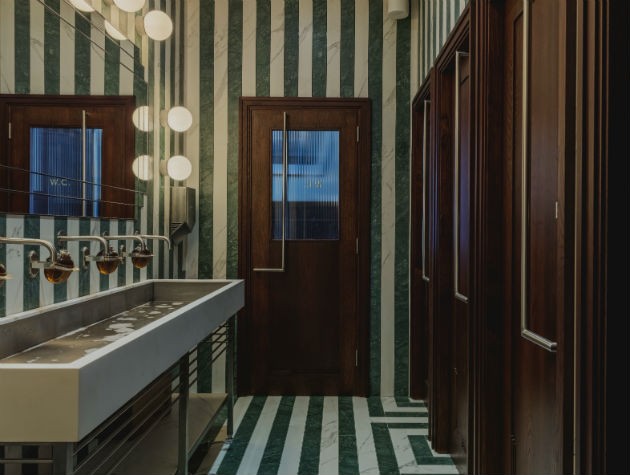 Image: Mariell Lind Hansen
Embracing heritage
The finished mosaic, which reads 'Continental Product Importers, Lina Stores, Est 1944', perfectly captures the Lina Stores heritage and also blends with the overall look.
The marble mosaic's emerald lettering is remeniscent of the original store's look, and matches the stools and banquettes in the restaurant. The addition of pearly white tiles with argent detailing brings it all together as the pattern flows through the delicatessen, the restaurant area and the sensational bathrooms, delivering a sense of seamless unity.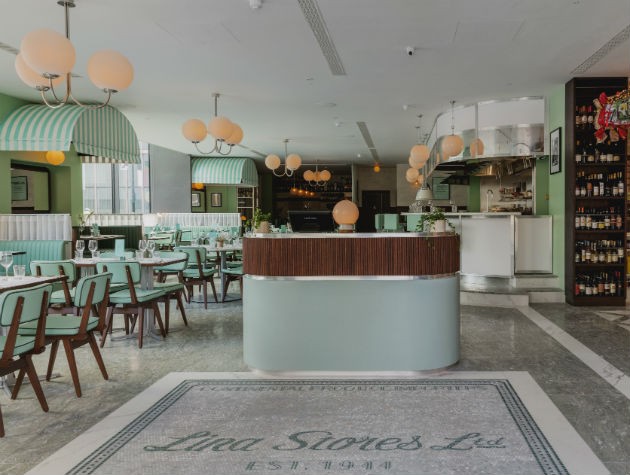 Image: Mariell Lind Hansen
The project's lead architect, Gianna Pagliarulo, explained the choice of tile: 'Solus' opulent Endicot tiles from the Palace range perfectly complement the Carrara and Verdi Guatemala marble mosaic they border, providing a sophisticated and stylish aesthetic.' 
Image: Mariell Lind Hansen
Next time you're in King's Cross, reserve a table at the restaurant for an up-close look at this instant classic.
Photos by Mariell Lind Hansen
---