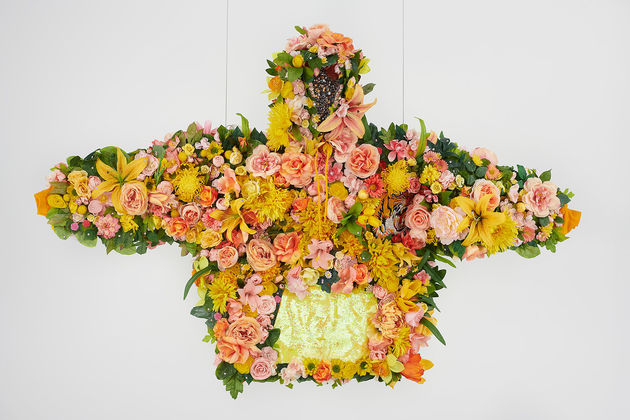 February II (2019) by Devan Shimoyama, image courtesy of Het Niuewe Instituut
The humble hoodie may have begun as a functional garment, but it has come to reflect the socio-economic and racial divides in today's society. Icon's Editor Priya Khanchandani reflects on its significance as a cultural icon in the run-up to a much-anticipated exhibition at the Het Nieuwe Instituut in Rotterdam.
The hoodie began as a functional object: warm, practical and cheap to produce. But over the decades, it has grown into a cultural symbol that is loaded with at times contradictory meanings. It has been worn in music videos and on catwalks but is also associated with inequality and youth culture. It can represent glamour as much as fear and prejudice.
Its origins can be found far from the annals of fashion, in the hooded sweatshirt designed to enable US factory workers to work in cold temperatures. It became associated with hip hop culture from the '70s onwards and was later adopted by skaters and other subcultures, before it emerged as a fashion symbol known as the hoodie – a term that became popular from the 1990s onwards.
In recent years, the hoodie has undergone a resurgence in popular culture. It is re-emerging in the collections of high-end fashion houses (as a sure symptom of the resurgence of '90s fashion). But it has also become an object that embodies the tensions inherent in the contemporary moment. It has acquired powerful associations beyond the aesthetic or the functional. At times it has become an object of resistance capable of being appropriated to question the status quo.
Hood 13 (2018), photograph by John Edmonds. Courtesy of Het Nieuwe Instituut
Today the hoodie is being used by activists to challenge the social and racial biases that afflict us. Just weeks ago, activists in Quebec wore hoodies in solidarity with politician Catherine Dorion, who was criticised by members of the National Assembly of Quebec when she wore an oversized orange hoodie and jeans at the provincial legislature. After she was barred from the National Assembly's Blue Room, because her clothing was deemed to be inappropriate, the Twitter hashtag #MonCotonOuatéMonChoix (my sweatshirt, my choice) went viral. Her defenders launched a Facebook event encouraging women to wear hoodies to work on 12 November and share pictures on social media.
The shifting meaning of the hoodie is also reflected in an art context. Its appearance in galleries and formal environments is encouraging us to re-read the way in which hoodie wearers are conventionally perceived. Earlier this year, the artist Cephas Williams tried to change the perceptions of black men in hoodies by posting on social media striking headshots of black men donning the hooded sweatshirts. His work tries to show people that, contrary to popular assumption, those who wear hoodies can have a positive life story.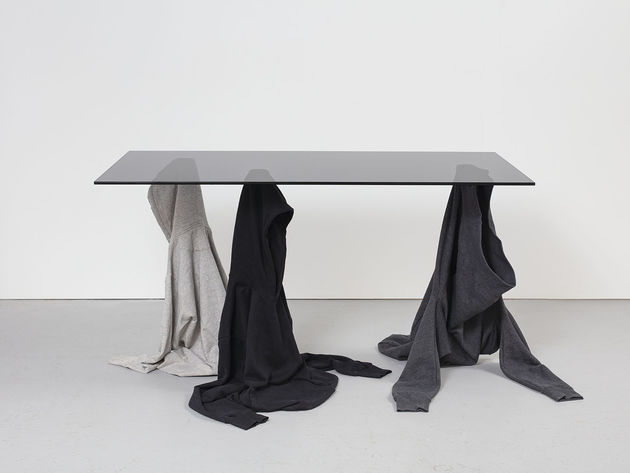 Umbra (2019) by Prem Sahib. Photography by Plastiques, image courtesy of Het Nieuwe Instituut
A new exhibition at the Het Nieuwe Instituut in Rotterdam opening this week explores the sheer breadth of the hoodie as a fashion garment and a socio-political symbol. Curated by writer and cultural commentator Lou Stoppard, it explores themes such as surveillance, facial recognition and music subculture in the context of the hoodie, inviting us to reconsider its relationship with contemporary culture from a more nuanced perspective.
The exhibition includes works such as Umbra (2019) by Prem Sahib, comprising three sculptural sweatshirts in shades of grey and black holding up a glass table-top, presenting the hoodie as worthy of being an object of spectacle. It also includes high-end fashion, including a photograph of a model wearing a Balenciaga hoodie that was taken for iD's Fall 2018 issue; and an image of a hoodie worn on the catwalk as part of Vetements' ready to wear collection for autumn/winter 2016. Some of the other exhibitors include fashion brands Off-White and Rick Owens and artists Lucy Orta, Lisette Appledorn and Thorsten Brinkmann.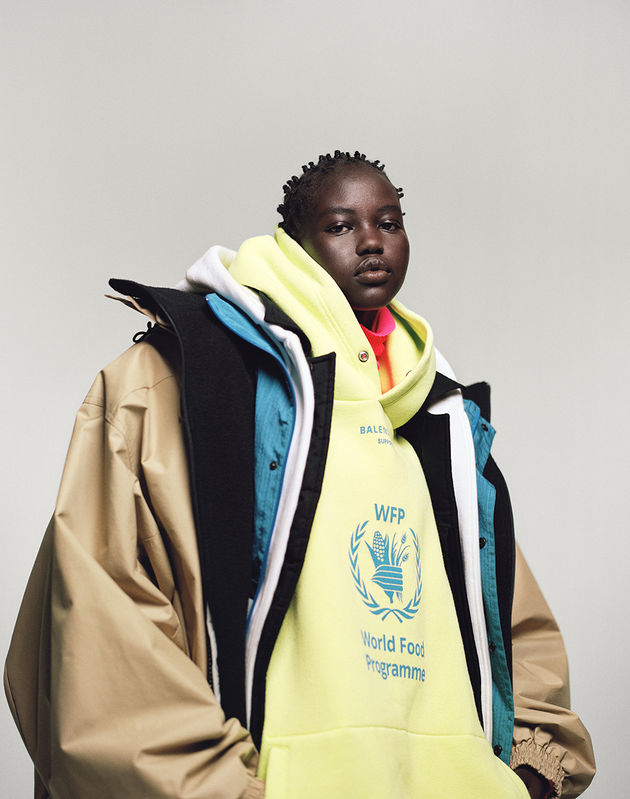 Model Adut Akech wears Balenciaga in i-D, 2018. Photograph by Campbell Addy, styling by Alastair McKimm, courtesy of Het Nieuwe Instituut
Everyday objects are capable of taking on new layers of significance as times and societies shift. The representation and multiple uses of the hoodie today reveal the tensions that are present in our values. It has become much more than a functional object. It is Western fashion's most politically loaded garment.
The Hoodie is showing at Het Nieuwe Instituut, Rotterdam from Sunday 1 December – Sunday 12 April 2020
---