Basil Spence's Brooke House, completed in 1962 and now grade II-listed
Christopher Ian Smith's documentary portrait of Basildon charts a familar journey from postwar optimism to 1980s betrayal, but ends up as something both messier and more moving, writes
John Jervis
This wasn't quite the film I expected. In fact, I'd pretty much written a review in my head, anticipating an enjoyable Concretopia-esque ramble, mixing postwar history, personal reminiscence and occasional moralising in a considered if cosy fashion. Some of that review is below; most of it got the chop.
For starters, Basildon would be a challenging subject for cosification. One of the largest, and least loved, of the New Towns, it was viewed at the time as another disappointment – humdrum, middlebrow, lacking in urbanity – and rapidly gained its 'rough' reputation. Pevsner eked out some praise for the 14-storey Brooke House towering over the main square, and tracked down some 'fairly coherent' housing. Otherwise, as usual for such aspirant postwar arcadias, he merely provides a dispiriting recitation of facts and figures.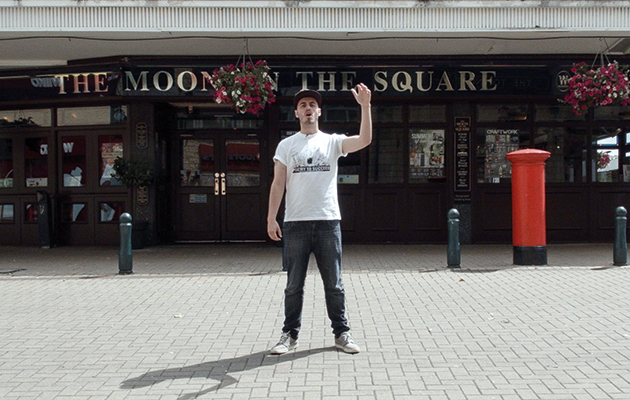 Basildon poet Olmo Lazarus – the film became a story about the importance of art in society
Directed by Christopher Ian Smith, New Town Utopia does provide some history. Lewis Silkin's famous speech moving the New Towns Bill in 1946, now recited by Jim Broadbent, weaves through the film, a moving tribute to the transformative ambitions of the time. And the impressively trenchant figure of Joe Morgan – the leader of Basildon Council in the mid-1960s, who died earlier this year – delivers stinging rebukes to its development corporation, to the arrogance and inadequacy of architects, and to the betrayals of the Thatcher years.
And reminiscences – about dodgy estates, space-age architecture, climbing frames and tribal pubs – are here aplenty. These come in large part courtesy of disembodied voices, anonymous figures talking about unspecific times and places. Their occasional appearance on screen leaves one counting wrinkles, vainly trying to discern the decade to which their tales of hope or neglect belong. Ensuing shots of estates or underpasses – both dingy – leave one grasping at geography and chronology, with a similar lack of success. And there is quite a bit of general nostalgia – mutton chops and Alvin Stardust in the 1970s, or clubbing and Rock Against Racism in the 1980s – which feels a little excessive.
Stairs leading up to Freedom House, a 1960s office block in Basildon town centre
Bereft of a narrator, the film is a disordered collage of thoughts and opinions – a patchwork without a pattern. Its indeterminate whether Basildon was a concrete hell or a modernist utopia. Its streets were generous and neighbourly; they were hostile and forbidding, strangers wrenched from East End communities. The new flats were luxurious or spartan. Nature was everywhere and nowhere. Planners were disciplinarians or visionaries. The resulting tangle has the major benefit of being credible: one person's heaven is another's hell, particularly in memory. And it is also accompanied by striking camerawork: beautifully framed shots of Basildon's angular architecture against blue skies; roaming footage of decaying garages and sweeping terraces; lingering portraits of rusting signs or swings rocking, with suspicious regularity, in barren parklands. Archive footage is poignant and plentiful, an addictive delight.
And the impact of the 1980s is a constant theme – the creeping advent of individualism in place of society; the loss of vigour in local government; the sense of complicity and shame that accompanied the right-to-buy; the decay of industry and transformation into commuter town; the rise of the reviled Essex Man. New Town Utopia indulges in some simplification here, yet the painful contrast between postwar idealism and the keen monetarism of more recent times strikes home, reinforced by boarded-up social clubs and dry boating lakes.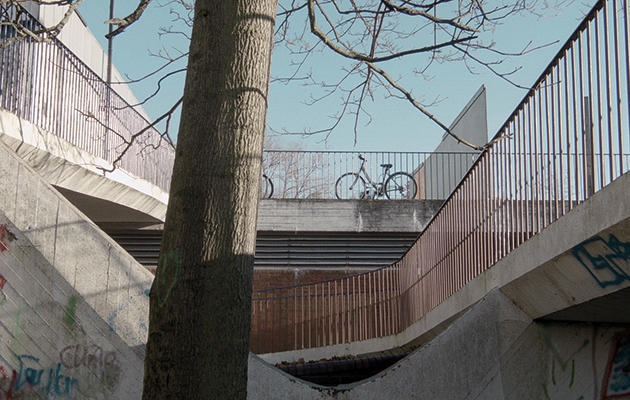 But in the end, New Town Utopia is barely about Essex at all – it is about the importance of art in society, and in individual lives. The concrete backgrounds start to fade away and the disembodied voices crystallise into faces. The focus moves to specific tales of youthful efforts to find meaning in an environment largely devoid of heritage, with the opportunities and obstacles that implies. Increasingly, the film reveals itself as a paean to adolescent angst – much of it male – and to the enduring meaning that art can provide in people's lives, even as municipal provision is cut back and hairs turn white.
As a result, much is missing. These voices come from those who rebelled, who rejected apprenticeships at Ford or Marconi. Those on factory floors, in white-collar jobs, the executives, municipal employees, police, pensioners – and even those who guided the entire, unwieldy enterprise – are absent. There are times when New Town Utopia risks becoming a surrogate tribute to the filmmakers' own choices in life. Yet it tells a moving, messy story with skill, hinting at rather than broadcasting its message. The erosion of the ideals that drove the New Town movement, and postwar Britain, has had a deeply destructive effect. And the failure to appreciate the benefits of creativity has been a bit crap too.
---