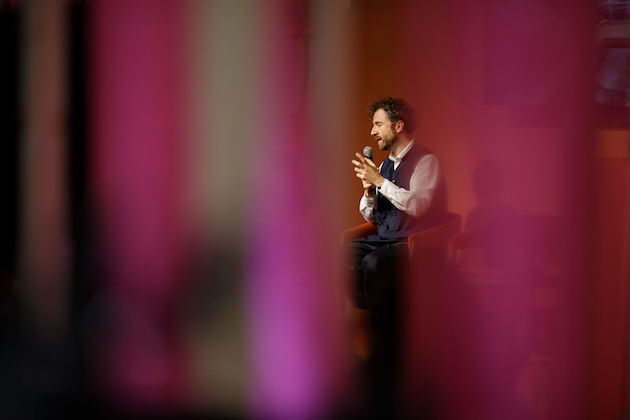 Thomas Heatherwick speaks at 100% Design. Photo courtesy 100% Design
As London Design Festival has grown, its impact has been diluted writes former deputy director of LDF, and current content editor for 100% Design,
Max Fraser
In mid-September, London Design Festival was welcomed back into the capital for its 16th edition. Casting my mind back to the festival's beginnings, there was the main trade fair, 100% Design at Earls Court, the enfant terrible alternative Designersblock and a couple of dozen offshoot events taking place in unusual spaces around the city.
Sixteen years on, the explosion of events dotted across London is daunting. Judging from the listings in the 256-page official guide, this year there were 240 individual exhibitions, installations and events, and no doubt more that either missed the guide deadline or couldn't afford the listing fee. Hats off to anyone who averaged 27 locations per day across the nine days of LDF.
At a time when bigger seems to mean better, such scale will satisfy even the most demanding of sponsors and hopefully tickle more money out of their corporate budgets the following year. And for any design business or brand wanting to put something new into the world, they'd hope that they could tap into even 5 per cent of the reported 450,000 individual visitors to LDF in 2017 (2018 figures are not available yet).
Yet those 240 events find themselves bizarrely in competition for visitors. Now it is about who can shout the loudest, with the winners inevitably being those with the meatiest marketing budgets, linked to the best-known design personalities and the largest social media followings. The small, subtle and often most interesting interventions get drowned out by the noise, surviving amid the scrum of visitors by the lifeline of a few word-of-mouth recommendations or by 'influencers' dropping a post on Instagram.
From 2012 to 2015, I worked for LDF as deputy director, learning the inner workings of the organisation behind the festival. We always took a democratic view on all participating partners, embracing the broadest definition of the word 'design' and inviting a diversity of disciplines into the programme. This approach remains. We were not policing what we considered to be good or bad but instead providing the platform for those willing and able to put their version of design in front of the world – and indeed, London does attract the world. It is hardly surprising that so many want to be part of an event that provides an incredible platform from which to showcase design.
But with London so geographically spread out, it is challenging to avoid spending all day traversing the city on the Tube or in traffic. On several days, I spent roughly three hours moving slowly around the city between venues, an off-putting reality of London. The four main trade fairs – 100% Design, Decorex, Designjunction and London Design Fair – are excellent hub venues to start at, and remain the commercial centres for those wishing to sell their furniture, lighting, accessories to trade and public alike. But four events in totally different parts of the city is hardly convenient. Can't we just have one?
There is a sort of madness to these shows competing for exhibitors and visitors, when most people want to see the cream of the crop in one place at one time. Perhaps the four shows could work together? A multi-show access pass would be a start.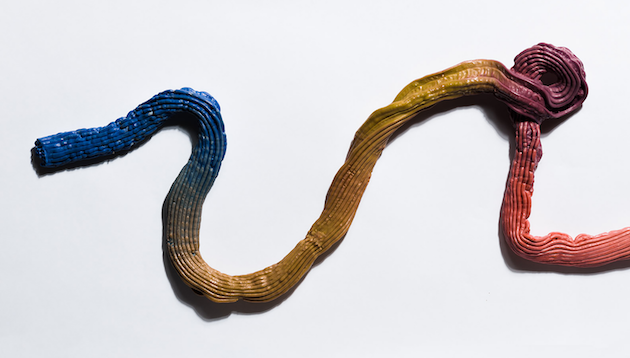 Visitors are forced to travel too far to find the best exhibitions. Plasticscene Modern Design Review x James Shaw at London Design Festival 2018
Citywide, where events cluster in certain areas, design districts are formed, meaning that visitors are able to see a greater number of events within walking distance of each other. This is helpful, but there are now 11 such districts of variable quality (the original one is Brompton Design District, which remains the strongest in terms of use of spaces and curatorial coherence).
Let's not forget the other key non-commercial events which are among the more valuable aspects of LDF. The Victoria and Albert Museum has operated as LDF's hub for ten years and houses a variety of installations each year, although these range from spectacular to baffling. Somerset House is the venue for a newer addition produced by the festival called London Design Biennale, embracing visions of the future presented by over 40 invited countries. And there are numerous public installations including one that normally graces Trafalgar Square.
I am not discounting or belittling these projects, which I know involve untold amounts of blood, sweat, tears and money to stage. There are simply too many. So many, in fact, that this year I found myself almost wanting to throw it all in. As always, the great binder is the social element, as the industry comes together and converses, rants and celebrates together. But as all of that chatter takes place across the capital and ambitious installations are physically placed in the path of Londoners, the man on the street would be forgiven for not knowing that the festival is taking place.
A city of such vast scale absorbs LDF and the hundreds of other festivals that take place throughout the year. We don't have the infrastructure (nor the budgets) to line the streets with flags signifying that LDF is on. While design industry folks know it's taking place, the great challenge will always be to grab the attention of regular punters. After all, they're the ultimate consumers of the stuff that's exhibited and they're the beneficiaries of the projects and ideas that are discussed.
And this poses another question – is LDF essentially a great big trade fair or is it a forum for radical ideas and progressive design thinking? Right now, it is both. And this is great but again, too much great stuff happening at once poses the danger of diluting itself and preventing any sense of industry momentum from taking hold.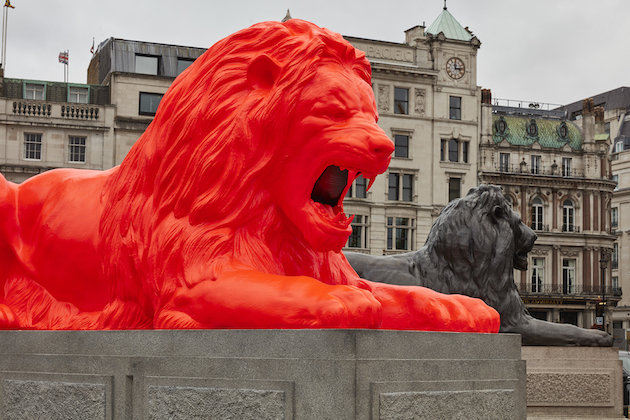 Please Feed The Lions was an interactive installation in Trafalgar Square by Es Devlin. Photo: Es Devlin/London Design Festival
Because if you, like me, subscribe to the notion that designers are endowed with inquisitive problem-solving minds that can be applied to the greater issues in the world, surely such energy should be channelled powerfully at an event of this scale. As well as talk endlessly about the need for a more sustainable approach to pretty much everything, perhaps we could collaborate more effectively so as to bring such pioneering solutions to other essential stakeholders, be they governments, communities, manufacturers or NGOs.
Now is not the time to continue 'business as usual'. Sure, there will always be companies introducing newer iterations of existing products to the market. This is tried and tested enterprise, albeit fiercely competitive. And yes, we all need to put food on our plates and people will always need chairs. But surely our industry, as one that consumes raw materials and manipulates them for profit, could fracture the status quo and commit time, money or expertise to broader societal issues?
I don't know about you, but trawling spaces stuffed with expensive things just feels a bit gross. The great rich/poor divide is as palpable in London today as it is in other mega cities. With the cost of living continually rising, we're in danger of homogenising London into a rich man's playground. The enviable status as the design capital of the world is already at risk if the young new talent can't find a footing in the capital.
The younger generation, usually inherently optimistic, add fuel to an inherently optimistic design industry and bring far-fetching ideas and energy to the fore. Complacency that they'll just keep coming won't carry us through. The uncertainty of Brexit and an underlying feeling that Europeans – our greatest talent pool – will soon not be welcome is dangerous. Slowly and quietly, the talent may leak away to other more attractive and less expensive second-tier cities.
A festival like LDF must urgently clear the path for talent to prosper, to have a voice, to feel valued and welcome. The old guard should move over, we should calm down the persistent self-congratulating, the egos of brands and individuals should soften, and we should aspire to be known as the city that brings great ideas to life.
Let's sponsor and provide bursaries to the risk takers, let's fill our public spaces with thought-provoking propositions, let's reverse-discriminate to ensure that all talents have a platform, not just the elite, and let's continue to invite the world to collaborate with us.
---