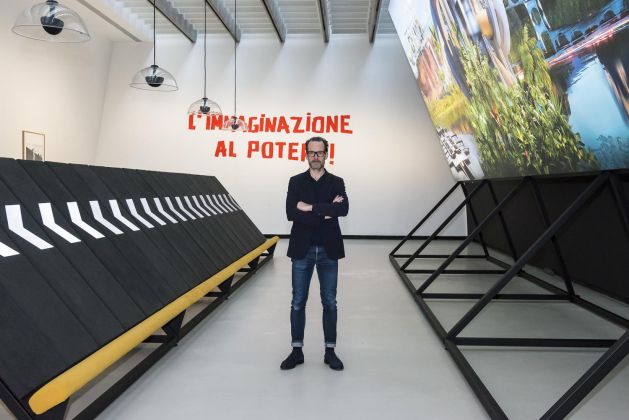 Konstantin Grcic's installation invited the viewer to rediscover radical imagination. Courtesy of Alcantara and MAXXI
Grcic's deep dive into MAXXI's archive uncovers 'fantastical architecture', but fails to make an imaginative offering of its own, writes Peter Smisek.
The third installation in MAXXI's Studio Visit series – in which contemporary designers are invited to dive into the museum's architecture archive and create an installation based on their findings – has opened last week. The title of the exhibition: L'Immaginazione al Potere (All Power to the Imagination) is a reference to the 1968 student protests and subsequent decade of unrest across western Europe and Italy.
Supported by manufacturer Alcantara, the creative direction of the 2020 edition has been entrusted to the German designer Konstantin Grcic. Unlike previous editions of Studio Visit, in which Nanda Vigo and Formafantasma paid tribute to Paolo Soleri and Pier Luigi Nervi respectively, Grcic has cast his net much wider. Not only does he draw inspiration from four radical architects and their projects, but also from the programme's patron.
Grcic has chosen an array of references – from 1970s Italian architecture to theoretical proposals by Bernard Khoury. Courtesy of Alcantara, MAXXI
Drawing inspiration from Italian 'fantastical architecture' of the 1960s and 1970s, Grcic has chosen to showcase projects from Guiseppe Perugini, Maurizio Sacripanti and Sergio Musmeci, as well as the rigorous, imaginative approach of contemporary Lebanese architect Bernard Khoury. His resulting installation is meant to help the viewer contemplate the power of radical imagination. 'I was not familiar with the work of these Italian architects work I started,' explains Grcic, but he was soon won over by the radical formal imagination. 'If you look at this bridge,' he says pointing at Bridge over the Basento, a 560m long crossing supported by a single, finger-like reinforced concrete, 'you can just Musmeci calculating this by hand in a course of days, without the help of computers.'
Perugini's structuralist Casa Sperimentale, a megastructure shrunk to the size of a home, and Sacripanti's unrealized pavilion for the 1970 Osaka Expo, a spiralling, rotating building that would reconfigure its internal spaces, are among the other drawings from the archives that Grcic has chosen to showcase as it moves, serve as a call to radical imagination. The fourth architectural drawing that is included is Bernard Khoury's competition for the Beirut Museum of Modern Art. Here, the architect imagines the building as a process of excavation, a void to be filled once artists, curators and administrators 'create spaces […] that Lebanon's arts deserve.' The proposal is imaginative and radical, but it also serves as an open-ended critique of Lebanon's art. In this sense, it is also unlike the more confident, assured Italian projects.
The resulting collage imagines a kind of utopia built on impressions of radical architecture. Courtesy of Alcantara, MAXXI
Alcantara's namesake suede-like material makes an appearance in the shape of a close-up image of its fibre. Grcic makes a not-wholly-convincing case that the development of the material, a high-end synthetic leather substitute manufactured in Italy since 1972, required a radical imagination, not unlike that of the architects. Together, these images are collaged to create a large-scale digital painting that seems to presents a possible future Utopia, or maybe its overgrown ruins. Either way, Grcic didn't want to ascribe too specific a meaning to his work. But he did supply a rather comfortable bench superstructure and a sound installation, creating a more immersive experience and inviting the audience to contemplate how to recapture this radical imagination and invent its own utopia.
But there is more to utopian thinking than simply surveying past radicalism and trying to infuse it with a vague environmentalist agenda. We should question how economic and cultural conditions in the 60s and the gave rise to 'fantastical architecture', and whether those conditions and impulses can indeed be channelled in productive ways. A call to imagination is fine, but it may not be quite enough.
Konstantin Grcic: L'Immaginazione al Potere! is on view at MAXXI, Rome, until 15 March 2020
---