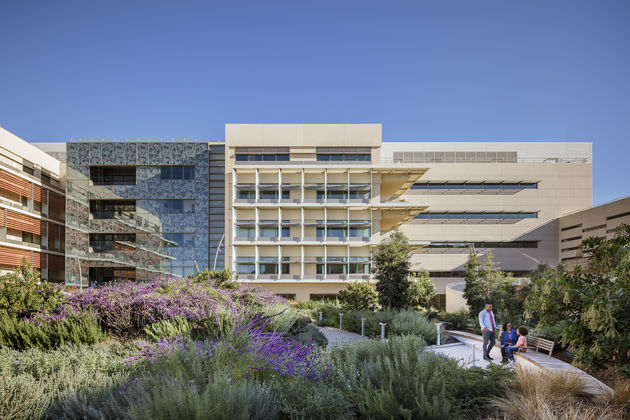 Dunlevie Garden at Lucile Packard Children's Hospital. Photo by Tim Griffith
Bringing nature into hospital design creates spaces that are non-institutional and fundamentally nurturing, says Robert Goodwin
Robert Goodwin is the design director at Perkins and Will's New York studio
The design of a hospital for children is a delicate task – pediatric patients can range from toddlers to teens, and it is essential for an architect to find an approach that connects positively across those age groups. We believe that integrating and celebrating nature in the design of a hospital can become a universal source of healing and inspiration for patients, families and caregivers.
Inside the chapel, with a view of the public space. Photo by Emily Hagopian
When Lucile Packard Children's Hospital (LPCH), located in Palo Alto, California, wanted to significantly expand its facility in 2006, they asked us to create a facility that not only supported more patients, but set new standards for pediatric healthcare design. The New York office of Perkins and Will, in association with Hammel, Green and Abrahamson (HGA) developed a unique approach that established a new paradigm for sustainable children's healthcare: by elevating the healing power of nature, we delivered a hospital that is fundamentally nurturing and non-institutional, focusing on interactive patient experience and a culture of wellness.
Sustainability benchmarks informed by nature
Together, Perkins and Will and LPCH worked with patients, families, caregivers and community members to design a hospital that is now regarded as one of the most environmentally progressive, technology-advanced and family-supportive children's medical centers in the world. LPCH is one of only two LEED Platinum children's hospitals in the United States, and one of five in the world.
One of the public spaces within the hospital. Photo by Emily Hagopian
From inception, we introduced creative strategies that embedded nature throughout the building. We began by configuring a small planter just outside each patient's window, providing a direct connection with a miniature garden filled with native plants that attract birds and insects, a reminder of the healing power of the natural world. In turn, the planters visually connect to large experiential gardens that form both the heart of the campus and the transition to the Palo Alto community. The nine-acre site now accommodates the 521,000 sf building addition, 220,000 sf of underground parking, and 3.5 acres of additional habitat – the equivalent of more than two and a half football fields.
The hospital features landscaped roof gardens, a 110,000-gallon underground cistern that filters, stores, and reuses water collected from rainfall, mechanical equipment condensate, and even water used in hemodialysis. Crucially, water consumption is now 38% less than comparable hospitals. In addition, a bespoke solar shading system supports advanced displacement ventilation, reducing thermal energy consumption by 60 percent. Carbon emissions are reduced by more than 90 percent through purchase of utility electricity generated from renewable sources.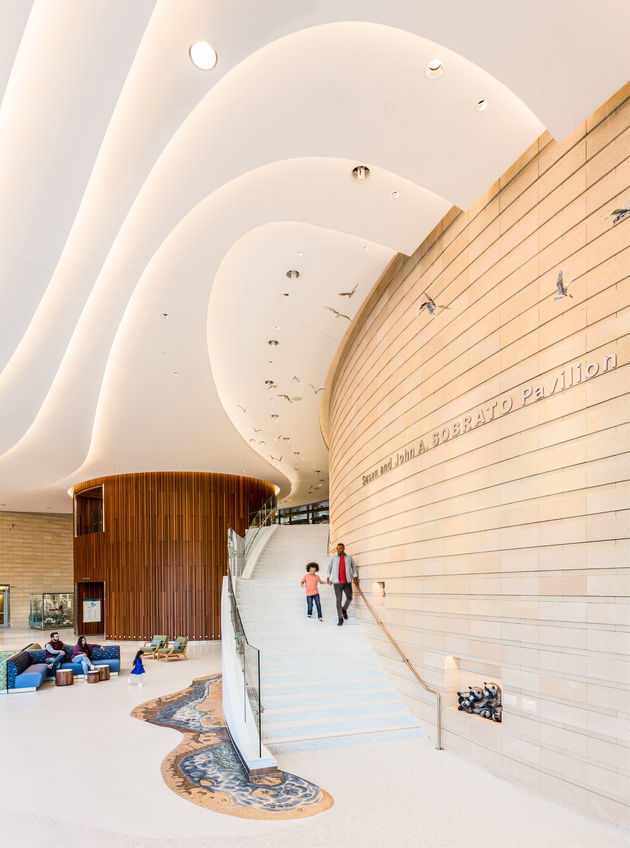 Inside the lobby. Photo by Emily Hagopian
Connecting healing to place
The success of LPCH lies not only with its green building initiatives, but also the way the design engages patients and visitors with nature and more specifically, with the local ecology. The design is set up to "let the outside in" wherever possible. No matter where you are on campus or in the building, patients are deeply connected to California ecosystems. Over 500 original pieces of art are integrated into the floors, ceilings and wall niches. Outside, the Dunlevie Garden features interactive habitat sculptures like a Redwood Treehouse, and the Emerald Garden featuring Rocky Shore-themed mosaic play sculptures.
Local plants and "ambassador animals", selected by LPCH patients, define six unique ecoregions of California. Explore the yellow corridors of the 'High desert' themed floor, for example, and you'll discover indigenous California quail or saguaro cacti. To ensure absolute accuracy, our team also enlisted the expertise of Stanford University ecologist Alan Launer to create an authentic educational experience.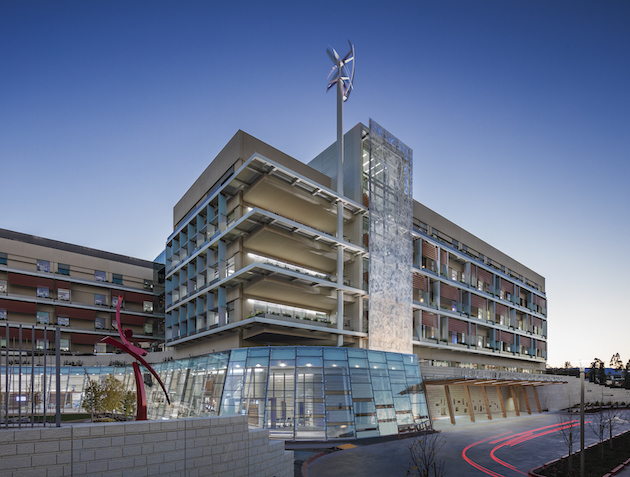 The exterior of the hospital at dusk. Photo by Tim Griffith
More than a quarter of the materials used to build the hospital were extracted or manufactured within 500 miles of Palo Alto; close to 30 percent contain significant recycled content. The elevator tower is clad in reclaimed old-growth redwood, harvested from an abandoned dirigible hangar less than ten miles from the site.
Ultimately, nature and connection to place are powerful healing agents. Integration of the natural environment can significantly improve a hospital's performance, and the undeniable impact of this approach on healing, education and patient experience are worthy of our collective attention.
---