From colourful pedestrian crossings to a relaxation cube, we round up the highlights of what to check out at this year's LDF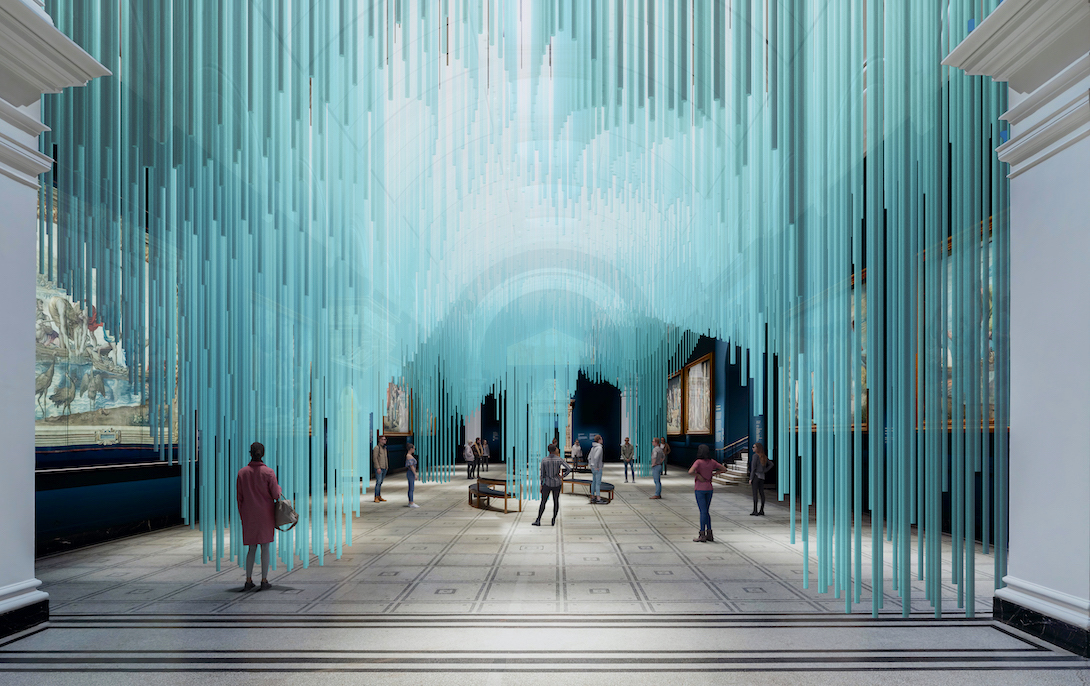 Medusa by Tin Drum and Sou Fujimoto Architects at V&A. Image: Tin Drum
Words by Francesca Perry
The London Design Festival is back, and the 19th edition will take place across the city from 18 to 26 September 2021. There's a dizzying array of exhibitions, projects, installations, events and discussions lined up, so we've selected our highlights of what to see and do.
V&A Museum
The V&A South Kensington annually hosts LDF installations, and this year there are projects transforming spaces across the museum from the likes of Sou Fujimoto, Nebbia Works, Resolve Collective and many more. In mixed-reality installation Medusa, Japanese architect Sou Fujimoto and technology developer Tin Drum create a succession of natural and architectural features inside the Raphael Court which will slowly morph and evolve based on the movement of audiences in the space.
Between Forests and Skies by Nebbia Works at V&A
In The John Madejski Garden, Nebbia Works has designed an immersive, low-carbon aluminium pavilion titled Between Forests and Skies. Elsewhere in the museum, Resolve Collective will create an installation using site-specific, upcycled materials that provides a space to explore how museums of the future can become essential spaces for youth groups. The project is a result of Resolve's year-long Creative Youth Worker residency at the V&A, displaying the collaborative work of Blackhorse Responders, V&A East Youth Collective, and other youth groups from east London.
Placeholders, a project in collaboration with architect Aude-Line Duliere and artist Juliet Haysom, sees stones that were removed from the museum's original Aston Webb Screen – during the creation of the V&A's Exhibition Road Quarter – reclaimed and used to create urban furniture on Exhibition Road. The project aims to illustrate the possibilities for reusing stone, and its potential for the circular economy within the construction industry. On Cromwell Rd SW7 – visiting information here
Bring London Together by Yinka Ilori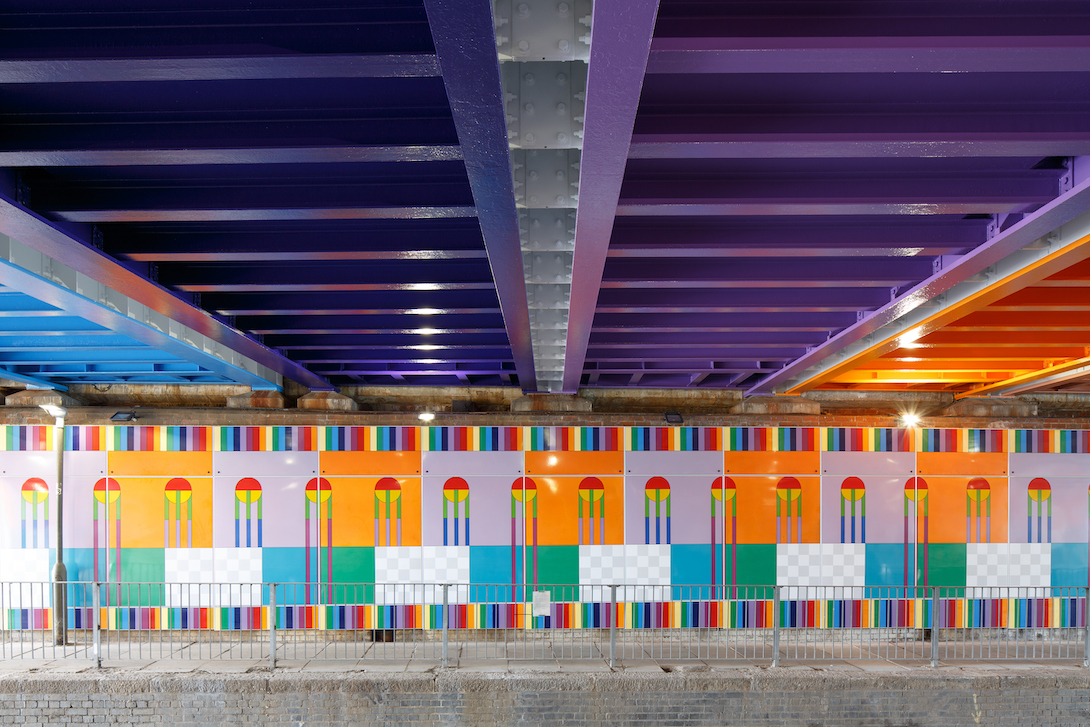 Happy Street by Yinka Ilori. Photo: Luke O'Donovan
One of the festival's key 'landmark projects', Bring London Together will see pedestrian crossings across central London temporarily transformed by the work of artist and designer Yinka Ilori. Ilori will bring his use of bright colour and pattern to 11 pedestrian crossings on Tottenham Court Road and six crossings – as well as the Queen Street pedestrian plaza – in the City of London. 
The project will also encourage public participation, with volunteers invited to help paint the Queen Street pedestrian area. Ilori has been working in collaboration with students from University of the Arts London, providing them with an opportunity to work on their first public commission. The design of three students – Annabel Maguire, Sophie Cornish-Keefe and Eliot Everton – will be used for crossings in the City of London. Read more here
Design For Our Times 
Feuillete Chair Barley by Draff Studio. Photo: Gavin Craigie
Presented by Design Exhibition Scotland, this show focuses on material innovation in design. Pioneering circular projects are highlighted that respond to our contemporary challenges, including: building bricks by K-Briq made of 90% construction waste; furniture made of 'spent grain' leftover from whisky and gin distilling by Draff Studio; tree shelters made of mycelium by recent design graduate Catriona Brown; and furniture by Chalk Plaster that harnesses gypsum extracted from unwanted plasterboard. At 15 Cromwell Place Mews, SW7 – visiting information here 
Design London
Henry Holland x FLOOR_STORY: 4AM Blue
ICON is media partner for Design London, the largest destination for contemporary design at this year's LDF. The trade-focused event will take place 22-25 September at Magazine London, a brand new venue on the Greenwich Peninsula. A multitude of international brands will be exhibiting, including Van Rossum, Ethimo, Penta, Artemide and Fredericia Furniture.
Artist-designer Yinka Ilori will head up the talks programme in an immersive, colourful theatre which Ilori himself has designed. The talks programme also includes Henry Holland, Eley Kishimoto and Pearson Lloyd, who I will be interviewing live on stage. Plus, ICON has a party to launch the Autumn issue of the magazine! At Magazine London, SE10 – find out more here and register
Mycota
Super Organism by Suzette Bousema
This exhibition brings together collaborators working across contemporary design and craft practices to explore the embodied material potentiality of fungi. From food to fabric, the exhibition looks at mushrooms in their various physical forms – mycelium, fruiting body, biochemical compounds, and spores. Mycota investigates the fungal kingdom using research, literature, ritual, experimentation, sensory experience, craft, and practical biology. At 13 Soho Square, W1D – visiting information here 
Come Together by Sam Jacob Studio
An installation by Sam Jacob exploring the social politics of furniture, Come Together is made from chairs found on the streets of Islington which are then bound together using tape into new configurations. Described as 'junk shop love seats', the furniture pieces respond to the heightened sense of social space since the pandemic, and explore how different social relationships might be formed by furniture, thus positioning the chair as a political idea as much as a design object. At Islington Square, N1 – visiting information here 
The Cube by VELUX and Henning Larsen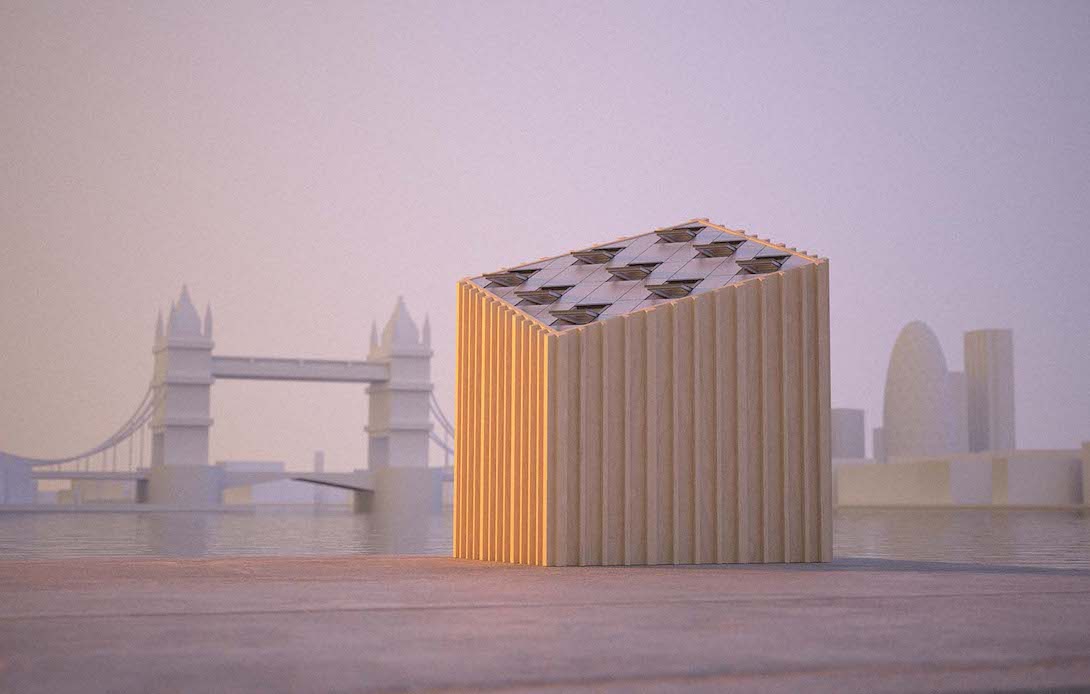 Danish architecture firm Henning Larsen has designed a structure to sit on the South Bank that invites people in as a sanctuary for relaxation. The installation features a mosaic of roof windows by VELUX, and a calm sound experience designed by AKQA and composed by Kasper Bjørke inspired by the sounds of the ocean, wind, rain and other outdoor elements. At Observation Point, SE1 – visiting information here 
View the full programme and map of LDF events 
---