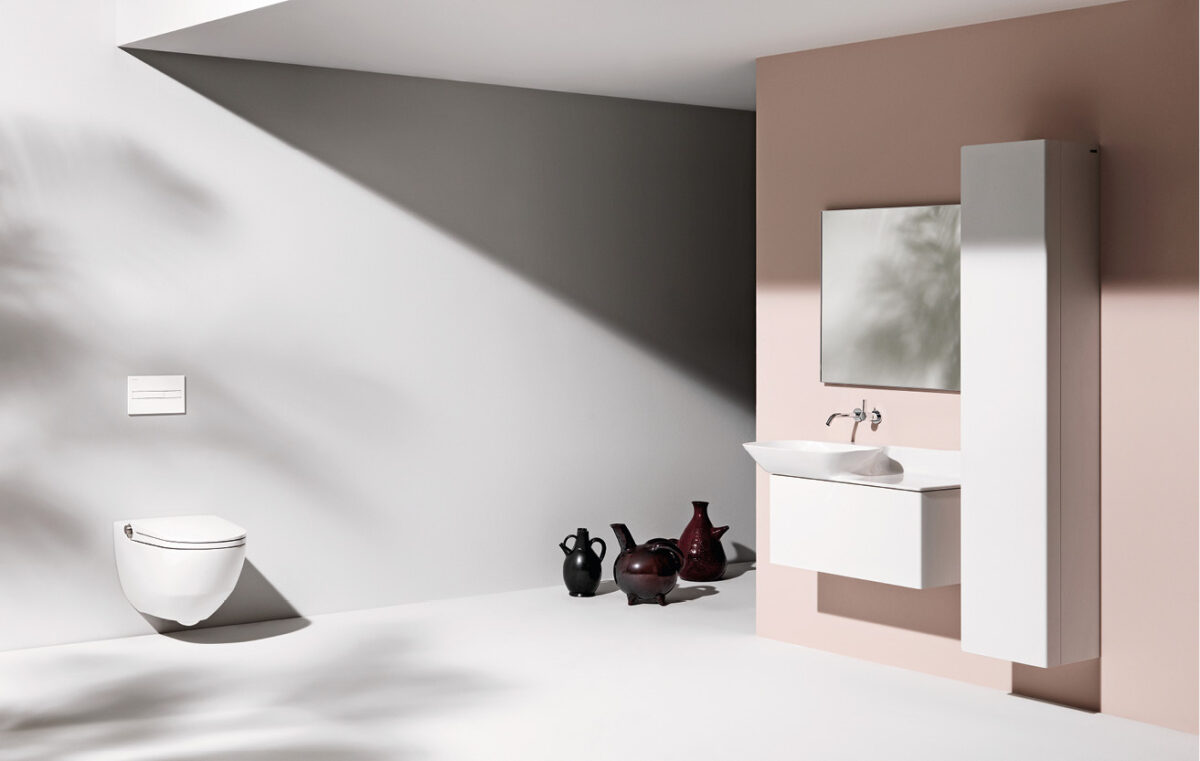 The Riva Cleanet has a minimalist, compact design
Advances in toilet technology are transforming bathroom design – as well as our attitudes to personal hygiene and water consumption. It's time to lift the lid. By
Peter Smisek
The toilet is one of the most ubiquitous, but least discussed, of home furnishings. Everyone is happy to crow about their latest chair purchase. But if anyone asks us about our toilet, we nod in its direction, acknowledging its existence, and carry on the conversation, lest anyone should accuse us of a bathroom fetish. But these attitudes to bathrooms and toilets are a reflection of our contemporary norms, and the diversity of experiences across the world shows that, despite individually held assumptions, the scope for debate is pretty wide.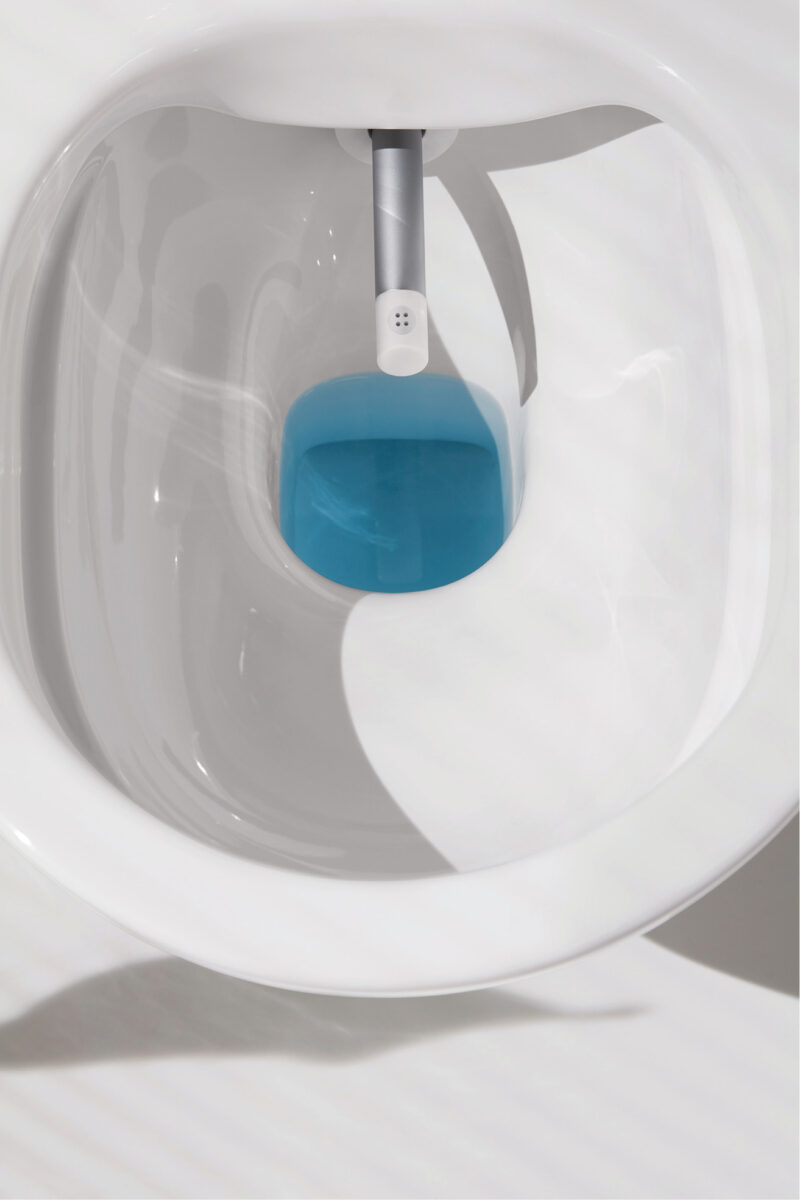 The Cleanet Riva shower toilet by Laufen features a retractable shower nozzle
Even though the flushing toilet as we know it was invented in Elizabethan times, aristocrats and the middle class alike were happy to use chamber pots well into the 19th century. Both these pots and early toilets were often richly decorated, in contrast to the sterile, pristine white lavatories of today. London's waste was collected and disposed of in the nearby countryside until the flushing toilet managed to divert raw sewage into the Thames, which was still a major source of drinking water at the time. The introduction of the flushing toilet across the city thus initially exacerbated a dire public health situation, and its wider adoption only became viable when coupled with the extensive sewerage system engineered by Joseph Bazalgette.
Since then, the core product hasn't changed much. Sure, most people no longer share a flushing toilet with their neighbours, which many Londoners did as recently as the 1970s. And globalisation has helped export the Western toilet around the world, even if the evidence suggests that it is neither economic – the required infrastructure of clean water pipes, sewers, and water purification plants is staggering – nor ergonomic, as the most anatomically correct position for defecation is actually squatting, not sitting.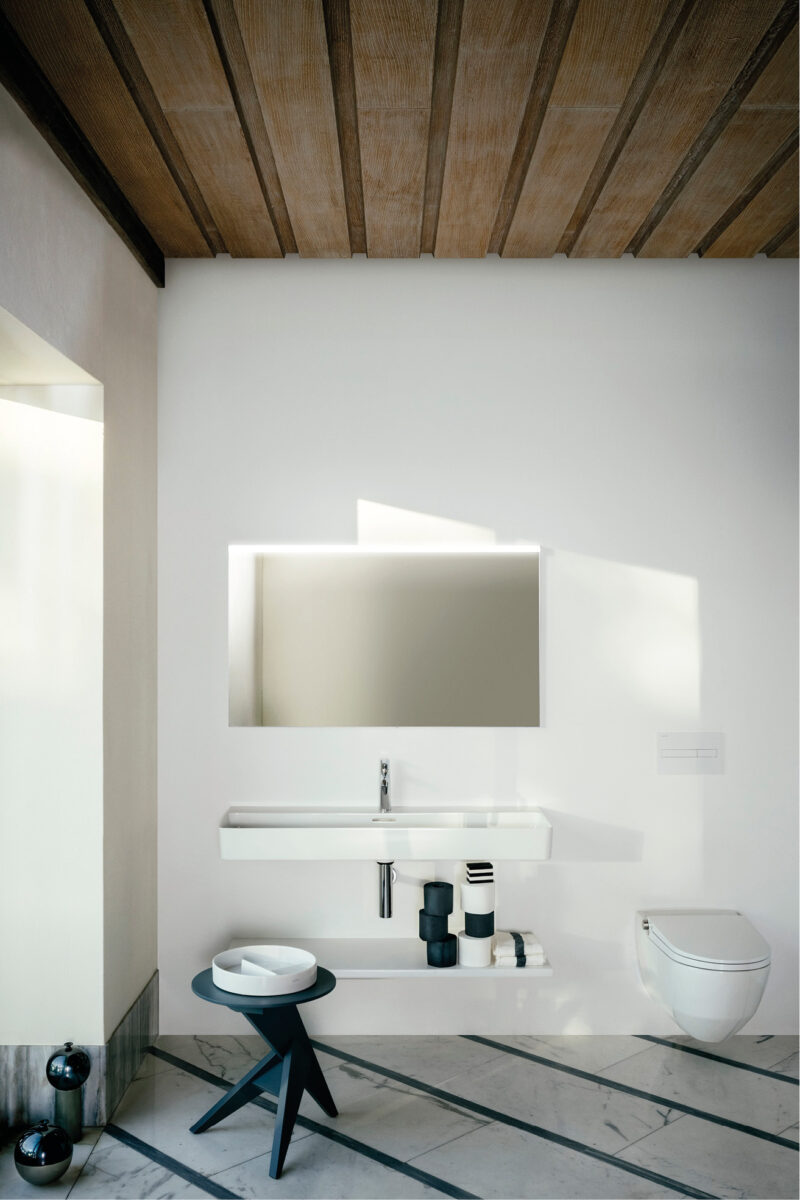 The Riva Cleanet has a minimalist, compact design
There have been laudable attempts to produce a crossover in this respect, such as the Güral Vit semi-squat toilet, a reconciliation between the squatting position still adopted throughout much of the world and the Western image of a white porcelain throne. Despite winning a Red Dot Award in 2012, adoption outside the manufacturer's home market, Turkey, has been limited.
There are questions as to whether a worldwide transition towards Western-style household toilets is feasible in low- and middle-income countries, especially those with water shortages. They offer vital safety: police officials in the Indian state of Bihar have reported an increase in the number of women sexually assaulted en route to defecate in communal toilets in the early hours of the morning.
Elsewhere, public toilets have prompted conservatives to concoct the threat of violent men posing as transgender women. There are no recorded cases of this scenario occurring; conversely, 70% of trans women in the US have reported abuse when using a communal female restroom. The rise of the gender-neutral toilet has helped cater to gender non-conforming individuals, but they may also cause some reactionary users to feel uncomfortable.
Where, then, are toilets going? Partial answers may be gleaned at specialist trade fairs. The most significant, in Frankfurt and Milan, attract hundreds of manufacturers each year. Although the focus is undoubtedly Eurocentric and often high-end, a glimpse of possible futures emerges. Smart toilets that carry out analysis of users' urine and faeces might seem a gimmick, for instance, but their widespread adoption could begin in hospitals and care homes. Then there are water-saving toilets: although seemingly common sense, they have their detractors.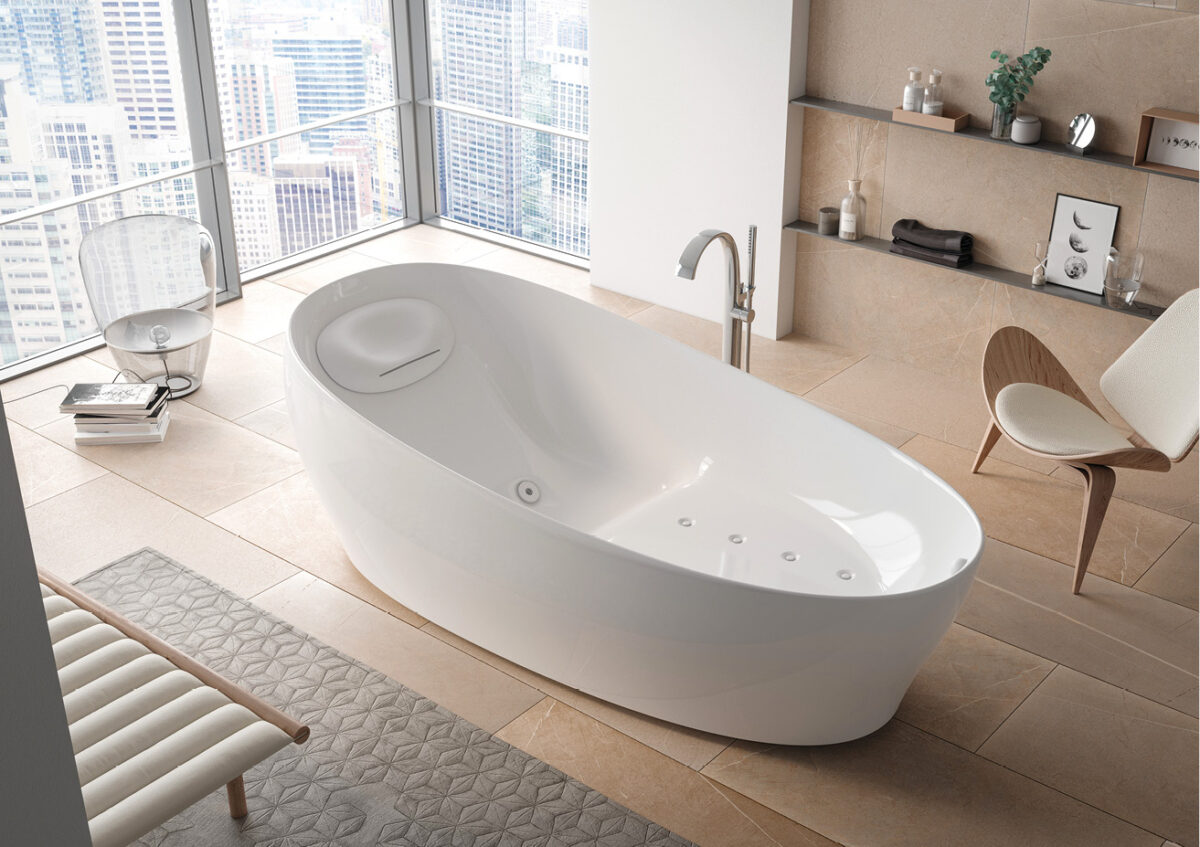 Freestanding Galaline flotation tub by Toto. Calibrated jets create a spiralling, therapeutic motion in the water
When the European Commission announced a voluntary framework for 'Ecolabel' toilets that would use between 3.5 and 5 litres a flush, Britain's Eurosceptic press claimed Brussels had demanded that British people must stop flushing their toilets so frequently. These attitudes may explain why we are still waiting for the widespread adoption of aircraft-style vacuum lavatories, which use only 2 litres of water or less per flush.
Change will take time. Over 80 percent of Japanese households now have a bidet-style toilet (a 'washlet'), but it took time for these to be adopted. Following precursors in Switzerland and the US, the technology was only perfected enough to sell to the masses in 1980. And though the Japanese place a great deal of emphasis on hygiene, it took the leading brand Toto 20 years of marketing to become the country's quintessential toilet.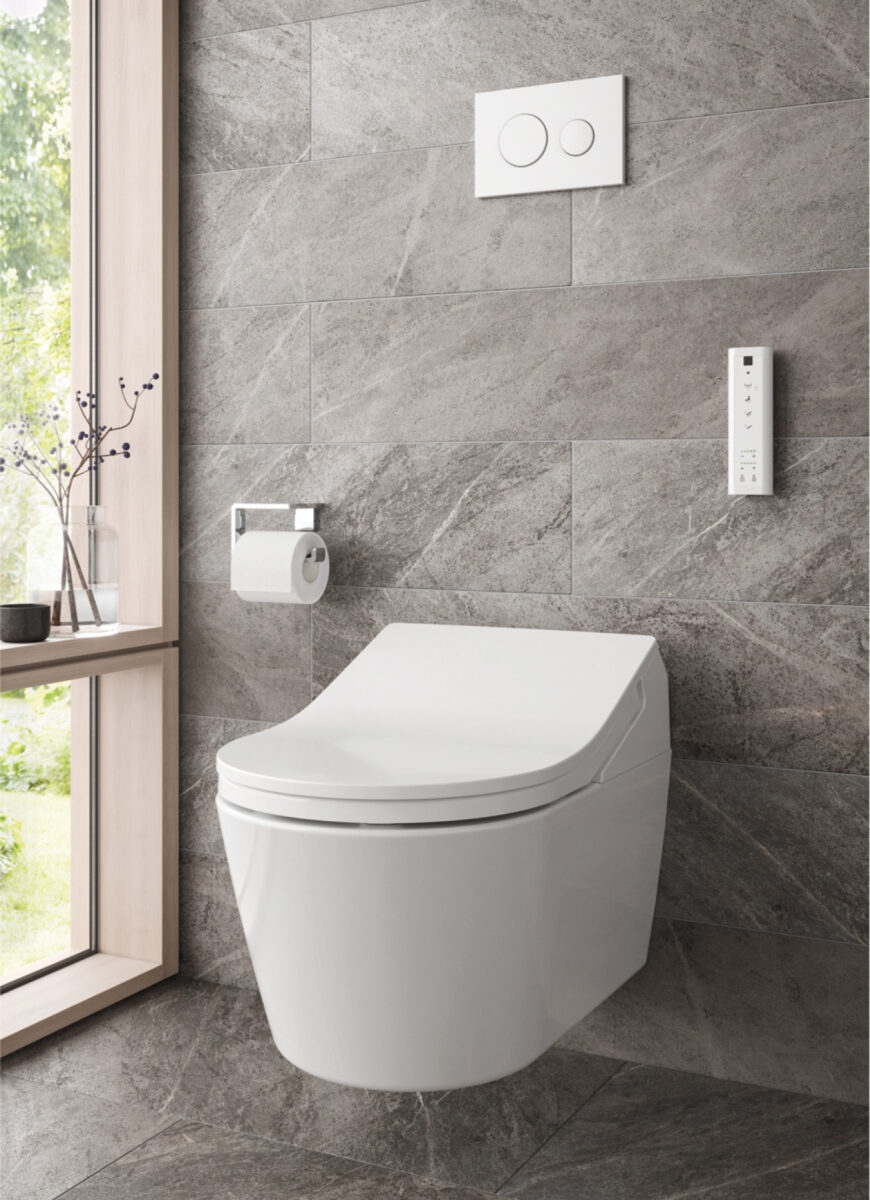 The Toto Washlet RX – over 80 percent of Japanese households now have a shower toilet
Toto only entered the European market in 2009, but a number of European manufacturers such as Roca and Laufen have since introduced bidet toilets of their own. These are more minimal-looking affairs than their Aisan counterparts that would hopefully appeal to the less adventurous consumer. Will washlets eventually conquer Europe? They certainly play into the narrative of ever-shrinking new apartments, although their utilitarian efficiency might play against the trend among manufacturers to characterise bathrooms as a space for wellness-tinged 'reflection' and 'meditation'.
The hope for the future is that it's more hygienic, ergonomic and sustainable across the board. Perhaps toilets and showers will be able to offer a solitary respite and safe space, while communal bathing could offer more unusual facilities and cater to the social and wellness aspects of hygiene culture. Similar practices are common across much of the world. If we find them desirable, there is no reason they shouldn't be achievable. But first, we need to talk about toilets, openly and honestly. Given the poo emoji is now a popular plushie across much of Europe, it really shouldn't be so hard.
Get more top bathroom trends

here

. And some top

kitchens

too…
---